Take 5: Hemp Headphones, Kimchi Jars, Design Communes + More
Every other week we're inviting one from the Design Milk team to share five personal favorites – an opportunity for each of us to reveal the sort of designs we use and appreciate in our own lives from a more personal perspective. Technology Editor Gregory Han returns this week for our Take 5 series…
Take 5: Hemp Headphones, Kimchi Jars, Design Communes + More
1/8 Photos
2/8 Photos
3/8 Photos
4/8 Photos
5/8 Photos
6/8 Photos
7/8 Photos
8/8 Photos
1. I used the holiday break to finally get started on a few home improvement projects that have wallowed far too long in the "one day" list. More than a few required the aid of a mechanical pencil to mark a drill point or draw a line for cutting, and also a pen for writing down measurements. The Onyx No.2 Mechanical Pen with its 2-in-1 design incorporating both a #2 pencil and pen within would have definitely simplified matters.
2. If you're wondering how these Grado Hemp Headphones sound, let me note a friend who recently borrowed my pair swore, "I'm hearing things I've never heard before!" They're definitely my go-to for daily evening "deep listening" sessions. Credit their agreeable performance to Grado's hand assembled attention to detail and the inclusion of hemp wood, supposedly responsible for creating a damping effect and balanced sound. I also love the swirly-grained organic style that sets itself apart from the crowd.
3. Los Angeles ceramicist Eunbi Cho's Dokdae Little Kimchi Jar is the sort of lovingly crafted purposeful art I love to be surrounded with at home – a little bit traditional, but identifiably contemporary. This piece is inspired by Korean earthenware and is designed to slowly coax microorganisms to begin the magical process of fermentation. But this hand thrown beauty would also be more than welcome gracing my shelf as decorative pottery, a vase for floral arrangements, or as a stash jar.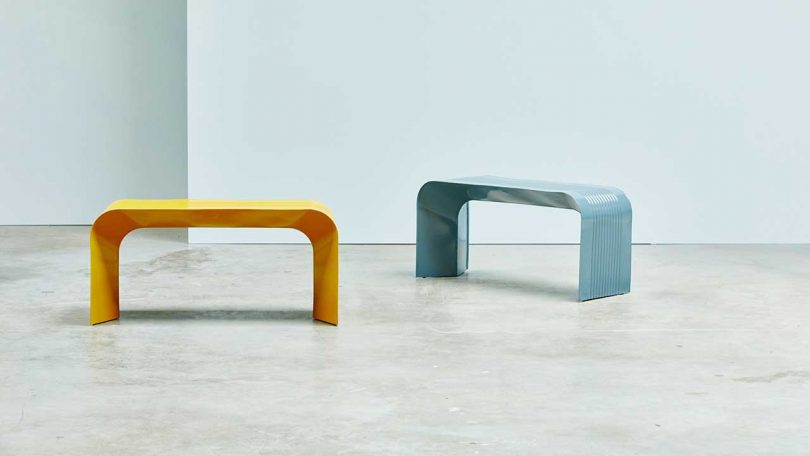 4. I love how designers Lennart and Lauren Leerdam appropriated the same production process used to manufacture tin cans to produce their Paperthin Bench. The result is industrial and modern, but available in a playful palette of colors that keep the design from feeling overly precious. I bet kids would be automatically drawn to sit upon one of these benches – always the sign of a successful seating design in my opinion.
5. My personal style at home leans toward the relaxed Southern California organic-modernity exemplified by Los Angeles design studio, Commune, a practice whose works represent an aspirational aesthetic, but also always elicits a "I could imagine myself really living within this space" response. Their recent design tome, Design Commune, evokes those daydreams page after page.