Take 5: Light Catching Glassware, a Modern Botanical Throw + More
Every other week we're inviting one of the Design Milk team to share five personal favorites – an opportunity for each of us to reveal the sort of designs we use and appreciate in our own lives from a more personal perspective. Commerce Editor Alexa Morales returns this week for our Take 5 series.
Take 5: Light Catching Glassware, a Modern Botanical Throw + More
1/11 Photos
2/11 Photos
3/11 Photos
4/11 Photos
5/11 Photos
6/11 Photos
7/11 Photos
8/11 Photos
9/11 Photos
10/11 Photos
11/11 Photos
1. Botanical Shapes Cotton Throw Blanket by Swell Made Co. \\\ $118
As soon as I laid eyes on this Throw Blanket by Swell Made Co. I knew I had to have it. The bold botanical shapes are a more modern and creative take on traditional floral prints. The black and white colorway keeps it neutral while still adding graphic interest to my space. It's made with 100% pure cotton for maximum cozy feels. Plus, it's reversible so there are plenty of ways to style it. Drape it on your couch, bed, over an accent chair or snuggle up in it and watch Halloween movies like I'll be doing this Fall.
2. Radiant Crystal Water Glasses by Puik Design \\\ $45
Design Milk readers can't get enough of these Radiant Crystal Water Glasses by Puik Design, and I'm right there with you! I'm in love with the multi-faceted angular shape of these glasses – they have a way of making anything you drink out of them feel more elegant and sophisticated. Their shape allows them to sit on surfaces at different angles creating reflections of light that glimmer and beam across your table (a very Instagram-able dinner moment). I know I'm only supposed to pick 5 products, but the Rare Crystal Decanter is the cherry on top of this already beautiful set.
3. Carry-all Set by Junes \\\ $18
The Carry-all Set by Junes is the everyday essential I didn't know I needed. Made from their signature bio-knit material, a sustainable alternative to single-use plastic, these reusable drawstring pouches can be used for all the things. From packing (watch me use them to pack for an upcoming trip on our TikTok!), grocery shopping, as a wristlet for quick errands, organization and even washing delicates – you're guaranteed to find a way to use these bags. And when you're done, just toss them in the wash and use them all over again. The Pale Yellow colorway is my favorite, but there are a ton of bold colors to choose from!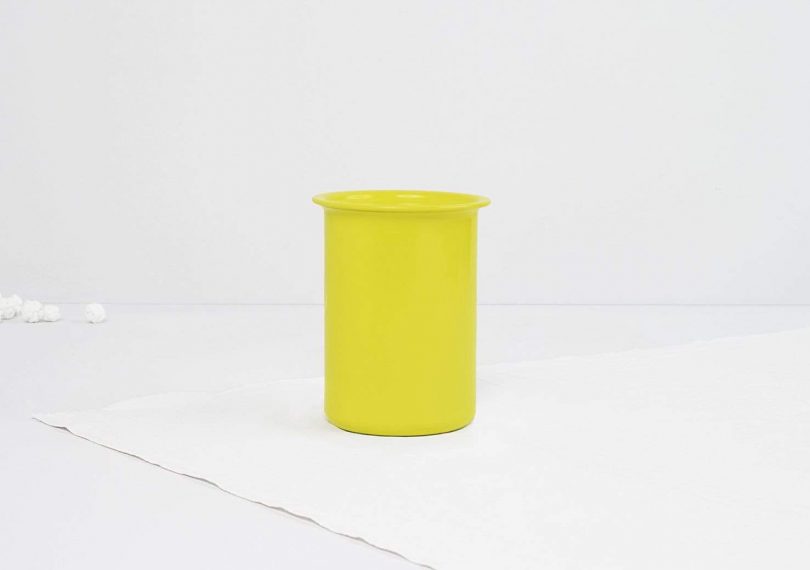 4. Ayasa Aluminum + Wood Jars by TIIPOI \\\ $76
As a renter that isn't super handy, there isn't a whole lot I can do to spruce up the look of my outdated kitchen. So I find myself gravitating towards accessories like this Ayasa Aluminum + Wood Jar by TIIPOI, to dress up my kitchen and add a stylish modern touch. Beyond adding color to my countertop, these Ayasa Jars boast tons of convenient uses. The large size is perfect for espresso pods, coffee grounds, tea bags or loose-leaf tea, or any other dry ingredients you're into. TIIPOI makes them in a variety of colors and finishes, too.
5. Mustard Cotton Knot Pillow by Knots-Studio \\\ $110
I love the fun and playful shape of this Knot Pillow by Knots-Studio. It instantly adds some textural interest to whatever room I put it in (any room I'm in, essentially) and a graphic pop of color that helps brighten up my space. The knot shape is just as functional as it is fashionable – it provides the perfect level of comfort for anxiously clutching during scary movie screenings at home. Again, I'm partial to the mustard yellow colorway but there are tons of colors to fit your design aesthetic. I know I'll be giving this to a few people on my holiday shopping list this year!
There you have it! Narrowing it down to only 5 products was tough, especially since the Design Milk team and I have been in full-on holiday gift guide mode rounding up the best modern holiday gift ideas for everyone on your list.
>>> For more modern finds, check out our holiday gift guides in the Design Milk Shop, here! <<<