Take 5: Mycological Mania, Regenerative Architecture, an Objet d'OLED + more
Every other week we're inviting one of the Design Milk team to share five personal favorites – an opportunity for each of us to reveal the sort of designs we use and appreciate in our own lives from a more personal perspective. Technology Editor Gregory Han returns this week for our Take 5 series.
Take 5: Mycological Mania, Regenerative Architecture, an Objet d'OLED + more
1/5 Photos
2/5 Photos
3/5 Photos
4/5 Photos
5/5 Photos
1. Since moving into a new home late last year, I've been struggling to establish a look and feel for my new home office. I've been so focused on the pragmatic (patching, painting, repairing), I had become unaware the room's austerity had begun to weigh upon me. Thus, the mycological-inspired art of Taehyoung Jeon has arrived as a sort of creative godsend, the near-psychedelic offerings injecting an explosion of shape and colors into the retinas down into the depths of my mushroom-minded obsessions. The question now is how many of these prints do I order?
2. What does a home require to evoke happiness? For Mr. Moriyama, it is a home that contains multitudes. Following the eponymous owner and occupant of the documentary MORIYAMA-SAN across a languorous week's time, the viewer begins to find a quiet rhythm observing the universe contained within the miniature compound designed by Pritzker Prize-winning architect Ryue Nishizawa for the self-identifying recluse. The documentary seems to soak in time and space before blossoming into the sort of meditative imprint that will have you wondering, "What most matters in life?" The first film about "noise music, acrobatic reading, silent movies, fireworks, and Japanese architecture" isn't for everyone, but for those who like to sink in rather than leap up into a story, it will likely inspire some lasting thoughts about the space you already occupy.
Shout out to architect Paul Chan for directing me toward this gem of a documentary!
3. As a daily practitioner of working with active noise cancellation earbuds or headphones with barely-audible ambient compositions in the background (to drown out the domestic hums, whirs, and distractions of working beside our laundry room), I've been very pleasantly surprised with the fit and aural envelope offered by Beyerdynamic Free Byrd earbuds. That they include five sizes of silicone earpieces with three foam ones (my preference) to insure a good fit for most ears is inarguably a good thing, because these earbuds are a bit larger than the AirPod Pros in comparison. But that extra size delivers great 8-hour battery life per charge and lively sound with laudable ANC performance; the storage and charge case also charges wireless, a convenience now practically an expected standard within the crowded category. I also got to test out their IPX4 splash-proof, and I can vouch in appreciation of their ability to withstand some rain after running outside several moments during the recent California deluge to check on leaks.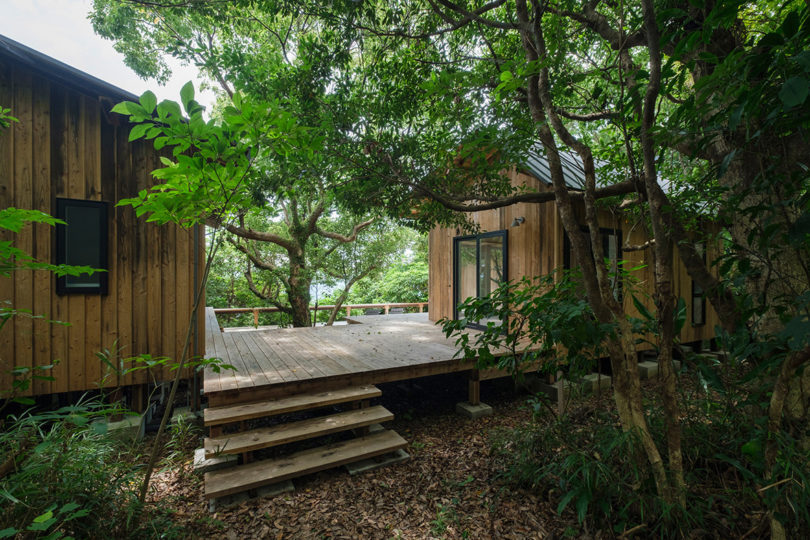 4. The majority of architectural projects spotlighted often fail to register as meaningful or impactful on a human scale – commodified structures rather than thoughtfully crafted spaces for their inhabitants. Perhaps this is why this community of cabin-like structures designed by architect Tsukasa Ono feels notably respectful of both the imagined lives of its occupants, alongside aware of its effects upon the site it is built upon. More regenerative architecture, please.
5. What does an aesthete like myself do when they don't want the intrusive presence of a typical television, BUT still want to enjoy a movie, show series, or even an occasional night of YouTube binging from the comforts of the bedroom? He – meaning, me – welcomes the LG Objet Collection Posé TV for an extended stay for review, an OLED disguised as a piece of furniture – that stands out from the crowd not only for its four-legged furnishings form, but also its back-baring beauty allowing it to be placed in areas of a room where other televisions can never conceivably be accommodated for. Oh yes, and the OLED picture is unsurprisingly outstanding, noting LG has been at the forefront of the display technology.
This post contains affiliate links, so if you make a purchase from an affiliate link, we earn a commission. Thanks for supporting Design Milk!