Designer Hallgeir Homstvedt created two products, Tangent & Grow, which are based on the theme of visual balance. Tangent is a set of vases and trays for flowers, while Grow is a collection of pots to grow plants.
Tangent's porcelain vases sit atop cast iron trays allowing you to create new flower compositions in your own home. The bottoms of the vases are rounded, giving the appearance that they are floating on the surface. Instead, each vase is outfitted with a strong Neodymium magnet at the bottom that locks them upright while giving you the ability to move them around on the tray.
The three different shaped vases were inspired by Giorgio Morandi's still life paintings of tableware, where the individual vases have character but the beauty shows through when they are grouped together.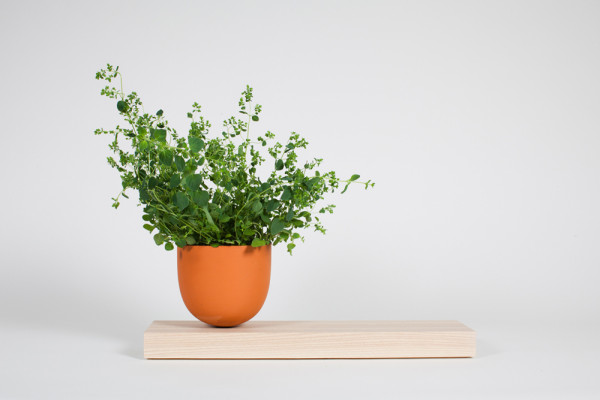 The Grow pots have a rounded silhouette that appears to balance on an ordinary piece of wood. They look as if they grow from out of the wood and all the way up to allow plenty of space for plants and herbs to grow properly.