Renée Sebastian, one of the first Filipino certified tea masters, launched premium tea brand Da.U.De, which offers fine, custom teas at affordable prices with hopes of encouraging more tea drinkers in the area. The brand recently opened a storefront, called Sweetea's, in a Manila shopping mall with the help of architect Íris Cantante who brought Sebastian's vision to light.
The concept was to create a design not only for the space, but for the Sweetea's brand. Sebastian's love of rice plantations in the Mountain Province, where she hopes to plant her own premium teas in the future, sparked the inspiration for the design. Building on her Filipino heritage, they added fresh, bold elements to complete the colorful design.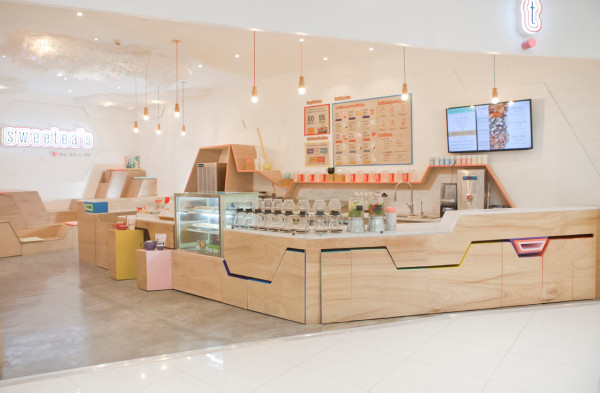 With the high traffic of it's shopping mall location, they wanted a design that was adaptable to various situations, like times when people wanted to sit down and relax with their tea, or when it's peak time and there needs to be more space for people to get in and out.
A light wood grounds the interior that's interspersed with colors of the brand. Painted wood elements slide out from the counter to become additional seating, tables, or shelf space.
A retail space was incorporated into the design following the same color palette as the rest of the interior.
In the back, there's a mountain-like seating area that challenges people to interact in various ways with the space.
Photos by Shaira Luna.