Teak, the Automobile-Inspired Outdoor Furniture Collection
Teak, the Automobile-Inspired Outdoor Furniture Collection
1/18 Photos
2/18 Photos
3/18 Photos
4/18 Photos
5/18 Photos
6/18 Photos
7/18 Photos
8/18 Photos
9/18 Photos
10/18 Photos
11/18 Photos
12/18 Photos
13/18 Photos
14/18 Photos
15/18 Photos
16/18 Photos
17/18 Photos
18/18 Photos
No one can argue that Californians know how to enjoy the outdoors. If you're looking for proof, Santa Monica-based direct-to-consumer outdoor furniture brand, Outer, recently announced their second collection: Teak. Made using sustainably-sourced teak grown in Java, the collection takes its inspiration from the automobile world, using flowing lines and forward movement in its design. Another detail is the integrated seat and back that features a smooth curved transition and kicked-back legs for comfort and security.
The Teak Collection is made up of eight products and configurations: an armless chair, armchair, armless 2-seater sofa, corner chair, sectional chair, tapered leg coffee table, square leg coffee table and concrete inlay coffee table. But let's talk more about the wood the collection takes its name from. The teak used by Outer has a tight grain and natural oils that act as a protective barrier, creating durable furniture that's ready to stand the test of time.
"Trees are vital to our world. A single teak tree can absorb 10kg of carbon every year, helping maintain Earth's carbon balance in the face of massive climate change" says Terry Lin, Co-Founder and Chief Design Officer for Outer. "We are thrilled to see the reforestation impact we, as a growing company, can make through our partnerships with One Tree Planted and 1% for the Planet." The outdoor living brand has partnered with the nonprofit organization to ensure that for every Teak chair and sofa sold, 15+ saplings will be planted in partner forests.
The Teak Collection includes their stain-resistant, multi-layer memory foam cushions with patented OuterShell™ covers that quickly roll out and over the cushions for protection from everyday dirt, debris and morning dew.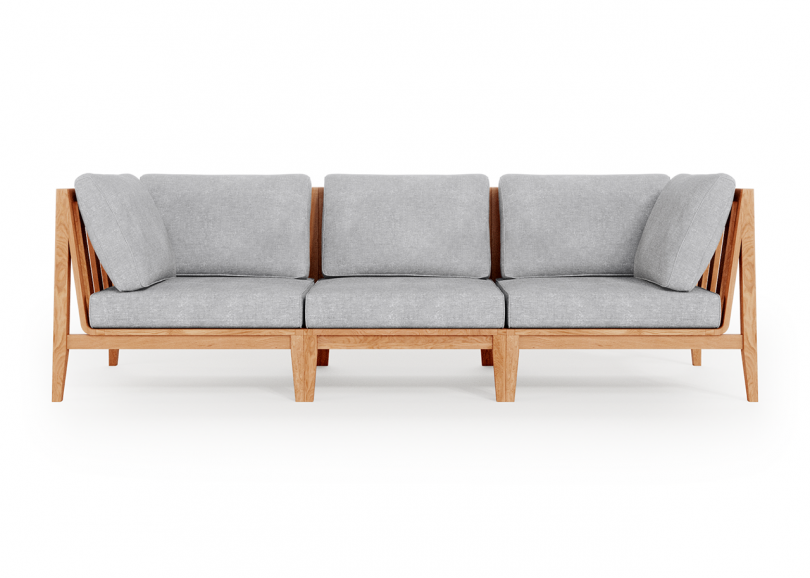 To learn more about the Teak outdoor collection, visit liveouter.com.