As much as Eddie Money's song makes me want to cringe, I can't help but sing "Two Tickets To Paradise" because that's all I want right now when I view the photos of the Dusit Thani Maldives. The resort takes up beautiful Mudhdhoo Island, which is surrounded by white sandy beaches and a turquoise lagoon, making it a no-brainer for this month's Destination Design.
Just 35 minutes away by seaplane from the capital Malé or 10 minutes by speedboat from Baa Atoll, this dream resort houses 94 villa and residences that boast the luxury of the Maldives with a healthy dose of Thai hospitality.
The accommodations are clearly influenced by Maldivian architecture but come complete with modern amenities and subtle Thai touches that might just make you want to forward your mail.
Could you not just live right there?!
Whether you're in a Beach Villa or a Two-Bedroom Villa, you'll be spoiled with butler service while surrounded by indigenous tropical greenery or even crystal blue and green waters.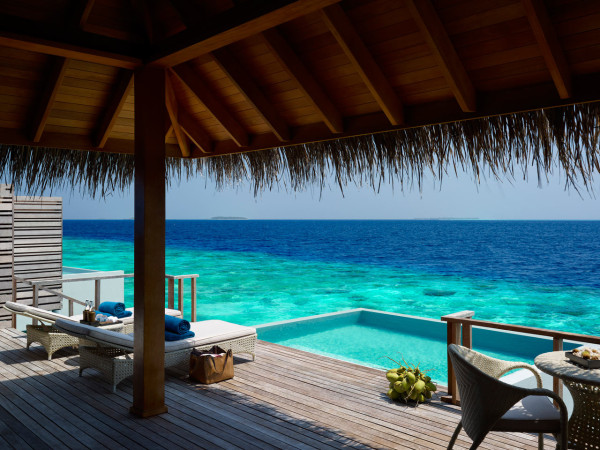 Many of the villas come with private pools, like the Water Villa where you'll have not only your own pool, but a private deck to relax on.
Imagine relaxing in this 2-Bedroom Ocean Pavilion perched above the ocean, giving you the feeling of a floating slice of paradise. They're even built to face the sun so you can watch it set on the horizon.
If you need more space, there's always the two-story Beach Residences that will give you the feeling of home. A home that's been transplanted to paradise.
Are you packed yet?
What: Dusit Thani Maldives
Where: Mudhdhoo Island, Baa Atoll, Republic of Maldives
How much: Starting at $900 per night for a Beach Villa up to $6,500 per night for a Two-Bedroom Private Beach Residence.
Highlights: Private villas with plunge pools that overlook white sandy beaches, against a backdrop of crystal blue/green waters.
Design draw: Contemporary Thai interiors with traditional Maldivian architecture, complete with modern amenities.
Book it: Call +960 660 8888
Photos copyright © Dusit International.