Last year, I interviewed LA architect David Hertz on Shelterpop about a home he was building from an old 747 plane high atop a hill in Malibu.
The home is finally complete, and it looks nothing like an old plane! Designed for a car dealership owner, the home sits on the site of Tony Duquette's old compound made from found structures, sadly destroyed in a fire in 1993. However, David certainly paid homage to Duquette by also creating art from something found: a 747 airplane.
The 4,000-square-foot Wing House, as it has become known, is made from an old plane that was 230 feet long, 195 feet wide and 63 feet tall, but cost David barely nothing. The plane had enough raw materials — 4.5 million of them — to help build most of the entire home. And it seems as though Hertz knew exactly which parts of the plane to keep intact as architectural features. The main residence uses the wings and tail section as roofing elements. There's also an art studio, guest house, and animal barn all made from the fuselage. A meditation pavilion was also created from the cockpit.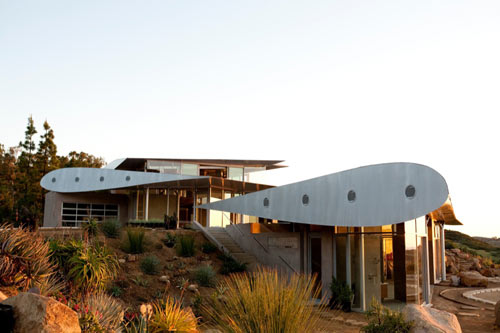 To date, this is probably one of my favorite architecture projects that I've ever covered.
The plane that became a house:
More photos:
Photos by David Hertz, Carson Leh & Laura Doss.