If you remember, we recently asked husband-and-wife team Adrian Olabuenaga and Lesley Bailey of ACME Studio about their five favorite things in our Friday Five. One of their five happened to be their home in Maui designed by Ettore Sottsass. It struck me as so unique that I asked them to give me a house tour. Let's take a closer look at this Hawaiian hacienda:
Adrian and Lesley were very involved in choosing the elements from the architecture to the furnishings form the very beginning, collaborating with Sottsass from the initial sketches up until the home's completion.
They explain, "At one point, the house was two bedrooms which changed into three. Even during construction we would see opportunities that we would inform Ettore about, which he would implement into instructions for the builder. When this started with Ettore in 1989, we corresponded via letters and faxes as there was no email or the Internet."
The architectural colors were chosen by Sottsass.
The home's furnishings are a combination of pieces designed by Sottsass and traditional Hawaiian Koa Furniture, as well as coffee and dining tables that Adrian had designed.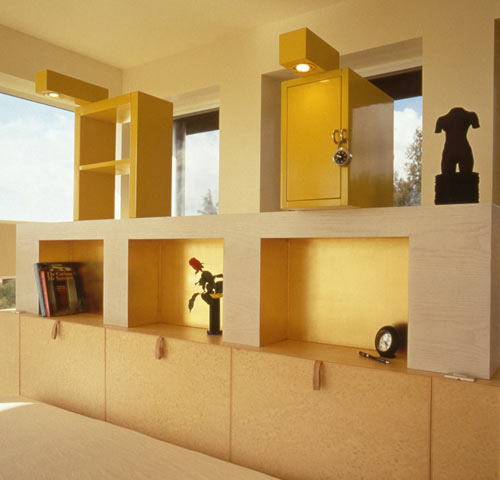 The bedroom and bathroom niches were designed to serve a functional purpose – holding art, knick knacks, soap bottles, etc. The niches in the bed's headboard, designed by Sottsass, are for books and personal effects.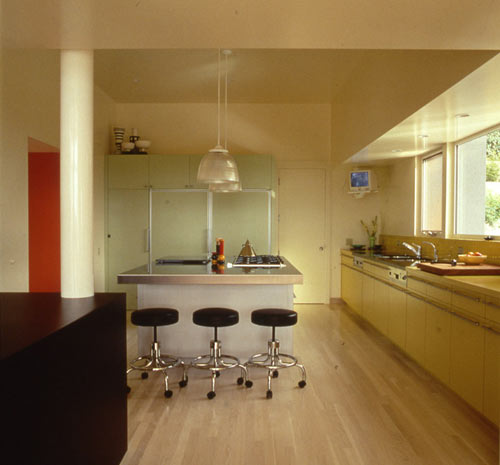 The kitchen colors were chosen by Lesley and Sottsass.
"The deck," they explain, "started one way but after a visit to Maui, the design of the lower structure of the deck changed completely according to the many bridges that Sottsass saw on a road trip we all took to Hana."
Thanks Adrian and Lesley for letting us peek inside!