The Art of Curating the Perfect Coffee Tablescape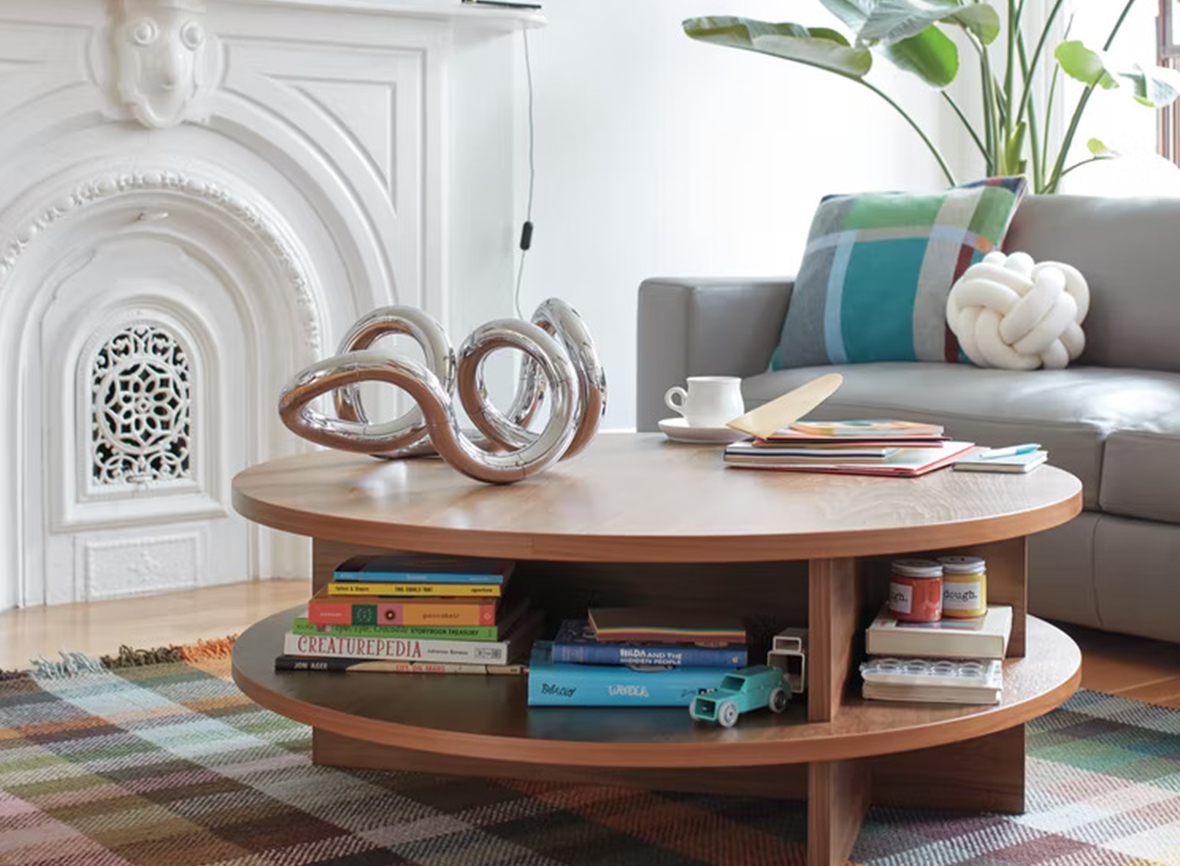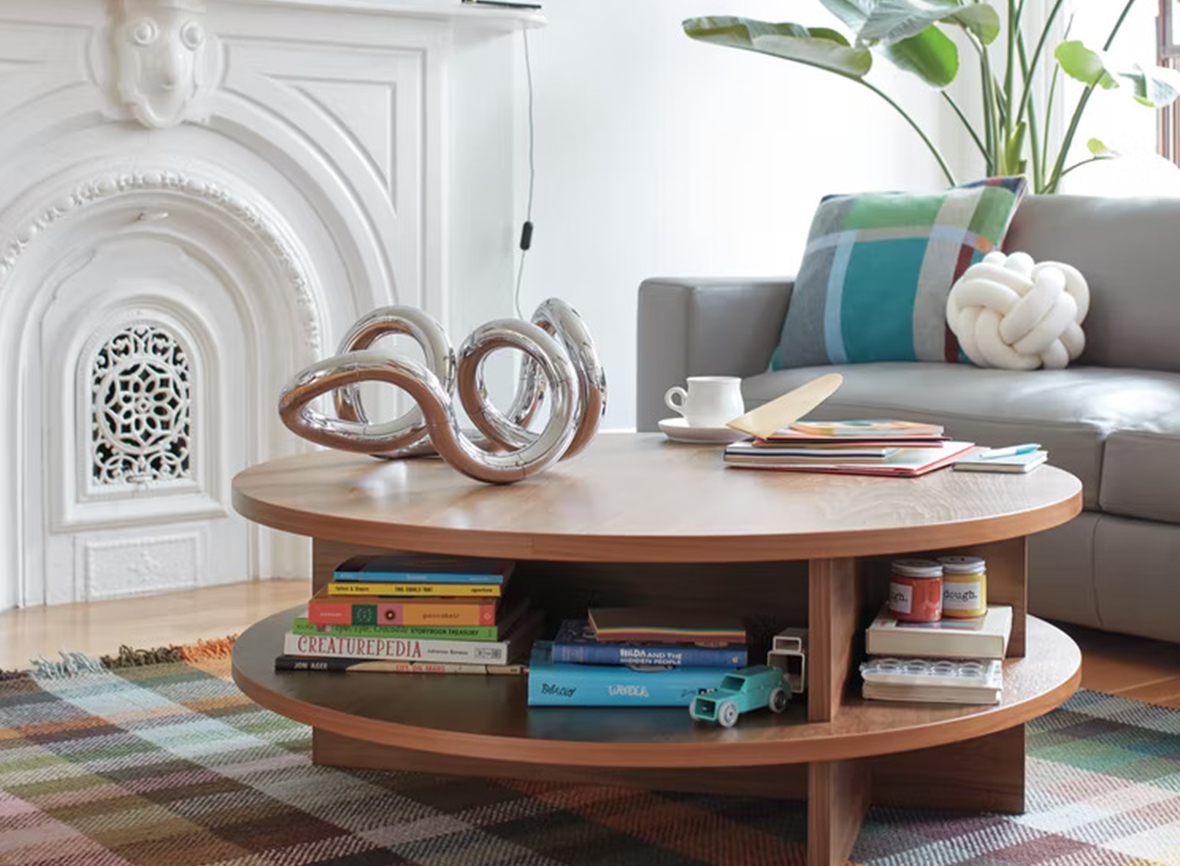 The Art of Curating the Perfect Coffee Tablescape
1/16 Photos
2/16 Photos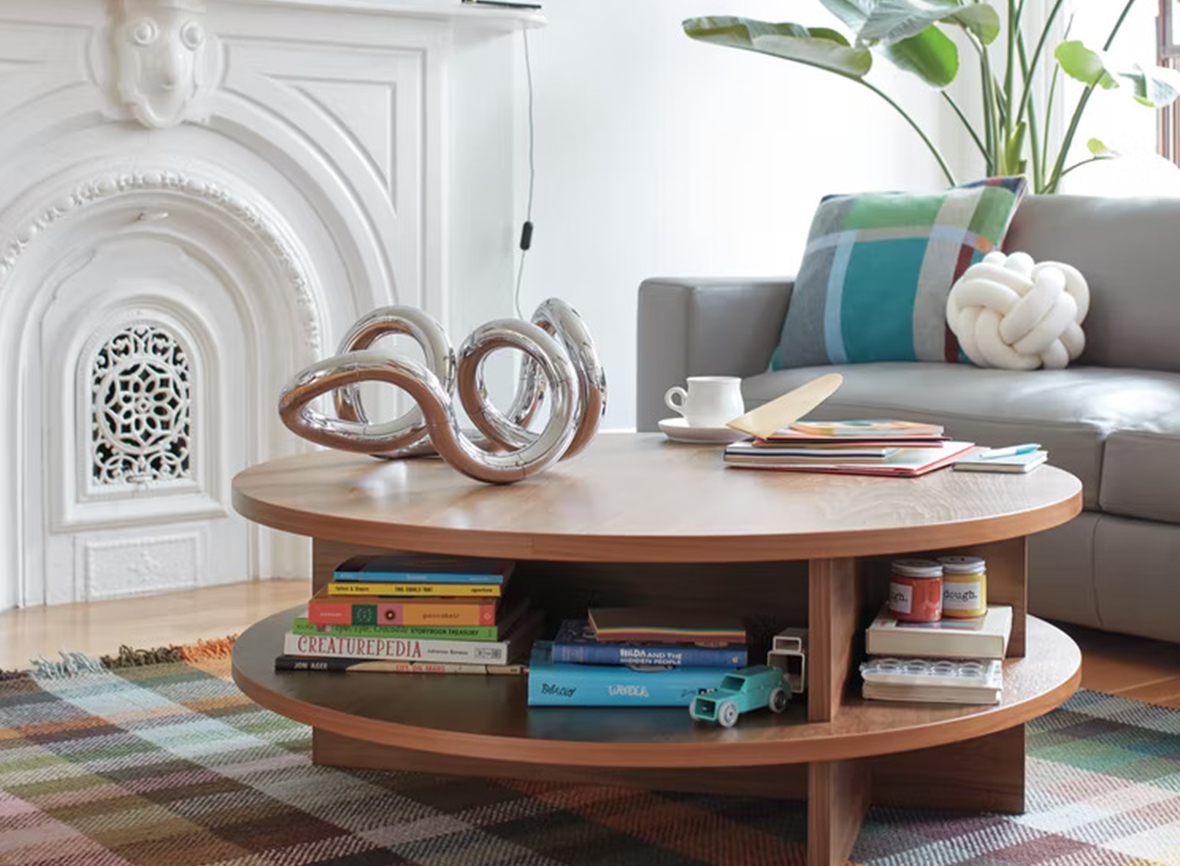 3/16 Photos
4/16 Photos
5/16 Photos
6/16 Photos
7/16 Photos
8/16 Photos
9/16 Photos
10/16 Photos
11/16 Photos
12/16 Photos
13/16 Photos
14/16 Photos
15/16 Photos
16/16 Photos
Confession: I spend a lot of time considering the layout of my coffee table – too much, some might argue. I'm constantly adding, subtracting, and rearranging decorative elements to ensure its contents reach the perfect balance of practical and entertaining for guests when they perch on my couch. From coffee table books and catch-all trays to candles, coasters, and the coffee table itself, I've done some serious soul-searching and ruthless reorganizing to find the formula for my perfect coffee tablescape. Read on for the not-so-secret recipe. For more modern finds worthy of your coffee table, check out the Design Milk Shop.
Step 1. The Coffee Table
First things first, you can't curate the ideal coffee tablescape without a solid foundation. Of course, your coffee table needs will largely depend on the space you have to work with – but you'll also want to consider things like its storage capabilities and material to make the most of the surface area you have.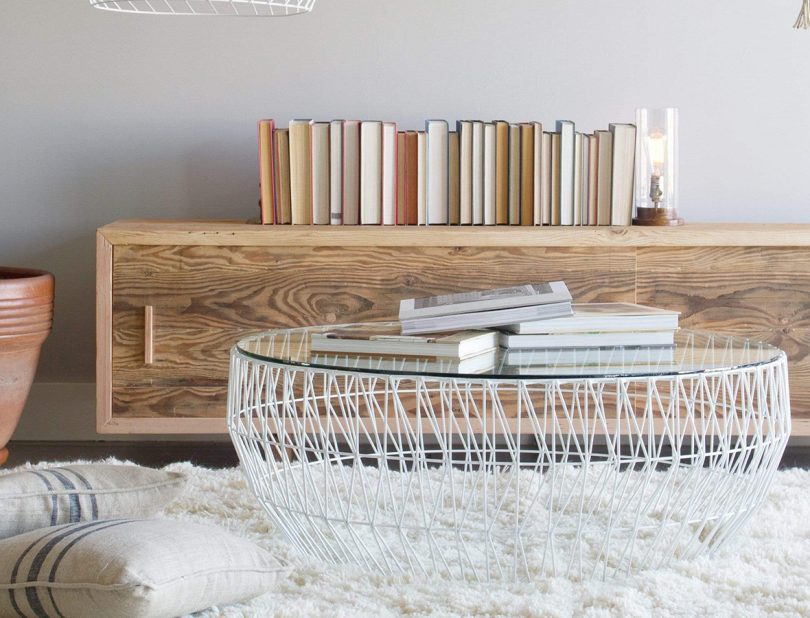 Coffee Table by Bend Goods
This Bend Goods Coffee Table over delivers in terms of surface area, offering tons of flexibility. Sustainably made of recyclable iron, the table's bent wired design brings modern, tactile interest to your living room while not overpowering the space thanks to its clear glass top and hollow base. It comes in a variety of finishes, but we're big fans of the white powder-coated style (note: the powder coated styles can also be used outdoors!).
$1,600
Shop Now >>
Risom Low Table by Jens Risom for Design Within Reach
Based on sketches from Danish design legend Jens Risom, the Risom Low Table is efficient on storage thanks to its modern two-tiered design that leaves plenty of room for books, magazines, remote controls, and other coffee table must-haves. The modern minimalist table comes in oak or walnut finishes, lending a warm yet timeless look to your living space that won't ever go out of style.
$845.75 (15% savings!)
Shop Now >>
Shunan Low Coffee Table by Puik Design
Short on space? You'll love the sleek design of the Shunan Low Coffee Table. The Shunan's intersecting steel legs and wood top deliver a beautiful modern contrast. You can even choose between black and white steel or natural and black wood finishes for a look that's completely your own. Our recommendation? Pair it with Puik's slightly taller Side Table to create a nesting coffee table that can be moved around the room in a pinch if needed.
$200
Shop Now >>
Step 2. Coffee Table Books
Coffee table books should be equal parts aspirational, approachable, and beautiful to look at. The best coffee table books are the ones that guests just can't help but flip through, and the ones that can stand on their own as modern pieces of decor. Here are some of our favorites.
The Stahl House: Case Study House #22: The Making of a Modernist Icon
The autobiography of the famed architectural classic, The Stahl House documents the origins of the home told by the Stahl family's two eldest children who grew up there. Today, the Stahl's continue to share their home by offering tours to fans from around the world and lending it to filmmakers. Even if your guests aren't architecture-obsessed like we are, they'll undoubtedly recognize the books' iconic cover photo and become engrossed in its story.
$22.95
Shop Now >>
Yayoi Kusama: Give Me Love
A catalog of renowned Japanese artist Yayoi Kusama's The Obliteration Room exhibit at David Zwirner, New York – Give Me Love captures the mesmerizing evolution of the artists' exhibition space from a stark, all-white interior to one brimming with multicolored dots placed by viewers all over the room from the ceilings, floors, and furniture. Fans of pop art, contemporary art, and conceptualism will love flipping through this book's bold and vibrant pages.
$55
Shop Now >>
Atlas Bookstand by bæbsy
Showcase your favorite coffee table books in style with bæbsy's Atlas Bookstand. The ultra-modern stainless-steel bookstand takes its name, shape, and strong form from the Greek titan, bearing the weight of your most treasured books and elevating their presence in your living space. Available in timeless white and bold yellow color ways, the Atlas Stand can function as an eye-catching piece of decor or a more subtle accent that lets your favorite books do the talking. They even include instructions for a "levitating" assembly, which creates the illusion that your book is floating over the stand. However you decide to style it, the Atlas Bookstand will help you tell your story with confidence.
$117
Shop Now >>
Step 3. A Stylish Catch-all
A home base for your remote controls, coasters, candles, and other odds and ends, every coffee table needs a catch-all tray of some kind. They're a fool-proof way to experiment with new textures and pops of color in a low-stakes arena – if you don't like it on your coffee table, you can always try styling it on your desk, bedside table, or any other home surface with minimal fuss.
Large Sabai Grass Oval Decorative Basket by Casa Amarosa
Casa Amarosa's latest drop to the Design Milk Shop, their Sabai Grass Basket adds earthy natural texture to your coffee table. Handmade in small batches by expert Indian artisans using locally sourced Sabai grass, Casa Amarosa's stylish catch-all basket will pull its weight on your coffee table, giving it an eclectic yet neutral look that'll pair beautifully with other decorative items while supporting the work of Indian artisans at the same time – what's not to love?
$64
Shop Now >>
Little Cloud Tray by Craighill
I'm obsessed with my Craighill Cloud Tray. From its sculptural molded design and tactile cork material, the Cloud Tray represents the perfect marriage of modern and craft design aesthetics, adding an elevated yet playful look to my coffee table. Plus, the cork's natural warmth offers a satisfying visual contrast to the steely, cool gray tones of most remote controls.
$38
Shop Now >>
Nesting Trays by Open Spaces
New to the shop from Open Spaces, these Nesting Trays are the ultimate multi-hyphenate decor accessory. These steel and wooden trays work beautifully together or individually as a coffee table catch-all, or in the kitchen, bathroom, or bedroom for more flexible organization. We love that there are plenty of chic color options to choose from, and the modern look they bring to your coffee tablescape.
$48
Shop Now >>
Step 4. Candles
Whether for scent or for show, a candle is a non-negotiable coffee table accessory. They bring infinite levels of coziness to any living space and will almost always catch the attention of curious house guests (or maybe that's just me). There are tons of incredible candles out there but here are a few of my go-to's.
Coffee Table Book Candle by Anecdote Candles
I can't resist Anecdote's clever naming, so it was only a matter of time until their Coffee Table Book candle landed in my living room. With a base note of vetiver topped with notes of orange flower, grapefruit, refined spices, and oak moss, Anecdote's hand-poured candle smells as fancy as the glossy pages of your favorite coffee table books. We love repurposing their glass jars after burning through the candle too!
$24
Shop Now >>
Chunky Gravity Sculptural Candle by Extra&Ordinary Design
If you've ever considered experimenting with the curvy design trend, this Extra&Ordinary candle is a great place to start. Part of their Gravity series that celebrates the beauty of distortion, the Chunky Gravity Sculptural Candle makes a sculptural statement on your coffee table, while its natural color blends in seamlessly with existing decor.
$72.50
Shop Now >>
Step 5. Flowers + Greenery
A major takeaway from our deep dive into biophilic design, plants and flowers can completely transform a room. So having a small dose of plant power is a great way to freshen up your coffee table and add some color to your tablescape in the process. Just make sure you have the right vessels!
Eros Vase by Capra Designs
The perfect vase to showcase single floral stems, the Eros Vase has a sculptural modern design that's made playful due to its bold and vibrant color options. We love the simplicity of this handmade vase and the fact that it can exist on its own, sans-flowers as a stylish coffee table accent.
$89
Shop Now >>
Lisa Planter/ Tealight Holder by House Raccoon
Hand-crafted in House Raccoon's Belgian atelier, the Lisa Planter is perfectly sized for small plants and succulents, and even doubles as a tea light holder for added flexibility. We love the whimsical touch that the Lisa's fun wavy design and delightful pomegranate color brings to a coffee table, and the fact that House Raccoon plants a tree for every item sold!
$50
Shop Now >>
Step 6. Coasters
No one wants to be the guy politely asking guests to use a coaster. Our advice? Get coasters so beautiful they can't be ignored. Not only are they a small but impactful way to add visual interest to your coffee table, they're also 100% necessary for prolonging the lifespan of your table.
Terrazzo Neutrals Coaster Set by Pretti.Cool
These terrazzo coasters are handmade using a blend of concrete and recycled materials, creating a multicolored terrazzo effect that has both a modern and utilitarian appeal. The set includes a medley of soft neutral shades that are sure to complement the other players on your coffee table, and feature cork bottoms to keep them from scratching home surfaces. Pretti.Cool has other color options, and every coaster set is made to order for a design that's totally unique!
$58
Shop Now >>
Bierfilzl Round Felt Coasters in Palm Springs by Graf Lantz
A stylish, modern staple, you can't go wrong with Graf Lantz coasters for your coffee table. Made in the U.S using the brand's signature merino wool felt, these bright and colorful coasters can absorb as much as 30% of their weight in water without ever feeling wet! Their clean, minimalist design makes them a seamless coffee table accent and the fun colors in their Palm Springs set will have guests clamoring for their favorite shade.
$24
Shop Now >>
Shopping any of our coffee table must-haves?
Share a photo of your coffee tablescape and tag us @designmilk to be featured on our Instagram!