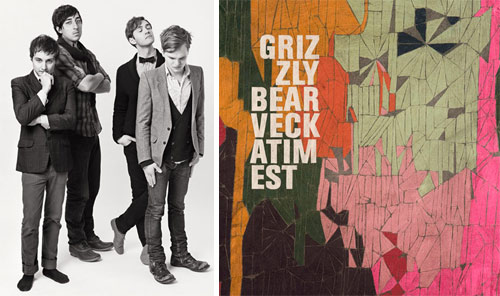 Just when pop music is starting to sound homogenized again, a band like Grizzly Bear comes along to shake everything up. Grizzly Bear certainly wasn't destined for top 40 radio stations but rather the iPhones and playlists of indie rockers around the world. These boys from Brooklyn croon their way through twelve tracks and create a landscape as isolated as the island their CD, Veckatimest, is named after. The songs twist and turn unpredictably around musical codes in such unusual ways that they probably even leave Bjork scratching her head trying to make sense of it. That's not to say popular musicians aren't jumping on the Grizzly Bear ride. Radiohead's Johnny Greenwood says they're his favorite band. Fleet Foxes' Robin Pecknold says Veckatimest is the best album of the 00's. Grizzly Bear's own Daniel Rossen, unfazed, says, "Our music will always be a little bit strange."
Listen to "Cheerleader" by Grizzly Bear (right-click to download).
Now let's transform Grizzly Bear into an interior, shall we? Just imagine walking into a loft-like space, possibly an old church. Light filters through the huge black framed windows, while exposed plaster walls have been stripped away of their pretentiousness. The furnishings, like the music, are a blend of genres, full of complexity and experimentation. The gorgeous Form wallpaper from 39.22 adds the same emotional expression as the crooning in "I Live With You" while the plaid shoots through the space like the chords of the string quartet. The details in the vintage furniture truly embody Grizzly Bear's dedication to its craft.  The substance of the yellow leather Tub Chair, like that of their percussion, creates a solid grounding as the chandelier exerts energy in all directions.  These textures of materials and hues of colors create a space that feels "beautifully flawed and gloriously off kilter" without being too much of either!
1. Form Wallpaper 2. Henning Sofa 3. Multi Arm Chandelier 4. Hardwood Flooring 5. Renzo Rutili Bench 6. Tub Chair 7. Dash and Albert Rug 8. Ladak Blanket 9. Gio Ponti Floor Lamp 10. Unearthed Book Ends 11. Artwork 12. Friso Kramer Industrial Chair 13. Ebonized Oak Desk