Returning from my first Dubai Design Week, I still find myself digesting the entirety of the experience. The city itself exists as one gigantic experiment in urbanism, architecture, infrastructure, and globalism – a destination worthy of investigating unto itself, and hard to summarize except in parts.
Dubai Design Week is an ambitious global design event just in its second year. But you wouldn't know it while looking across the numerous venues connecting the show. Throughout our stay, the city's design corridors were abuzz with international brands, style ambassadors, and designers socializing around the tentpole of design. Multinational design and luxury brands like IKEA and Audi intermingled with boutique designers from around the globe, communicating a serious intent to establish Dubai Design Week as an annual destination on the radar of the design community.
A prominent part of the weeklong event was the Global Grad Show, a showcase coinciding with the announcement of the Dubai Institute of Design & Innovation. The event offered attendees a peek at the next generation of young design talent from 50 universities from 30 countries – the world's largest student gathering.
From Global Grad Show Curator, Brendan McGetrick:
The projects that we're exhibiting at Global Grad Show reveal design in its purest and most potentially valuable form. They are by no means indifferent to aesthetics, but their impulse is fundamentally humanitarian: they apply creativity and technical rigor to expand life's possibilities. In the process, they provide a key to better understanding the world and its enormous diversity of experiences.
145 projects were on display, with projects representing the design programs at schools such as Cambridge University, Eindhoven University of Technology, The Hong Kong Polytechnic University, MIT Media Lab, Pratt University, the Royal College of Art, Samsung Art and Design Institute, Rhode Island of School of Design, and many more. Much of what was on display incorporated the latest in software, hardware, and manufacturing technologies, some merely conceptual, but numerous near ready for manufacturing:
Percy Stools by Ryan Pennings: Both of these 3D printed stools were generated utilizing an algorithmic design process and 3D printed using an industrial robot. The resulting solidified liquid turned into furniture topology remind us of a vibrant rendtion of a Matthew Barney sculpture.
LAP by Yi-Ting Wang Naohito Okude, Moe Kobayashi, Yiting Wang, Hiroki Urase, Narihiro Haneda, Naoya Hayashi, Ryo Kashiwagi: A two-seater electric scooter designed specifically for couples, from the Keio University, Graduate School of Media Design.

Keyphone by Henning Marxen: Our favorite design concept of the Global Grad Show was developed to aid the visually impaired with existing smartphones. The electrically conductive slipcase turns the screen into a tactile input device, each of the 16 buttons representing browsing controls and braille character input; interaction between user and phone is aided using special software with text to speech output. Designer Henning Marxen told us the design and software are ready, "an affordable and ergonomic solution" that could help change people's lives now.
Ziggy by Mohololo Nkoana: At first glance it was difficult to determine the exact purpose of the array of small containers on display, but nevertheless, their colorful industrial design lured us in for closer inspection. 22 yearsold Mohololo Nkoana, a design student at Tshwane University of Technology, was happy to explain each of the accordion-shaped compartments represent his vision of sustainable and cost-effective alternatives to traditional laundry methods. Each of the containers are a portable clothes washing solution designed to agitate stains out with simple movement.
Micro Wind Turbine by Nils Ferber: What was refreshing about the Dubai Design Week Global Grad Show was the pragmatic utility of many of the concepts on display. As imaginative as the designs were, the purpose and motivations were adherent to the idea design should make the world better. Case in point: a collapsible and lightweight wind powered turbine for basecamp charging.
Aventure Romantique by Alexis Tourron: There was no design concept we wanted to take home more from the Global Grad Show than this beautiful picnic in backpack form. Leather and rattan make for a luxe combination, constructed in collaboration with the Swiss saddler Patricia Rochat.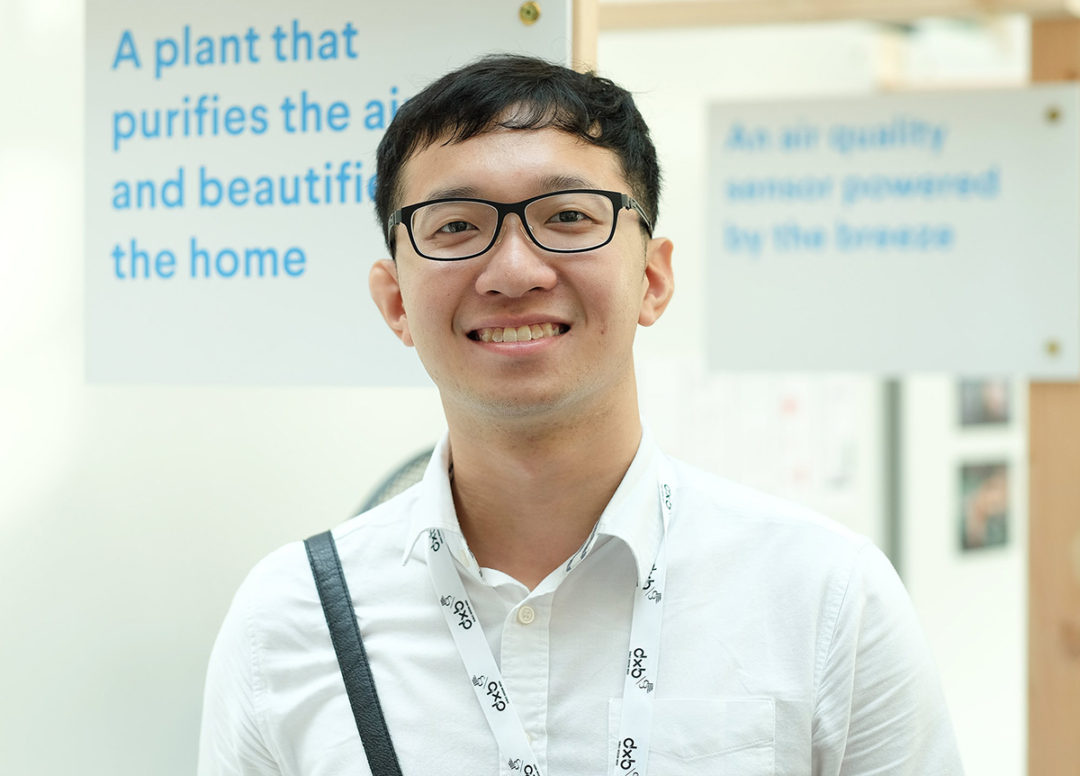 Flair by Sim Hao Jie: Representing the National University of Singapore, Division of Industrial Design, Sim Hao Jie approached us with a deluge of scientific data and test case experiments built upon NASA research focused upon the positive effects live plants can impart when placed into an interior space. "Most people know plants can help produce better interior air, but what they don't know is it's the root system that does the work." His design directs airflow across plant roots and through the growing medium and outward through the leaves, a garden and air purifier in one.
Biomaterials & Acoustics by Luca Alessandrini: You wouldn't know it, but the instrument being played above was made with a mixture including spider silk. Luca Alessandrini, a postgraduate from the Dyson School of Design Engineering at Imperial College, looked to nature to construct a violin impregnated with silk gathered from the Australian golden orb spider. The composite produces a warm and customizable acoustic character closer to wood than any carbon fibre.
Esda by Lorenzo Bouroncle: Another violin with an edgy faceted design intended to break away from the traditional instrument shape and appeal to younger musicians. After plucking a few notes, Lorenzo explained the unconventional shape wasn't purely aesthetic, the violin's bridge can be switched out to change the aural performance. "Esda in Spanish means 'The Sound of the Present'. My project tries to give form to this concept."
Printtex by Benjamin Loinger: Designer Benjamin Loinger concept takes the common paint roller and combines it with cartridge-based printer system, turning any vertical surface of nearly any size into one giant canvas. Two coordinate-sensors connect to a laptop or tablet, with an optical sensor and a distance sensor keeping track of when to begin and stop. The system paints in separate passes, one color at a time. Don't be surprised if you see some form of this design being used by advertisers on a city wall near you in the near future.
Synchrony by Kenneth Tay: The subtle water drop undulations of the device tempt touch. And that was the exact intention of Synchrony, a therapeutic music platform intended to create a physical and musical communication tool between parent and children with autism. The soft silicone "drum skin" invites improvisational back and forth expression, opening up doors where words sometimes fail.