Wearing a wristwatch today isn't so much about keeping time as life once necessitated – our mobile devices now have that covered (and we all know we check them enough throughout the day already). Even so, donning a watch satisfies a different desire, one related to fashion and self-expression. Our tastes steer toward modern and minimalism, with just enough novelty to keep things one arm on the side of being too serious. Here are ten watches meant to be worn and definitely seen:
Tian MultiColor \\\ $255
Check out this wristwatch with a colorful and an off-the-beaten path take on the timekeeping movement. With a Pac-man shaped layered dial display over a rainbow divided into 15-minute increments, exact seconds or minutes aren't the Tian's forte. Rather, this timekeeping design is intentionally vague, intended to "slow down your everyday life" with is estimate of the hour.
Roku by Issey Miyake \\\ $330/$380
The brand may be credited to fashion designer Issey Miyake, but the hexagonal design here is all German industrial designer, Konstantin Grcic, a harmonious geometric contrast between a six sided hexagonal case and a circular inlay face symbolizing the passing of time. Apropos of the design, the packaging hints at the design within. Available two sizes with stainless mesh or leather band, and in black or stainless finishes.
Hatch Steel Watch \\\ $145
This might be the perfect wristwatch to gift an illustrator, who will undoubtedly get the reference of its front face design inspired by the techniques of hatching and crosshatching. With every hour the parallel lines move to form an intricate and ever-changing abstract pattern, with each hour and minute hand keeping time discernible thanks to two large circular ends on each arm.
Projects Watches Vault \\\ $145
If this analog watch looks like a mystery to be unlocked, that's because Daniel Will-Harris – a computer graphics pioneer who literally wrote the book on computer typography, design and publishing in print and on the web – designed the timepiece to reveal time like a combination lock (hint: it tells the time reading from the 3 o'clock position, outward in).
Anicorn Mars Time \\\ $895
A limited edition timepiece inspired by Perseverance Rover's landing site on Mars comes in peace, with a stainless steel bracelet and a silver textile reflective strap with embroidery NASA logo. The watch sports an unusual pair of geometric and arched discs designed to align with the rover. Gift one to the person who you believe is out of this world.
Projects Watches Bauhaus Century \\\ $145
Designed by Denis Guidone in celebration of 100 years of the Bauhaus, an interplay of a trio of three squares rendered in a palette of three primary colors representing seconds, minutes and hours pays homage to the Bauhaus manifesto – one prioritizing creativity, protecting the freedom of individuality and operating according to a strict study discipline as Gropius intended.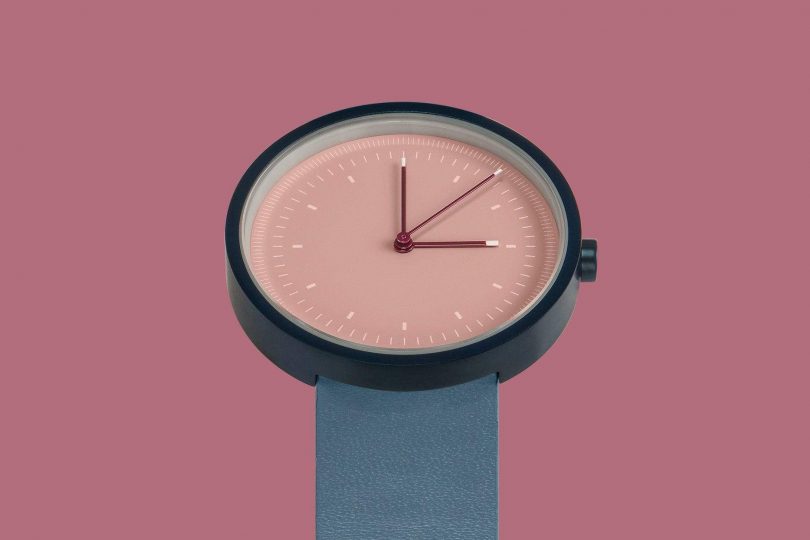 AÃRK Collective Interval \\\ $119
Melbourne-based AÃRK Collective's catalog of work showcases a group obsessed with tiny details, and you can see that dedication to minutiae manifested in the Interval's 3-hand Japanese quartz movement sweeping across a neutral face notched with a congregation of marks around the diameter of its 9mm thick, 36mm face. It's simplicity without being simple, and affordable enough to purchase in a multitude of colors.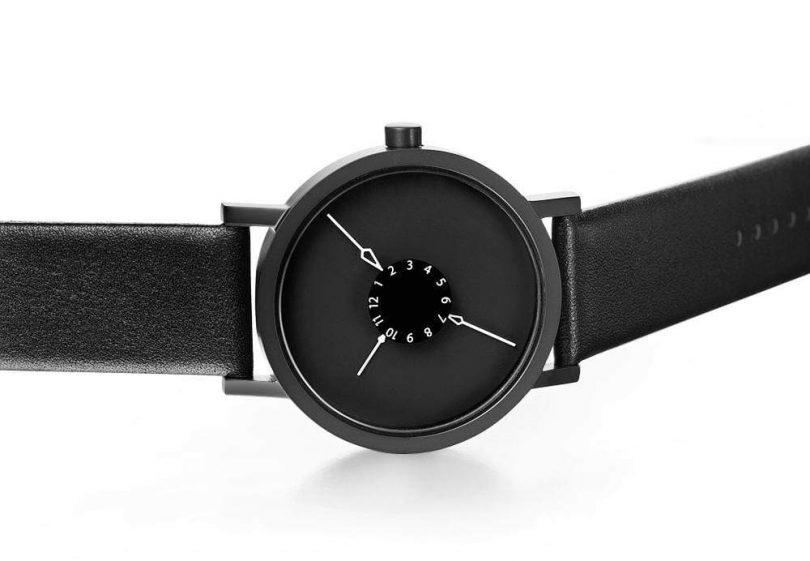 Projects Watches Nadir Black \\\ $140
Another simple design with a clever twist, the arms of the Nadir are designed to stay stationary as its centerpiece dial turns, reporting the hour, minute and second. Designed by Australian designer and furniture maker, Damian Barton, the 40mm diameter Nadir's black IP stainless steel finish with its 20mm black leather band make for a maximum impression with a minimalist design.
Ziiiro Horizon \\\ $199
Evocative of a monochromatic sundial, the Hong Kong-based Ziiro Horizon tracks the passing of time using a singular sweeping white hand representing the minutes, while a darker section embellished with a gradient demarcates the hour – a watch design embodying minimalism to a degree where distracting elements are completely subtracted.
Minimalux Timeless \\\ $256
This last one looks like a watch, fits like a watch, but is certainly not a watch. The machined brass or stainless steel casing 40mm face houses a mirror – a watch so minimalist there's no hands, movement or time to see at all. Just a reflection of self. Give it to your most vain friend and see whether they get the joke.