On Saturday, May 30 at 3:22pm, for a glorious moment we were given a glimpse of the future of space travel. The successful launch of SpaceX's Falcon 9 reorbital rocket system carrying the Crew Dragon to the International Space Station was historic in successfully sending NASA astronauts Bob Behnken and Doug Hurley within a privately developed spacecraft. The mission also revealed the next generation of astronautical wear, the SpaceX spacesuit.
Alongside the amount of life-supporting technologies tethered from seat to suit via "umbilical cord", the SpaceX spacesuit design is bespoke to its wearers for optimal safety and comfort, as described by SpaceX spacesuits and crew equipment manager, Chris Trigg:
"Obviously it's protecting the crew's head…but it also houses the microphones, as well as the valves that are regulating pressure in the suit. We had to design the gloves so that they would work with the touchscreen, so the gloves also have to do a number of other things like the rest of the suit. So all of those things had to come together…the suit is not just a piece of hardware, it's not just a suit. It's a very personal thing. It's Bob's suit. It's Doug's suit."
Credit for America's SpaceX spacesuit design and tailoring goes to José Fernández of Ironhead Studio, a movie costume designer whose portfolio includes Men In Black, Black Panther, and Ironman, and who initially believed he was designing spacesuits for another film production rather than for an actual space program. When comparing the suits worn during the mission above with their 2017 preview revealed via Elon Musk's Instagram (shown below), one can see little has changed at the surface level.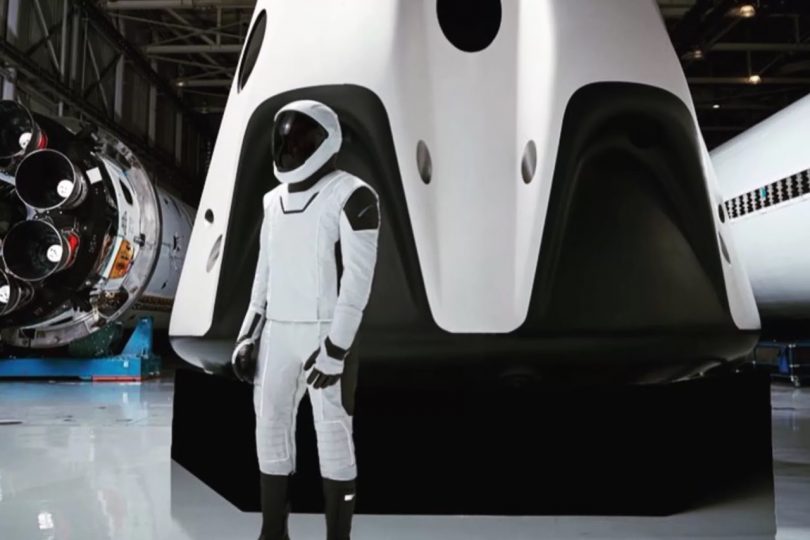 Image: Elon Musk/SpaceX
One simply needs to look back at the historic timeline of NASA spacesuits over 50+ years to recognize how much more sleek the SpaceX designs are, offering astronauts greater mobility and comfort at the inception of privatized space travel.
Photos courtesy of SpaceX.