The following post was sponsored by YLiving. Our sponsors are hand-picked by the Design Milk team because they represent the best in design.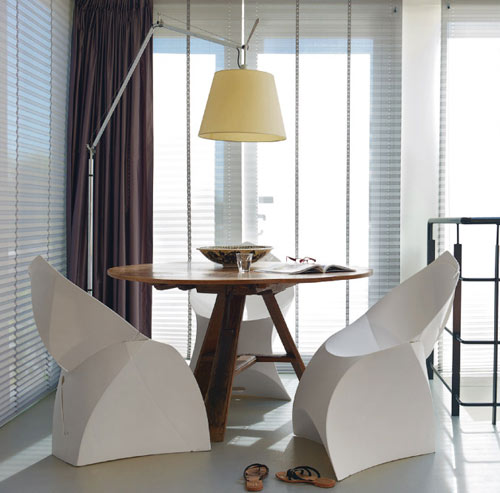 Created by Douwe Jacobs and Tom Schouten, the Flux chair (which we've featured on the site before) is now exclusively available in the US at YLiving. Weighing just 10.6 pounds, the Flux chair arrives to you flat-packed and ready to be folded into your new favorite chair. Don't be afraid, as this baby is made of very sturdy polypropylene that can hold up to 352 pounds. With its nifty handle, you can take it with you just about anywhere, and it's made of weatherproof material that can be used both indoors and out.
The chair is available in eight different colors and its handy Flux Wall Strap makes it easy to store unused chairs against a wall — up to six at a time. If you need some cushioning, Flux makes a chair cushion in four different colors.
YLiving sent us a Flux chair to play around with and we had a lot of fun. The first time you try to fold it — I won't lie — it's not going to take you 10 seconds. But once we had our "aha" moment, we quickly got the hang of it. They say the "average" person can fold it in about 10 seconds, but it probably takes us each about 30 seconds to fold — not too shabby! I think we'll get better with time. We took the chair out and about, discovering all kinds of fun facts, like:
It's Beans-approved!
It plays nice with other designer chairs.
You can park it anywhere!
It likes long walks on the beach — or in our case — long walks by the lake. I bet it likes candlelit dinners and horseback riding, too.
If you're interested in getting your hands on one of these fun chairs, you can only get them at YLiving.
Here's a video I filmed while in Germany in which Flux chair co-inventor Tom Schouten folds and unfolds the chair in less than 30 seconds. His record is actually 2.19 seconds!
(click here if you can't see the video)
Here is a link to the official videos from the Flux website.