What was already a house with rich history in Winchester, UK, became even more so when AR Design Studio came in to renovate the old servants' quarters of a larger home they're a part of. When excavation began, bodies (yes, bodies) were discovered buried underground. Police brought in archeologists who determined that the site had been used for Roman burials. The artifacts and bodies were cleared and taken to a museum for research and The Glass House project was once again back on track.
The servants' quarters had fallen apart over the years and when the occupants of the larger house decided to downsize, they chose to tackle the project and realize their love of glass. The designers took it from there and created a glass staircase and glass extension sandwiched into an alcove in the rear of the building that opened up into the garden.
They managed to seamlessly add the frameless modern extension on to what appears to be a traditional brick house and did it well. The glass-covered structure allows light to flood the first floor communal spaces, while the original, cave-like spaces remain private for the family.
I'm wondering how much sunscreen they have to wear…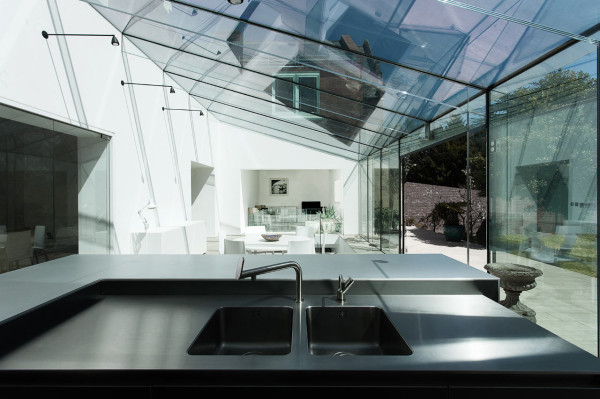 They installed a staircase to connect the ground floor with the cellar.
The light carries through to the double-height entrance space which features that unbelievable glass staircase.
The floors are covered in a ceramic tile that looks like wood instead of a more traditional wood floor because it won't discolor being exposed to the bright sun so much.
Photos by Martin Gardner.