I get asked to do lots of things for the blog, but when HP asked me to participate in their Project Runway Challenge, I couldn't say no – it sounded way too fun to pass up. Not only do I get to try out their new TouchSmart 610 PC, but I have to watch Season 9 of Project Runway and recreate some of the show challenges on my own. I know, I know – my job is awful. *groan*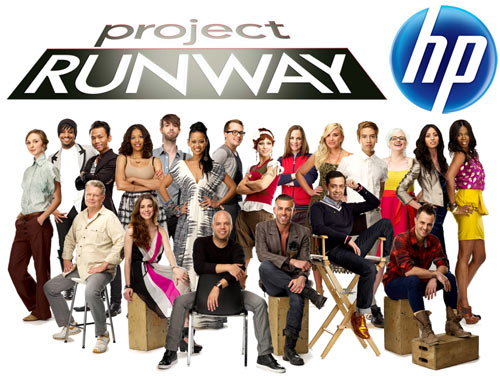 Now, I'm no fashionista. I'm also no fashion designer. In fact, I'm pretty dreadful at it. BUT, that's one of the reasons I wanted to do this – to challenge myself to see if I could do it. Dreadful or not!
I will be sharing some of my creations here, and on Twitter and Facebook over the course of the season. Want to participate in the challenge, too? I would love for you to follow along with me and do this challenge yourself – sharing your designs in the comments or on our Facebook wall. I bet you guys can come up with some much more creative designs than me. You can also join our Twitter chat during the show using hashtag #ProjectRunwayHP. Hope to see you there!
The first challenge facing the designers was to create an outfit using just their pajamas and a twin-sized white bed sheet (you can watch it here). They were able to dye the sheet. I was wearing a solid gray tee and black cotton shorts, so I decided that this would be what I'd challenge myself to work with. I would have dyed the bed sheet hot pink and used parts of my shirt and shorts to complete the outfit. Here's my (albeit amateurish and untrained) drawing:
The hot pink dress is made from the bed sheet and the black mini from my shorts. The gray contrasting top is from my shirt. My models always have curly hair. :) I call this look the "Judy Jetson."
The best part of this challenge (besides watching PR and dishing w/my friends on Twitter) was working on the TouchSmart 610. It's kind of like using an tablet except that you have a fully-functional computer at your fingertips instead of apps. And it's way bigger. The screen is 23″! Plus, it adjusts so your arm doesn't get tired. I used a program called Art Rage, which I was familiar with but never actually used before. It was easy to use with the touchscreen and pretty fun. In fact, I could have spent all night just drawing nonsense with my fingers. I hope to see some of your drawings in the coming weeks!
Neither HP nor Project Runway are paying me for this post. HP provided me with a TouchSmart 610 PC to play around with for the challenge.