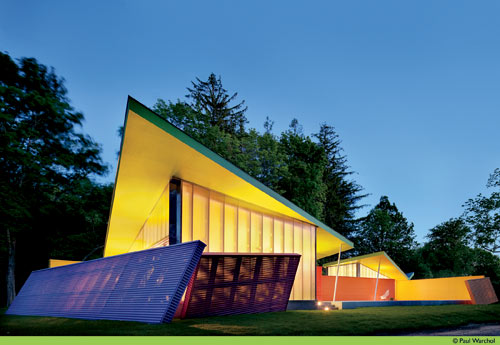 When I cuddled up before bed last week with my copy of October's Architectural Digest, the front cover featured a rustic stone residence with climbing ivy but inside was the biggest juxtaposition to a stone cottage: the Stamberg Aferiat house by Peter Stamberg and Paul Aferiat. Located on Shelter Island in New York, this architectural marvel is like William Krisel and Mies van der Rohe got married and had a baby named Saarinen who picked colors from the (non-existent) Karim Rashid paint palette, and then they all went shopping at B&B Italia.
OK, actually the article describes it more as being influenced by Marcel Breuer, Charles Gwathmey and artwork by Ellsworth Kelly.
The home is a modest 1100 square feet, although appears to be much larger. Stamberg and Aferiat explain that the home's floorplan started to take shape after a visit to Mies van der Rohe's Barcelona Pavilion. They wanted a two-volume home but felt that glass wasn't the way to go: "We wanted something more plastic, more fluid–just as ordered, not deconstructed."
They chose bright, fun colors to reflect and respond to light. A bit too colorful for me to live in every day, but it certainly got my attention and then I couldn't stop looking at it. The leaning planes and parallelograms are genius.
What do you think?
Photos by Paul Warchol, courtesy of Architectural Digest.