The TT-90 System Turntable Will Drive You up the Wall
The TT-90 System Turntable Will Drive You up the Wall
1/9 Photos
2/9 Photos
3/9 Photos
4/9 Photos
5/9 Photos
6/9 Photos
7/9 Photos
8/9 Photos
9/9 Photos
While turntables like the Pro-Ject VT-E offers a striking silhouette for enjoying favorite songs etched into vinyl, vertical turntables are still an uncommon sight for sound within the still growing turntable category. That's because engineering for stability and vibration reduction in a vertical configuration introduces a greater level of complications than any traditional turntable may have to consider. For this purpose – and challenge – designer Oscar Olsson's TT-90 System visualizes an aesthetic and functional concept envisioned to "blend into its surroundings," also engineered to address the functional requirements of an off-the-wall design.
Aesthetically, the TT-90 System is somewhat reminiscent of the Bang and Olufsen Beogram 4000 series turntables… if stripped bare to its most vital elements and configured and mounted for vertical playback. Olsson's minimalist design calls for an electronically controlled carbon fiber arm running parallel to a longer steel frame mount intended to secure the turntable to the wall, with the main casing positioned to the right alongside vital controls.
To compensate and minimize the introduction of vibrations in a vertical configuration, Olsson's turntable is outfitted with four rubber pucks. And if you're wondering how your favorite 45 or 33 stays affixed, note there's a threaded knob to secure records during playback, turning every album into a piece of wall art.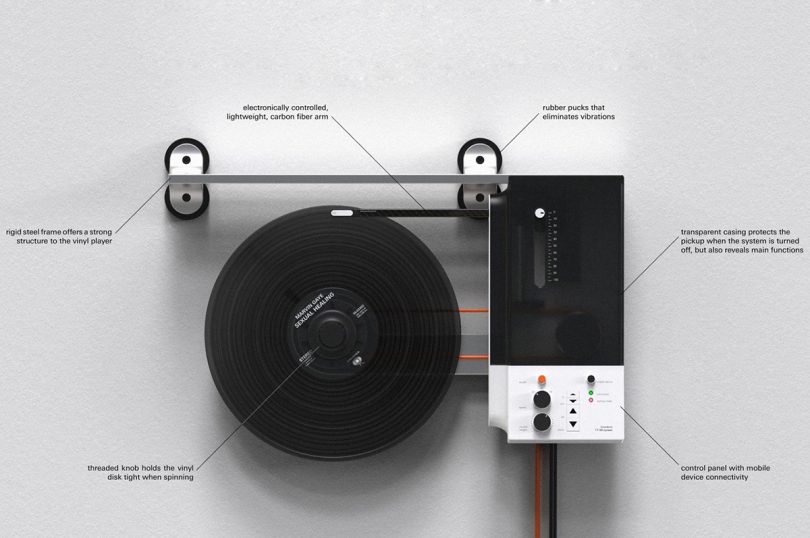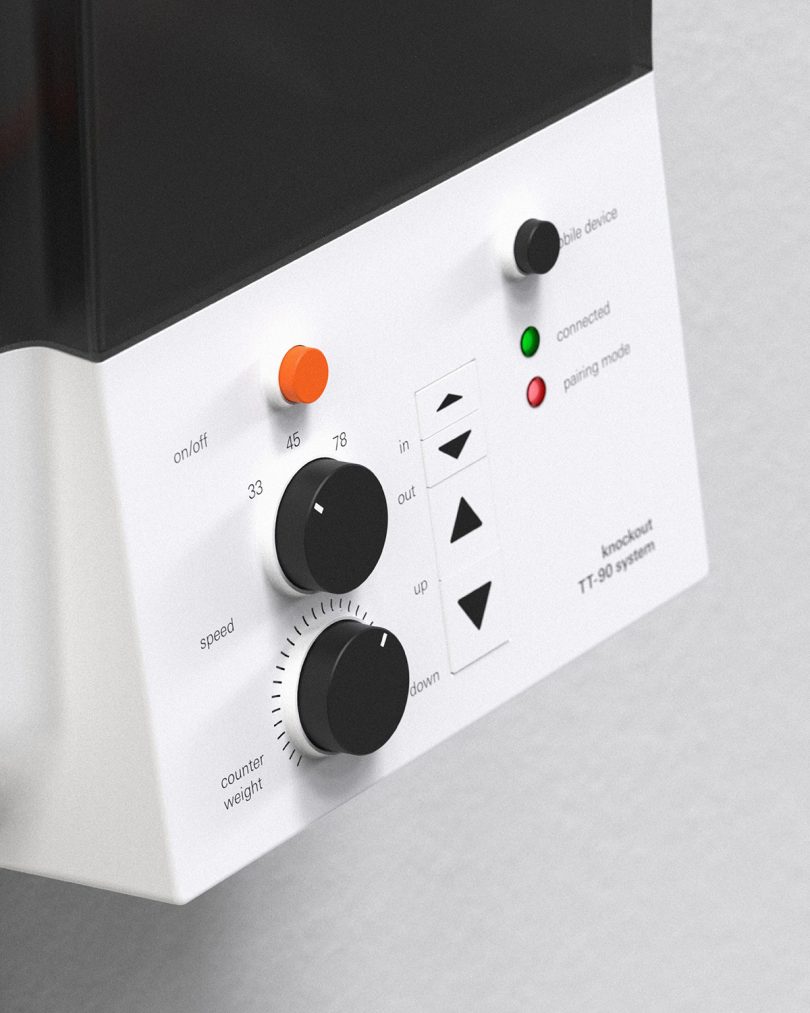 As a nod to the past, present and future, the system is imagined with both tactile dial and button controls and an app-based user interface.
"I got inspired by pragmatic designs, driven by function," explains Olsson, noting he wasn't afraid to expose the functional components as part of the design, "I believe this is a very natural way for a product to communicate how it works – function is form, and form is function. I also wanted the product to be playful, to spark interesting discussions around it."
Being a concept design, the TT–90 System is an unproven quantity functionally. But considering other vertical turntables already exist, a wall mounted option neither seems far-fetched or an unreasonable solution as a  space-saving modernist audio design for those who detest clutter as much as dust on their records.