Theoreme Editions Collection 02 Combines Vision + Skill
Theoreme Editions Collection 02 Combines Vision + Skill
1/10 Photos
2/10 Photos
3/10 Photos
4/10 Photos
5/10 Photos
6/10 Photos
7/10 Photos
8/10 Photos
9/10 Photos
10/10 Photos
Theoreme Editions, an experimental design company created by David Giroire and Jérôme Bazzocchi, has released their second collection of objects and furniture. Theoreme Editions Collection 02 consists of ten objects, each a collaborations between the visions of contemporary French designers and the skills of European craftsmen. Each piece of the collection is numbered, with some being limited edition. When you bring together imagination and expertise, surface and object, furniture and sculpture, the results are bound to be exceptional.
SCMP Design Office's modern aluminum pendant lighting makes note of the American minimalism that was the result of the Bauhaus' influence.
Adrien Messié's Fibonacci table uses a combination of contrasting materials and textures. The top, white lacquered wood, and the matte green ceramic base are a practice in opposites.
The chain-links vase, designed by Service Généraux, is 3D-printed matte ceramic. Featuring a bold, black form, the smallest of the collection's pieces holds its weight against the others.
Exercice Studio's aluminum chair and Victoria Wilmotte's folded console, made with Atelier François Pouenat, pull from a time of industrial machines, mass production, and technical reproduction.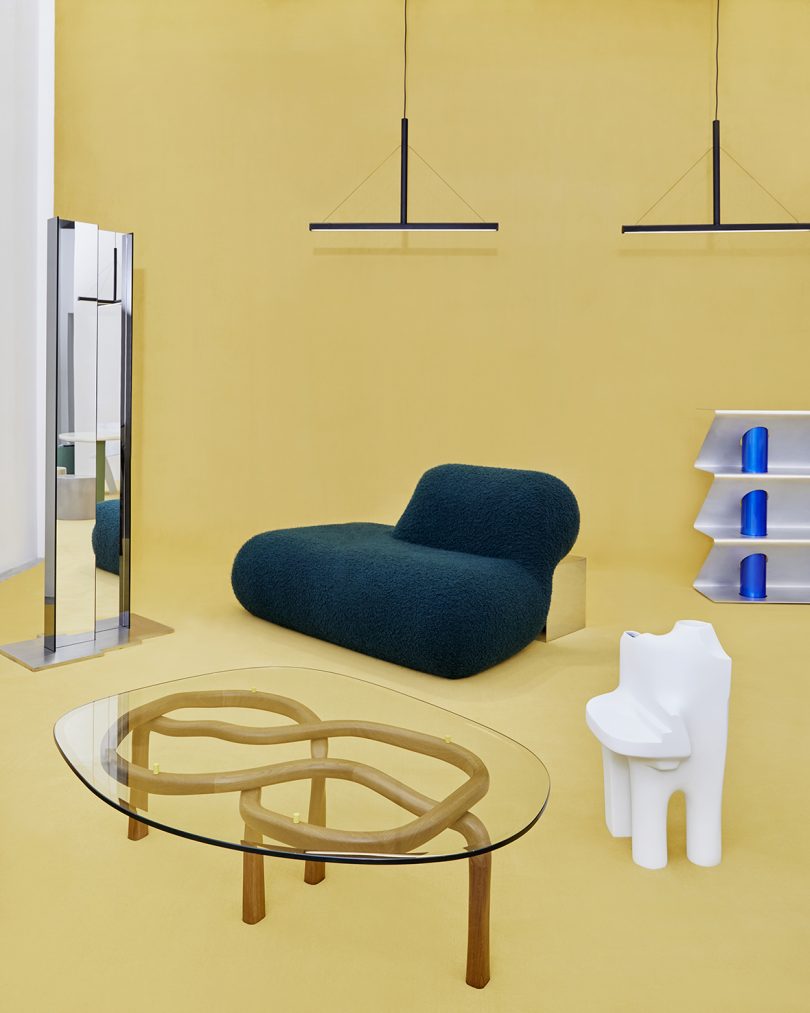 Modern surrealism and fluidity can be seen in Achilles. Designed by the POOL duo, the armchair in tweed flows gently over a lacquered metal cube.
Meanwhile, the coffee table from Hall House features a glass top floating on knotted wooden ropes. It almost recalls Pier Paolo Pasolini's masterpiece, Théorème, from which the design company takes its name.
This large lacquered fiberglass vase was created using 3D scanning and secular sculpting techniques. You can see how designer Matteo Garcia evokes Yves Tanguy and the surrealists in its shape.
Wendy Andreu's free-standing mirror is a monolith of aluminum, creating playful reflections thanks to slats of mirror and one-way glass.
To learn more about Theoreme Editions 02, visit theoremeeditions.com.
Photos by Valentin Fougeray.