These Modern Finds Will Help Make Home Feel More Like a Spa
These Modern Finds Will Help Make Home Feel More Like a Spa
1/13 Photos
2/13 Photos
3/13 Photos
4/13 Photos
5/13 Photos
6/13 Photos
7/13 Photos
8/13 Photos
9/13 Photos
10/13 Photos
11/13 Photos
12/13 Photos
13/13 Photos
Raise your hand if you're due for a little bit of self-care – me too. And while a 12-step facial, cold plunge, and hot sauna (in that order) would be fantastic, a trip to the spa whenever I'm feeling stressed out just isn't a reality for most of us. The good news is, that doesn't mean we have to go without that coveted spa feeling in our everyday lives. Everything from your home fragrance and bath linens to your body wash and plant pots can help cultivate a calming, spa-like energy at home – read on for my favorites.
Elevating the spa vibe at home can be as simple as upgrading your towels. Slowtide's Clive Bath Towels have an embossed, woven checkered print texture that adds to their pillowy softness and gives them a modern, elevated look, ranking them at the top of my list for luxe, spa-quality towels. These are the kind of towels that feel just as good as they look slung over a towel rack – the 100% sustainably sourced cotton jacquard helps you dry off quick and comfortably, while the draw cord loop allows for easy hanging and drying. They come in a range of colors, but the white is a must-have for the spa-level look.
$100 – $195
Shop Now >>
Now I know what you're thinking, "cleaning does not feel like a spa experience," and you're right – it doesn't. But having a sparkling clean bathroom that smells like lavender does, and that's where Biom's All-Purpose Wipes come in. Unlike your run of the mill cleaning wipes, Biom Wipes are 100% plant-based and biodegradable, meaning they won't spend a lifetime in a landfill. What's more, they're refillable – the wipe dispenser has a curved, modern look that you can proudly display on your (now clean) countertops. What's not to love?
$46
Shop Now >>
Anecdote has really done it this time – they've created a spa in a candle. The Self Care Candle stars the uplifting and soothing aromas of citrus, verbena, and mint leaf sprinkled on base notes of lavender, moss, and eucalyptus, creating a calming aroma that'll give even the most chaotic corners of your home that spa energy we crave. I'd recommend burning this one in your bathroom while pampering yourself with a face mask!
$26
Shop Now >>
This organizing catch-all tray by interdisciplinary design studio Space CTRL Design brings order and tidiness to your bedside or bathroom vanity. Fit with small, medium, and large compartments, the Salt Pond Tray has a spot for everything. The cork material brings soft, natural texture to a room, playing up the spa feel. Besides, we all know how zen we feel when we see our most treasured items exactly where they belong.
$38
Shop Now >>
Quiet Town's best-selling Sun Shower Curtains allow you to bask in your bathroom's natural light while you bathe, filling your shower with soft, soothing colors. Their Atlantic Curtain, in all of its light blue glory, coats your shower with a pale blue hue that'll turn daily showers into spa level meditative moments. The transparent vinyl also helps open up small bathrooms too – adding to the spa atmosphere – to make the space appear larger. It's a win-win!
$38
Shop Now >>
Most day spas provide lockers to store your personal items, but we can level up the spa experience at home with a modern, ceramic storage vessel like this one by Departo. The Bathroom Vessel with Lid has a simple, cylindrical shape perfect for storing anything from jewelry and accessories to cotton rounds, cotton swabs, and bobby pins. Featuring a geometric accent, raw ceramic trims, and a chalky white glaze – the Bathroom Vessel with Lid bridges the gap between clean modern and warm natural aesthetics.
$28
Shop Now >>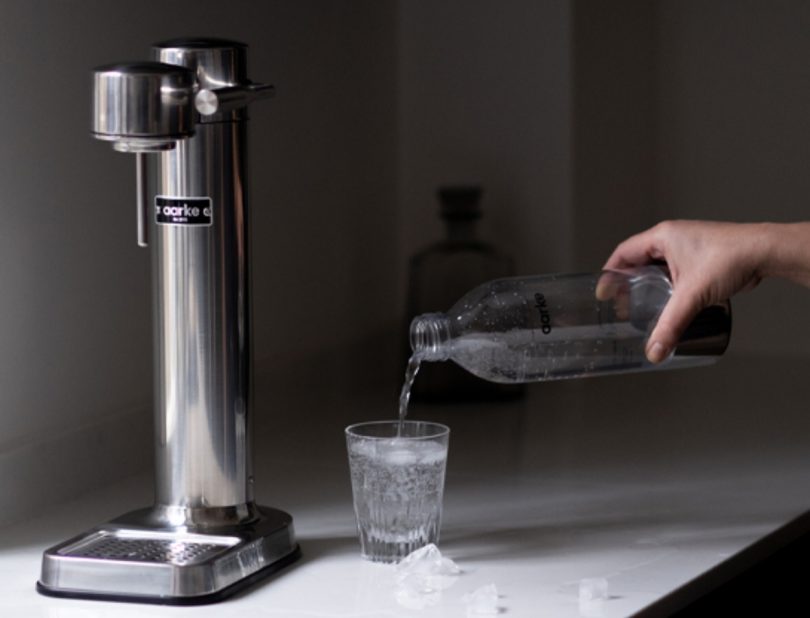 The spa feels would not be complete without some sparkling water to wash it all down. Aarke's Carbonator 3 Starter Kit includes everything you need to make your own bubbly water at home – and has a sleek, ultra-modern aesthetic to boot. The minimalist carbonator is finished with luxe stainless steel that instantly elevates your countertop and saves space at the same time. I'd recommend tossing some freshly sliced cucumber or a squeeze of lime for even more spa energy.
$259
Shop Now >>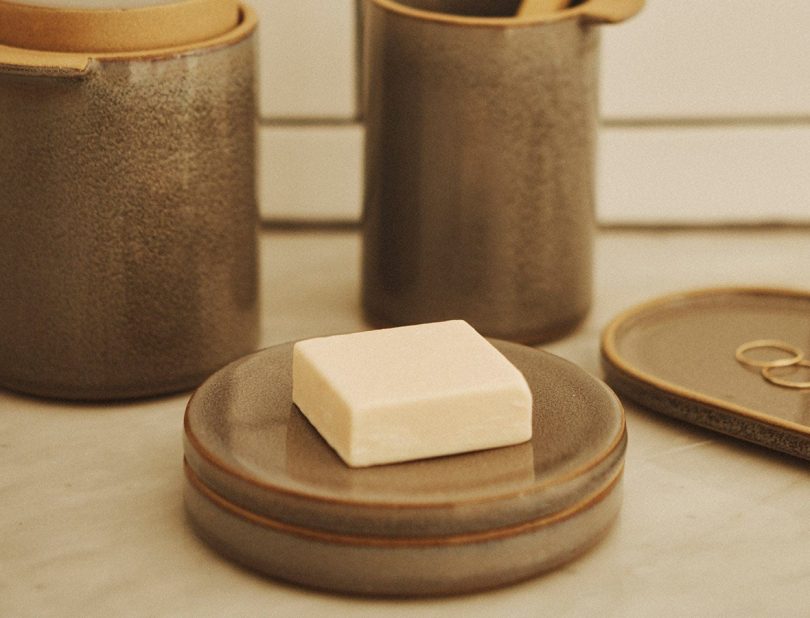 In a world rife with liquid washes and foams, there's something endlessly satisfying about the return to bar soaps. For more spa energy, store your bar soap on a design forward soap dish. Departo's Ceramic Soap Dish is thoughtfully designed as 2 ceramic pieces – the top, where you'd put your sudsy bar soap, sits on top of a separate base where the bar can drain into, thus keeping the soap residue off your counter and allowing for easy cleaning. The smoky ceramic glaze and exposed raw ceramic give this modern soap dish a rich, natural look and tactile appeal that adds instant elegance to your vanity.
$24
Shop Now >>
To really ramp up the spa feeling, bring some lush greens into the mix with Capra Designs' Terrazzo Hanging Planter. Fellow terrazzo obsessives will love all of the peach, teal, coral, blue, and terracotta tones in the Salt Terrazzo color way, and the planter's tan leather cord only adds to its appeal. And if you were with us for our biophilic design lesson, you'll know that having plant life around supports feelings of calm and wellbeing – a non-negotiable if you're trying to turn your home into a spa.
$69
Shop Now >>
Is a spa experience ever really complete without a comfy white robe? Parachute's Waffle Robe takes its cues from fine hotel spas with its lightweight Turkish cotton material, softly textured design, and deep front pockets. The classic white will always be in vogue and it's machine washable. Cozying up in this after a bath will simply never get old.
$129
Shop Now >>
Handwoven using 100% cotton, Quiet Town's limited-edition bath mat boasts a soft feel that absorbs moisture and dries quickly, making it a perfect addition to your bathroom. The natural beige background features curvy abstract shapes in peach, grey, and terracotta tones – the perfect complement to Quiet Town's Arches Shower Curtain, or a neutral accent piece on its own!
$78
Shop Now >>
Your personal care products carry a lot of weight when it comes to cultivating a spa like experience at home. Bathing Culture's Mind + Body Wash is a longtime Design Milk favorite, beloved for its gorgeous (refillable!) glass packaging of course, but a true stand out for its one-of-a-kind scent profile. Their signature Cathedral Grove scent is marked by warm cedar and invigorating aquatic notes for a natural scent that'll transport you every time.
$35
Shop Now >>
Shopping any of our spa-inspired favorites? Share your haul and tag us @designmilk to be reposted to our Instagram! 
This post contains affiliate links, so if you make a purchase from an affiliate link, we earn a commission. Thanks for supporting Design Milk!