These Modern Tea Accessories Will Infuse Your Teatime Ritual With Style
These Modern Tea Accessories Will Infuse Your Teatime Ritual With Style
1/12 Photos
2/12 Photos
3/12 Photos
4/12 Photos
5/12 Photos
6/12 Photos
7/12 Photos
8/12 Photos
9/12 Photos
10/12 Photos
11/12 Photos
12/12 Photos
As much as I love the instant gratification of my potent little espresso pods, there's something inherently meditative about preparing a cup of tea. Every step of the process requires its own delicate timeline, and when performed with intention and without distraction, leaves me feeling balanced and refreshed (unlike the spiral of overstimulation brought on by my 3pm coffee). From kettles to teapots and tea leaves to mugs, making tea provides ample room for beautiful, well-designed objects that'll make your teatime all the more enriching. Whether you're a teatime regular or a tea novice expanding your palate, these modern teatime treats and accessories are sure to infuse your tea ritual with style. For more tea accessories, visit the Design Milk Shop.
Pour Over Stainless Steel Kettle by KINTO
Between its curvy narrow spout that delivers a consistent, easy pour, and its smooth, modern matte black finish, KINTO's Pour Over Stainless Steel Kettle will be a fixture on your stovetop. This sleek kettle is durably made for use on gas and induction stovetops and can even go in the dishwasher for added convenience. And as much as we love the curvy aesthetic, the kettle's narrowed spout is thoughtfully designed to deliver optimal control when pouring over tea leaves for a more balanced brew.
$150
Shop Now >>
Carafe + Two Cups Set by Fors Studio
For teatime al fresco (it's that time of year!), pour your tea into Fors Studio's chic carafe. Each piece of their Carafe + Cups set is literally a match made in heaven, their organic, sculptural forms are designed to be complementary, allowing the pieces to tuck in neatly next to each other creating a modern tabletop display. The durable bone china material and the carafe's handcrafted wooden lid create a stunning tactile and visual contrast that never fails to elevate teatime, and we can't get enough of the brand's new jade colorway!
$130
Shop Now >>
Insulated Mug with Tea Filter by Eva Solo
As much as I love the slow, meditative ritual of teatime, every now and then I have to take the fruits of my labor on the go – which makes this Insulated Eva Solo Mug a necessity. Complete with its own internal tea filter and double-walled vacuum insulation that keeps tea hot for hours on end, this tea mug is an all-in-one solution for brewing tea while out and about. The mug's minimalist, Scandinavian design looks great too!
$69
Shop Now >>
Unitea Plastic Large Teapot by KINTO
KINTO'S Unitea Teapot is one of our favorite ways to make a pot of tea! The transparent design of the Unitea Large Plastic Teapot lets you relish in the colorful transformation of your tea while it brews, for an even more satisfying teatime experience. Made of heat-resistant glass and featuring a plastic lid and internal strainer, the Unitea Teapot pairs beautifully with KINTO's Unitea Cup + Saucer, and will surely bring out the best in your favorite teas.
$24
Shop Now >>
Ayasa Aluminum + Wood Jars by TIIPOI
These aluminum jars by TIIPOI boast a plethora of uses in your kitchen and beyond, but one of our favorites ways to use them is for storing loose leaf teas. The modern storage containers are airtight to better preserve the freshness of your favorite tea blends, and come in a variety of bright, eye-catching shades that offer an instant mood boost with every interaction. You'll love the visual contrast of the aluminum vessel and the sustainably sourced hardwood lid, and the textural interest it brings to your countertop too!
$70+
Shop Now >>
Large Tea Set by Fors Studio
Makers of consciously crafted ceramic homewares, Fors Studio knows a thing or two about honoring everyday rituals like teatime. Their Large Tea Set is a work of art in its own right, complete with a hand-glazed, bone china teapot and two medium sized cups – perfect for sharing a peaceful teatime with a friend. The Large Teapot's oversized curved handle makes it a delight to use, while the sculptural shape of the cups makes them a pleasure to hug between your hands.
$175
Shop Now >>
Unitea Small Cup + Stainless Steel Saucer by KINTO
The transparent glass material of KINTO's Unitea Small Cup is perfect for witnessing the beautiful transformation of blooming floral teas and the soothing color of your finished brew, while the modern stainless-steel saucer provides a reflective surface to create the ultimate tea experience. A delightful bonus: KINTO's Unitea Cup + Saucer are dishwasher friendly making them ideal for everyday use.
$25
Shop Now >>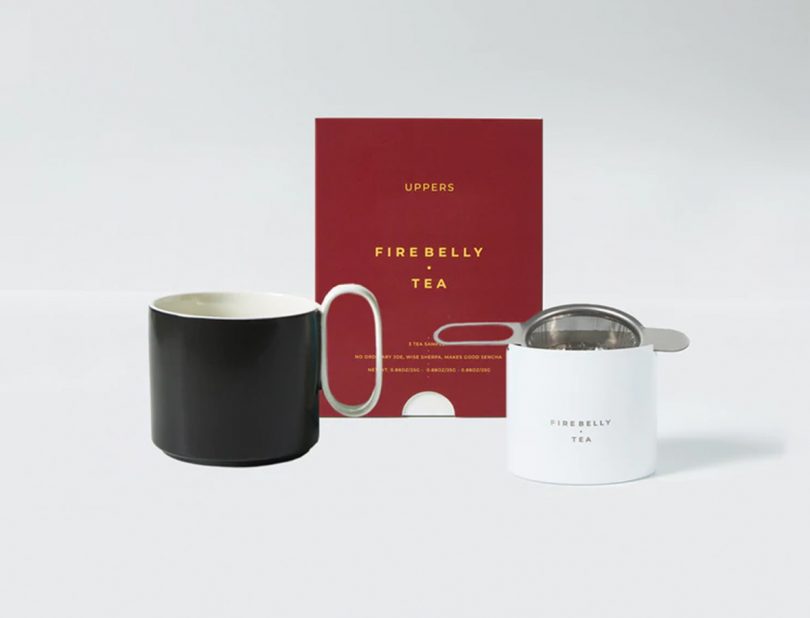 The Must Have Set by Firebelly Tea
This starter set by modern tea company, Firebelly Tea, is an ideal entry point for teatime newcomers. Complete with the brand's stylish stoneware teacup, a single cup tea strainer/infuser, and a Firebelly Tea sampler of your choice, this highly giftable set is a great way to experience teatime and expand your taste in tea thanks to Firebelly's delectable library of pure teas and infusions.
$54.95
Shop Now >>
Bottlit Large Canister by KINTO
These modern bottle-shaped canisters are an organizer's dream – fit for a variety of uses in the kitchen. I can see it now: a row of KINTO Bottlit Canisters along your kitchen counter or shelves, each filled with a different tea variety, creating an artful and functional teatime display. Don't be fooled by the simplicity of its design either, the Bottlit's modern cork lids are fully functional and airtight, perfect for preserving the rich and nuanced flavors of teas.
$25
Shop Now >>
Tea Maker with Woven Cover by Eva Solo
A sleek and ultra-modern brewing solution, this Eva Solo Tea Maker is so stylish, it even has its own outerwear. The woven neoprene cover isn't all fashion though, it's thoughtfully designed to help preserve the heat of your finished tea, so you can experience teatime anywhere. Simply insert the accompanying filter, add your tea leaves, pour hot water into the glass flask, making sure to cover with the spill-proof lid while the tea brews, and depress the plunger once complete to enjoy your tea! No need to remove the filter when you're done either, it's that easy.
$110
Shop Now >>
Uppers Tea Sampler by Firebelly Tea
For folks looking to drop their coffee habit, look to Firebelly Tea's Uppers Set. This USDA organic tea and infusion sampler includes the brand's most popular focus-boosting teas – all of which make a perfect midday pick me up. Firebelly's No Ordinary Joe tea delivers a coffee-like taste profile without the jitters, Wise Sherpa offers smooth and sustainable caffeine buzz, and Makes Good Sencha provides all-around focus support.
$22.95
Shop Now >>
Shopping any of these teatime treats? Share your haul and tag us @designmilk to be featured on our Instagram!