Kirsty Thomas runs Tom Pigeon from the East coast of Scotland designing and making jewelry, stationery, art prints and home accessories inspired by her surroundings, but her career almost took a very different path.
"I loved art at school, but I was also pretty sporty and so I initially opted to study sports science at Liverpool University much to my art teacher's dismay," she says. "After a year of measuring muscles and studying the dynamics of rugby, I decided to jump ship and transferred to the Foundation Art and Design course. I discovered fashion and textiles and realized that I wanted a much more creative future."
It should have come as no surprise – Kirsty has always had an interest in the arts. "From as early as I can remember I have drawn, made things and generally got my hands dirty," she says. "Creativity was a big part of my growing up and although my parents didn't work in the creative industries, it was always encouraged."
After a foundation course at Liverpool University, she studied for a BA in Design Studies at Salford University. "I felt short-changed by my degree at the time, because it left me as a jack-of-all-trades and master-of-none," she says. "But, it did give me a really good understanding of design theory, contextual studies and design history and the confidence to work across disciplines without feeling that I had to specialize in one particular area of design. I realize now that it was formative in my multi-disciplinary approach to design and the feeling that I could do anything if I worked hard enough."
Hard work has certainly led to success in Kirsty's case. She established what she described as "a hobby business" under the name Lovely Pigeon in 2009 while working full time as an art teacher. "It grew quite quickly and I was working with stores like the Tate Modern within a couple of years. I decided to go full-time in 2012 and the business continued to grow."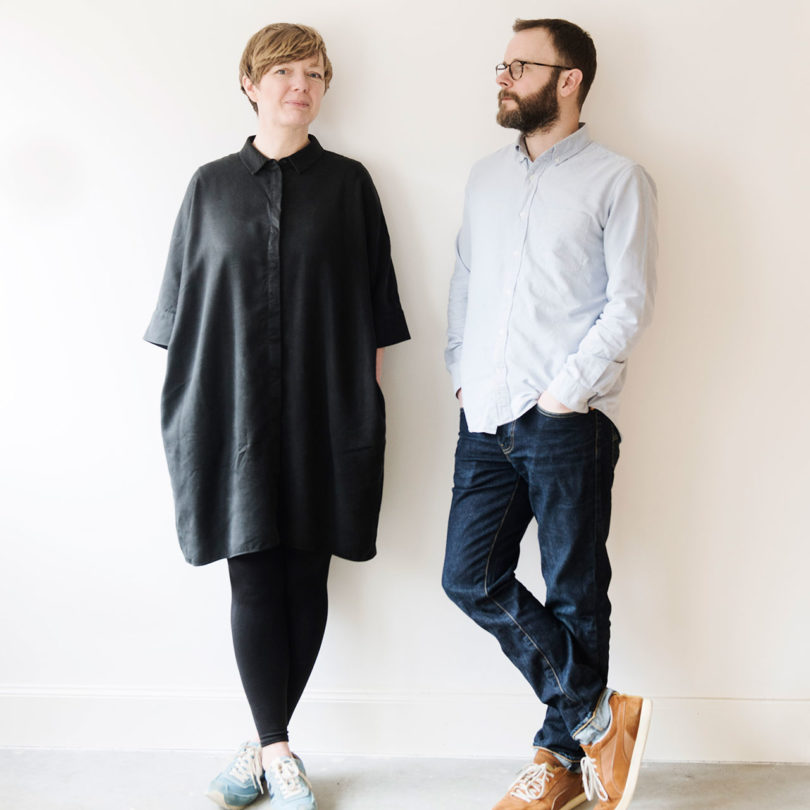 By 2014 she had over 50 stockists including The Barbican and The Victoria and Albert Museum and Kirsty wanted help to focus, develop and grow further – so she drafted in her husband. "Pete is an amazing designer, but he is also very strategic and is extremely business savvy. That was exactly what the business needed, so we joined forces and Tom Pigeon was born."
The new name, a combination of Kirsty's childhood nickname and the couple's surname, signaled a maturing of the brand, and the slightly more formal, masculine aesthetic Pete brought to the brand.
Since 2014 their turnover has grown, they have taken on three new members of staff and their stockist list continues to grow. However earlier this year, they realized that their business and personal lives needed rebalancing. "Working with your partner is not always easy and so we decided that I would focus on the creative side of the business. Pete has taken a step back from day-to-day studio life, but we still work together and I couldn't run Tom Pigeon without Pete's financial skills, strategic mind and emotional support."
A new studio in an old dairy recently converted by architects Konishi-Gaffney gives them the space to separate home and work life. "Working here allows me to be creative," says Kirsty. "It's an amazing space with views over the fields towards the North Sea. We have loads of space, creative neighbors and an allotment, so we feel pretty lucky to come to work here every day."
"Tom Pigeon is heavily influenced by the forms and colors in our local environment – our new Tin Shed prints (above) are a celebration of the weird and wonderful agricultural sheds used by farmers around here, our Anstruther print is an abstracted seascape inspired by the colors and reflections in our local harbor and our recent Shipwreck collection was inspired by the flotsam and jetsam washed up on our beaches."
Everything is designed and made in Scotland, working with in-house jewelers and local printers and makers. "I feel really proud of how the business has grown creatively," says Kirsty. "It is not easy to work across disciplines and I feel really happy and lucky that Tom Pigeon allows me to express myself across so many different areas of design. Despite all this, I would really like to start producing work that gives something back. I am currently exploring some new projects that will allow us to work more closely with charities and communities."
Watch this space for more on that, and look out for Kirsty's first solo exhibition at Custom Lane in Edinburgh. "I'm working on an interactive play space and will be doing some live mural painting which is super-exciting and a little bit terrifying."
'Super-exciting and a little bit terrifying' is how all the best things feel to start with, and with this woman's track record, we're sure she won't disappoint.