Warmer hardware
Over the past year or two, we've seen the significant growth of gold, brass and copper as accent metals on decor and furniture, and now it's making its way into the other rooms of the house. We're seeing everything from knob and handles to faucets and even shower heads moving in this direction. Trendy or not, we can't help but love warming it up in the bathroom.
Non-bathroom decor in the bathroom
Moving away from traditional Hollywood-style bathroom lighting and typical boring beveled mirrors is a trend that I am excited about. See you later, mirrored medicine cabinet! Hello, gorgeous mirror and storage cabinet with hanging pendants! Making the bathroom lighting not only more subtle and softer, it makes your bathroom feel more like a part of the rest of your home, allowing your personality to shine.
Natural walls
From wood walls to living walls, the bathroom is going back to nature. It used to be that you'd have wood cabinets and maybe accessorize with a plant, but modern bathrooms are going full out with entire walls featuring natural materials. We spotted live moss tiles at Coverings, which we think would make a great—and easy to maintain—natural wall.
Wood-look tiles
Liz says, "Wood-patterned, plank-style long rectangular porcelain tiles in a wonderful variety of colors and wood stain tones ranging from charcoal grey to the natural aged European hardwood look." She's right on target—we were just at Coverings, the North American tile and stone show, and faux wood porcelain and ceramic tile was EVERYWHERE. It's more durable than using real wood in the bathroom, but what's even better about the newest inkjet printing methods is that you can get real wood look without frequent repeat patterns. The pattern is so clear and realistic, you'd never believe it was tile!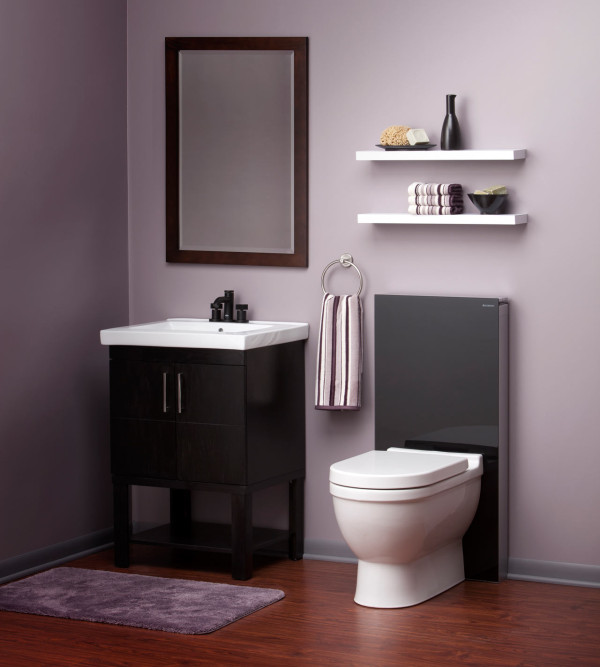 Innovative toilets that save water
Toilets haven't had a major redesign in many years, but it looks like we're slowly making our way into a new era for toilet design. The Geberit Monolith says sayonara to traditional bulky ceramic tanks and pairs a sleek, rectangular tank in distinctive black or white glass with an elegant ceramic bowl from Duravit. Plus, you don't need to change your existing plumbing. But it's not just form, it's function, too. Liz says, "Newer toilets with a dual flush system continue our efforts in water conservation. It can help the average family of four reduce water use by thousands of gallons per year." You can find more Geberit toilets, including wall-hung versions, on Geberit's Houzz profile.
Floating tubs
Not everyone has the space for a freestanding tub, but if you do, make use of the opportunity to create a spa-like feeling by adding a standalone tub. We noticed this trend a few years back when we rounded up some amazing tubs with fantastic views.
"-Less" is more, but bigger is better in the shower
Liz says, "If the layout is not ample enough for a spacious shower and separate tub, then it is more common now to eliminate the tub and go with a more generous shower with great features, such as a ceiling mounted rain head and a bench." I love the idea of keeping things as simple, clean and seamless as possible, so I'm all for this trend. She also notes that "curbless showers are becoming more popular as it provides a more streamlined look, and additionally will benefit our aging population."
Subway tile with dark grout
After all these years, subway tile is still hot. A popular trend is to use a darker grout to make the pattern stand out, creating a more graphic effect. It also feels somewhat retro…
Mix-n-match tile
Another tile trend we've noticed is unusual and new subway tile patterns, such as herringbone or basketweave. We've even seen different sizes of tiles or different patterns being used together. Building on this trend of mixing and matching is the very popular trend of mix-'n'-match tile, which started just last year and began to get ever so popular. At Coverings, we noticed that almost every tile manufacturer had a mix-'n'-match tile collection.
Tech-Focused
You might be used to being surrounded by tech in the office and kitchen, but in the bathroom? Yes. Bathroom technology is on the rise, from touch faucets and gesture technology to wifi and audio/visual systems to make the bathroom safer, cleaner and more connected. We'll be talking more about that later this month, so be sure to check back!