A small vacation home in Upstate New York leads its occupants up to the treetops, hovering over the forest below and offering up enchanting views of the lake and mountains in the distance. Designed and constructed by GLUCK+, the Tower House keeps its footprint small, as not to disturb more of the wooded lot than necessary. Instead, the first three floors are relatively small, opening up on the top floor to house the living spaces.
The fourth floor spreads out from the tower providing more square footage to the home and creating a unique look for the exterior. Situated on top of the fourth floor is a rooftop terrance that will make you feel like you're sitting above the trees. The top floor almost looks like the tower turned on its side, doesn't it?
The exterior is covered in dark green, back-painting glass panels that almost camouflage the house by reflecting the trees that surround it.
The residence is used a few weekends during the winter and most weekends during the summer so they wanted to create a design that was energy efficient and sustainable, and one that kept operating and maintenance costs way down.
The bedrooms are stacked to face north and are outfitted with floor-to-ceiling windows to make the most of the light.
The staircase is glass-enclosed, helping to highlight the home's design that leads from the forest floor to the tops of the trees. Come darkness, mini lights within the cable rails mimic the local fireflies that sparkle within the woods.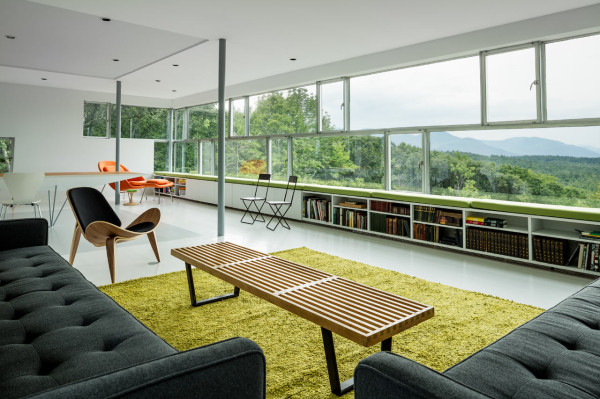 The top floor has long, horizontal windows that frame the mountainous views and definitely give you the feeling of floating on the treetops.
A bench that runs the length of the room sits underneath the windows to provide plenty of seating. Underneath, they incorporated tons of storage.
About its energy use:
While the house is heated conventionally, by compressing and stacking all of the wet zones of the house into an insulated central core, much of the house can be "turned off" in the winter when not in use. When not in use, only 700 square feet of the 2,545 square foot house is heated. By closing the building down to only the insulated core, there is a 49% reduction in energy use. In the summertime, the house feels comfortable without air conditioning. Cool air is drawn in and through the house using the stack effect. South-facing glass throughout the stairwell creates a solar chimney and as the heated air rises, it is exhausted out the top, drawing in fresh air through the house from the cooler north side.
Photos by Paul Warchol, except where otherwise noted.