Simone Ferkul designed a series of suspended planters, called Sling, that bring the outdoors in. A ceramic vessel is held by an elongated loop to created a plantscape in your small dwelling.
Frontières, by Studio Aubry / Levesque, acts as an open room divider for smaller apartments, while providing much-needed extra storage. The movable shelf was inspired by vintage outdoor wire frame furniture pieces from the 1950s but with a modern twist.
Rainville-Sangaré's Bug step stool provides height to reach those extra tall cabinets making it a practical design for compact living. It's made of steel with a thick matter rubber finish that makes it waterproof and durable.
Also from Rainville-Sangaré, the K.I.S.S. (Kitchen Island Surface System) is a way to add extra work surfaces to your small kitchen. The flat-packed design comes in four parts that are easily assembled and it even has the option of wheels for extra functionality.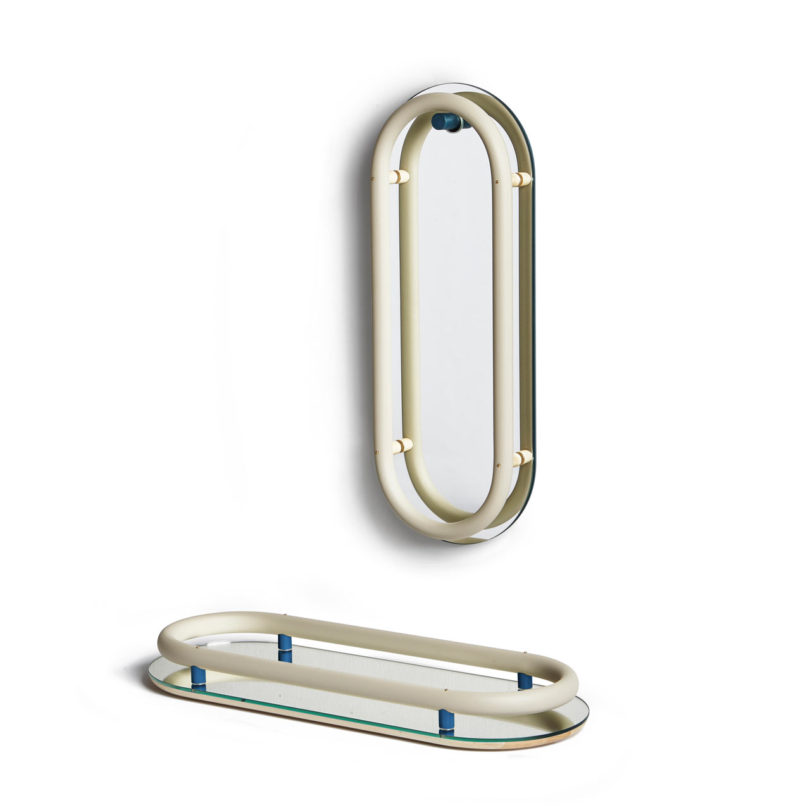 Harbour's Topside is both a hanging mirror and and a mirrored tray – it's your choice. Its oblong shape references that of a ship's top deck, which is how the object got its name. Its tubular bent metal "railing" floats above the mirror creating a frame/edge that makes it easy to handle.
The Moon Quilt & Cover is by Libs Elliott and its compact size, just 5′ x 5′, folds up to be stored inside the Moon cover to become a cushion. It has a geometric pattern created randomly using Processing, a programming language.
Alissa Coe designed the Basalt Bathroom Set, which comprises five lidded vessels for discreet bathroom storage helping to combat clutter. The hexagonal vessels were inspired by the compact natural formations that are made by basalt, or dark volcanic rock.
From Char Kennedy comes the Facet Mirror, a compact mirror that offers four viewing angles depending on how you turn it. Its design encourages you to engage with the handle of the mirror by physically moving it around to get various views. By using the handle, you avoid smudging the mirror with fingerprints.
Using a span of industrial grey felt, Felt Studio created the File & Magazine Holder to help you organize your daily papers. Designed to be placed on the floor or on a desk, the object holds your stuff in between its folds with two wooden dowels keeping it securely in place.
Linus Kung's Unicorn is a multipurpose lamp that was inspired by the fluorescent umbrellas in the movie Blade Runner. It has an umbrella handle-like body with a magnet at the bottom allowing it to adapt to most any use.
You might recognize the Two Halves Shelf, by Chifen Cheng, as it was just featured yesterday.
We're big fans of Hinterland and their Section Stool is made of stacked components that swivel around to reveal a storage tray, side tables, a wooden bowl, and a desk organizer. They close up when they're not needed but swivel out when you need to use them.