Occupying a building from the '70s, The Fleming is a boutique hotel that originally opened in 2006. Nine years later, it underwent a redesign and rebrand by A Work of Substance that transformed the hotel into a modern reflection of Hong Kong's culture.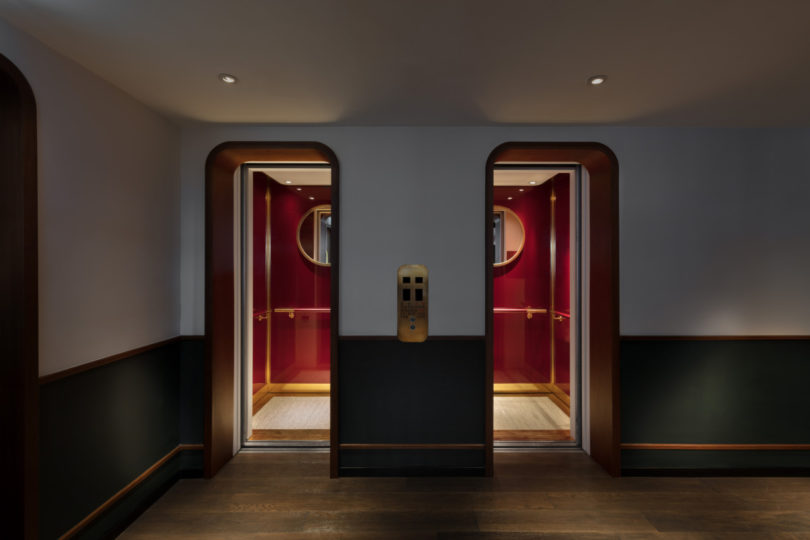 A Work of Substance was inspired by the Star Ferry, an iconic element of Hong Kong's cultural past and present that became the foundation for the redesign. The carmine reds and bottle greens found in the interior design of the hotel is an homage to the hues found on Hong Kong's ferries, fishing boats, delivery trucks, and temples.
As you wander around the hotel, you get the feeling of being on a ship versus in a hotel. Nautical elements like the signage below play into that maritime ambience.
While the hallways may be dark, the rooms are lit with large windows and custom fixtures with detailed brass elements as an ode to Hong Kong's industrial history.
The Shen Nong apothecary-inspired toiletries found in every room have a nostalgic and authentic aroma of sandalwood and amber notes.
The Osteria Marzia owned by the Black Sheep Restaurant group is located right next to the hotel's entrance and serves up Italian cuisine with flavors varying from different seaside cities.
The exterior of the hotel is outfitted with custom, nautical fixtures that light the way like a shack on the dock.
What: The Fleming Hotel
Where: 41 Flelming Road, Wan Chai, Hong Kong
How much? Rooms start at approximately $183 per night.
Highlights: With a brooding but welcoming ambience, this boutique hotel was designed for travelers who don't just want a place to sleep but an experience that tells of Hong Kong's past and present.
Design draw: The interior design and custom furniture and lighting are inspired by the Star Ferry, as well as Hong Kong's maritime and industrial era in the '70s.
Book it: Visit The Fleming Hotel