Owners of a 1,100 square foot loft in Vancouver's Crosstown neighborhood hired interior design firm Falken Reynolds to renovate the interior for not only living, but work and game watching, too. Since they also split their time between here and New York, they were looking for a design that united their love of both coasts and the results bring it all together.
It was important to have a connection between the kitchen and the sitting room with the TV so that games would not be missed. Bar stools provide extra seating when guests are over. What used to be a storage room and a shower is now a new dining room, which can be used for working. Besides the dining room table and kitchen island, there are places to work in the bedroom, where a desk was brought in, and there's room on the 400 square foot covered patio.
The loft feels light and open with white cabinets and countertops in the kitchen and a Bocci 28 chandelier floating above.
The light aqua tile backsplash bounces light around the room while adding color to the space.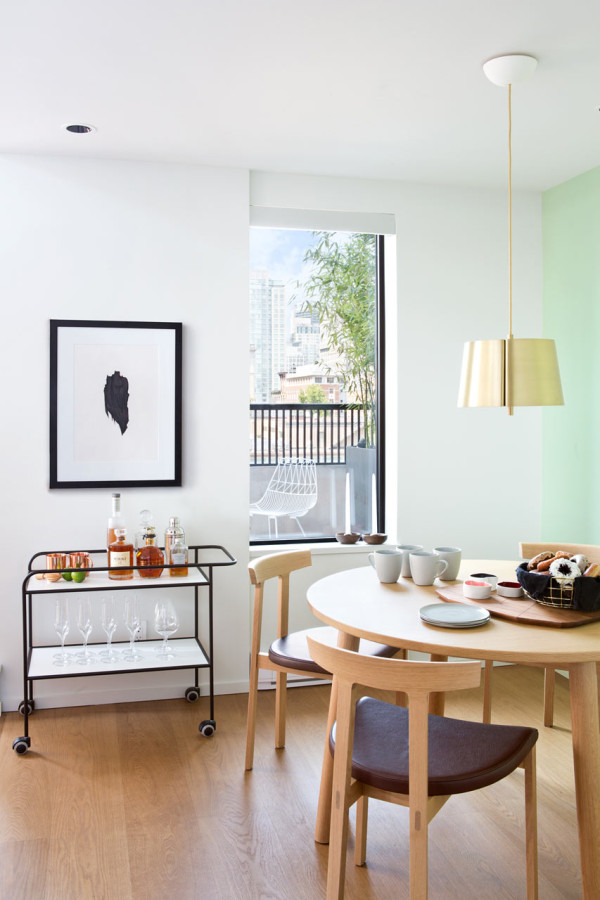 The neutral bathroom gets added texture through black rhomboid floor tiles and bright white subway tiles on the walls.
Photos by Ema Peter.