Vans is one of those companies that needs no introduction. Founded over 50 years ago by the Van Doren brothers, the brand has become an iconic name beyond just the California skate culture. When it came time for the company to settle into its new Costa Mesa, California headquarters, Vans reached out to Rapt Studio to celebrate the four pillars of the Vans brand: Art, Music, Action Sports, and Street Culture and Fashion. Earlier last year we toured the HQ (you might have followed along on @designmilk's IG Stories) and it is officially the coolest office we've ever seen. Take a look…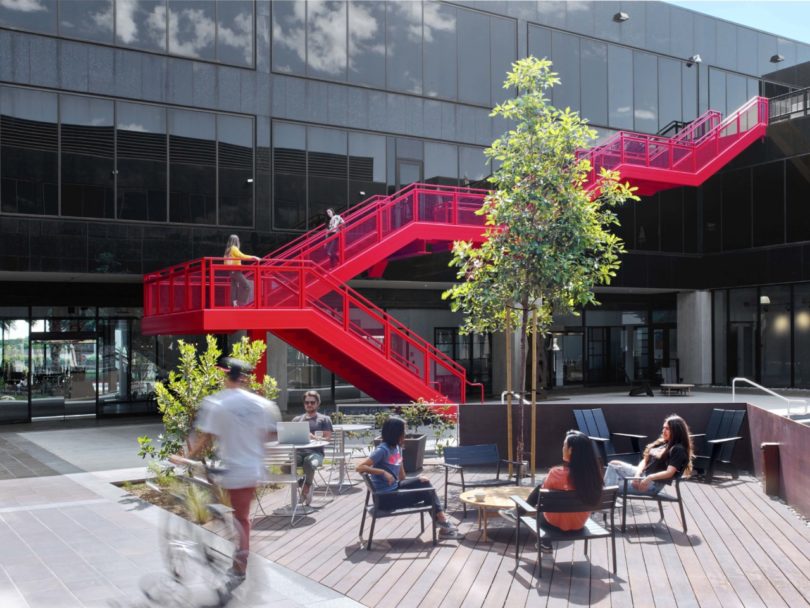 From Rapt Studio, David Galullo (Creative Director), Derrick Prodigalidad (Team Lead), Rosela Barraza (Designer), Keith Muller (Architect) and Scott Johnson (Architect) took point on transforming the 182,000 square feet headquarters into a place of work, play and creative exploration for Vans' 500+ employees.
The building is centered around a courtyard with a Vans red staircase linking all of the different groups within the company. It was very important that the new space had areas that accommodated and encouraged collaboration but also gave employees the ability to focus when needed. In fact, if everyone in the company left their desk, there would be enough space for each person to work remotely inside and outside the building.
There were three must-haves that the employees asked for after being surveyed: a gym, coffee and wifi. A coffee bar was installed to serve draft Stumptown coffee that employees can enjoy at the bar or in The Commons surrounded by art by John Van Hamersveld.
This mural by Todd Francis reminds me of the gritty, urban skate culture that celebrates Vans.
All of the more open lounge spaces and rooms built out for collaboration and meetings are located closest to the courtyard while more private rooms are located away from the inner ring. This allows employees and visitors to move throughout the building without disrupting peace and focus.
Vans paraphernalia, from skateboards and sneakers to art and books, can be found in every corner of the conference rooms, open space lounge areas, executive offices and employee desks.
How cool is this mural, a take of the Vans spirit as interpreted and painted by Jay Howell, the original character designer for Bob's Burgers?!
Shoes on shoes on shoes. Other office features include a jam room for employees to take a music break, five fully merchandised showrooms stocked with future collections and releases, and a store that serves as a mock-up for future retail spaces.
Meeting rooms are creatively named, like the Huddle Room or after Vans athletes, family and special locations from Vans' history.
The Waffle Works Innovation Center serves as a lab that allows for creative experimentation and concept exploration through customization technology. The center is outfitted with the modular Wedge Sofa designed by MASHstudios that's inspired by the natural forms found in mountain ranges.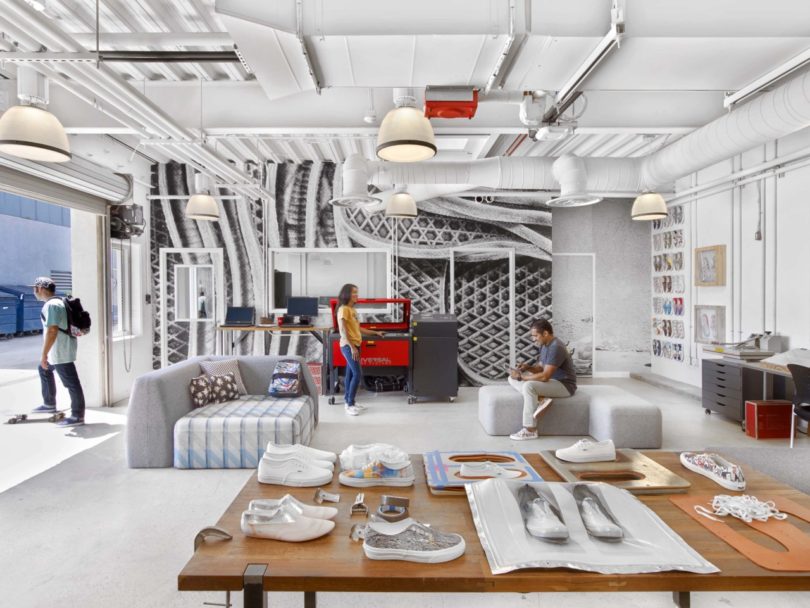 Sustainability was also an important factor to the company who wants to achieve LEED Platinum status, the highest standard sustainable buildings can reach. With a solar array of over 4,000 solar panels to power more than 90% of the headquarter's electricity, 38 electric vehicle charging stations powered by the solar array, and energy-efficient technologies, we have no doubt that Vans will reach that standard soon.
What did we say? Coolest headquarters ever, right?
Photos by Eric Laignel.