A husband and wife commissioned Apollo Architects & Associates to build the three-story Vista house in Tokyo, Japan. The plot of land they purchased was on the edge of a plateau in the Nishidai Itabashi ward of Tokyo. From the front part of the house, it appears to be a large white structure that is closed off. The back of the structure opens up with walls of windows that offer sweeping views of the city.
The ground floor contains a small bedroom with Japanese straw-mats, a bathroom, and dressing area with a terrace. The second story houses the living and kitchen areas in a large open space along with a balcony. On the third floor, a child's play area and a large outdoor space with neighborhood views are accessed via open white stairs. This floor is surrounded by mostly glass walls that allow for daylight to filter down through the staircase and slatted floor to the lower levels of the house.
The Vista house has clean lines and features warm woods and a simple white color palette. The house includes both a parking space for a car and a built-in garage for the owner's motorcycle.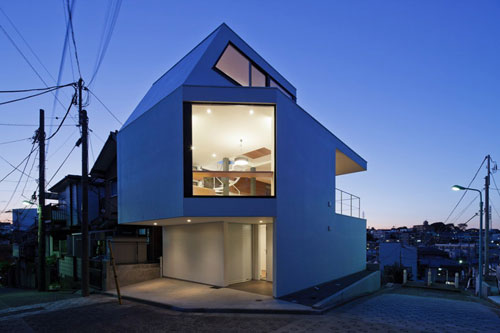 Photos by Masao Nishikawa.