Swiss brand Vitra is ready to share their Autumn 2020 collection with a handful of fresh products, and they're being introduced by way of four interior environments. Each room was created with a set of imaginary characters in mind, featuring products by Edward Barber and Jay Osgerby, Ronan and Erwan Bouroullec, Antonio Citterio, Konstantin Grcic, Jasper Morrison and Jean Prouve, along with special editions of Vitra designs.
Above you'll see the first living space, Box 1, created by designer F Taylor Colantonio for an eccentric art historian – Signore X – from Rome. The interior has evolved over time, with marks from generations and inhabitants past. Nineteenth-century tile floors, ancient marbles, and sumptuous draperies create a rich collage of color and material. Colantino includes a Mariposa Corner Sofa and a new edition of the Chaise Tout Bois, the only chair design by Jean Prouve made entirely from wood.
Box 2, designed by New York and LA-based Charlap Hyman & Herrero, imagines the dining space of a collector and patron of the arts who appreciates Japanese aesthetics. Inspired by Pauline de Rothschild and Marie-Laure de Noailles, this character loves the delicate and the bold, the natural and the industrial, the old and the new. Walls in eighteenth-century silk floral damask and a floor lined with tatami panels create tension, while Jasper Morrison's new Moca chair is understated and useful. You'll also find Ronan and Erwan Bouroullec's Vase Decoupage, a vessel that looks different from all angles.
Architecture studio Gonzalez Haase AAS imagined Box 3 to have its interior in flux with a couple of uncertain age and undefined relationship inhabiting a (possibly) mobile structure in an urban location. Elements are interchangeable in terms of location and function. Inside is Konstantin Grcic's new lounge chair, Citizen, featuring tubular steel designs from the modernist era and a nod to the culture of Silicon Valley.
Box 4, by Belgian design duo Daskal Loperre, was created for the fictitious Keller family, who live a slower-paced lifestyle without the extras. Minimal, timeless furniture and attention to detail alert us to how much they value a few high quality items over clutter. Here you'll find the compact iconic LCW (Lounge Choir Wood) by Charles and Ray Eames, from their period of experimenting with complex plywood moulding techniques.
Jean Prouvé has designed only one chair made entirely of wood, Chaise Tout Bois, and it requires zero screws to assemble. A shortage of metal during WWII inspired him, and now Vitra is reissuing the 1941 design that speaks to a modern mindset. The rear profile is characteristic of Prouvé's designs, showing added strength at the point between the seat and backrest to support the load weight. After several prototypes testing the structural strength and leg positions, the Chaise Tout Bois was ultimately made out of oak and plywood, and is also offered in a dark-stained version.
The unconventional Citizen lounge chair was developed by Vitra and designer Konstantin Grcic, creating a new way to sit. The reinterpreted lounge chair uses elements of tubular steel furniture, with a slim silhouette and visible components for a dynamic and relaxing experience. The seat itself is suspended from the steel frame by three cables for a swinging motion in all directions, while the contoured backrest prevents you from slouching. Citizen is available in two versions – as Citizen Highback and Citizen Lowback. Choose upholstery from a wide range of fabrics, with identical material used for the seat and back, while the neck pillow may be chosen in a different color.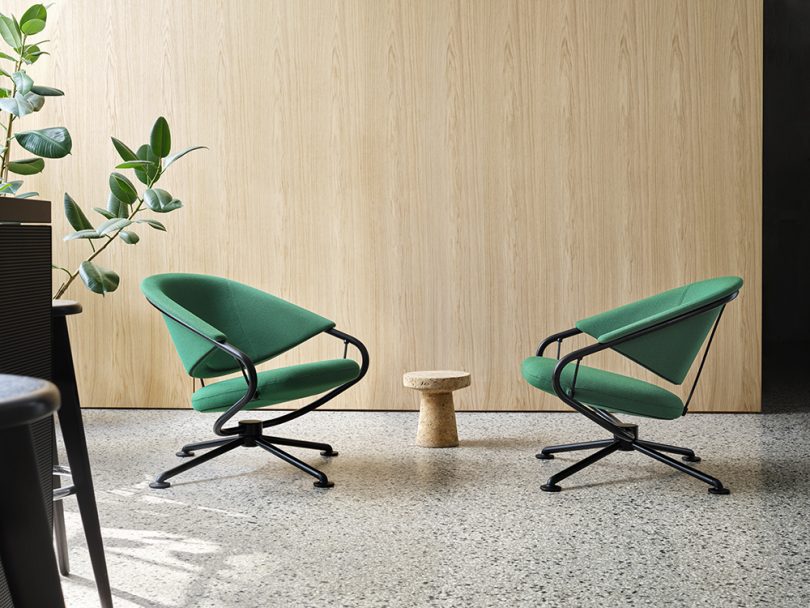 Jasper Morrison and Vitra worked together to bring Moca, a robust tubular steel chair, to life. Its unassuming appearance seemed ageless, while the high quality materials ensure a long lifespan. Moca's base uses two arcs of steel tubing, upon which two veneered plywood shells are mounted to create an anatomically shaped seat and backrest. The shell is available in natural or dark oak veneer, and the base comes chrome-plated or with a powder-coated matte enamel finish.
Vitra's Autumn 2020 collection is available for purchase. Visit vitra.com for more information or locate your nearest dealer.