Although the Volleback Solar Charged Jacket won't offer its wearer the same superhuman abilities as those made famous by Kryton's most famous son, Kal-El, this lightweight adventure jacket does operate similarly to Superman: it's a large wearable solar surface engineered to gather sunlight and convert it into energy, turning the entire outer layer into a glowing phosphorescent wearable at night.
Hikers and mycologists might see some similarities to the common (and poisonous) Jack O'Lantern mushroom, Omphalotus illudens, a fungus famous for its mysterious nighttime green phosphorescence. Seems wholly appropriate considering hikers and mushroom hunters could imaginably benefit greatly wearing a highly visible waterproof jacket designed with a 3-layer stretch fabric construction that also happens to glow at night in similar fashion as the mushroom.
At just 230 grams, the Solar Charge Jacket is sealed across all its seams with specially designed transparent tape to optimize its total glowing surface. Designed for inclement weather, elasticated drawcords secure hood and waist sections with a pull, while welded eyelets allow ventilation without allowing water getting in. A waterproof zip pocket located on the back offers enough room for storing keys, phone, maybe a small snack.
After a full charge the phosphorescent chemical compound integrated into the grey jacket automatically begins to glow at night, emitting a green spectrum radiance measured at around 530 nanometers that in time fades into a silvery green, then eventually to white. It's not designed to illuminate the surroundings, but it will make the wearer visible for up to 12 hours with a full solar charge, a feature that we'd imagine would make for safer night hikes (or bathroom trips out into the woods while camping).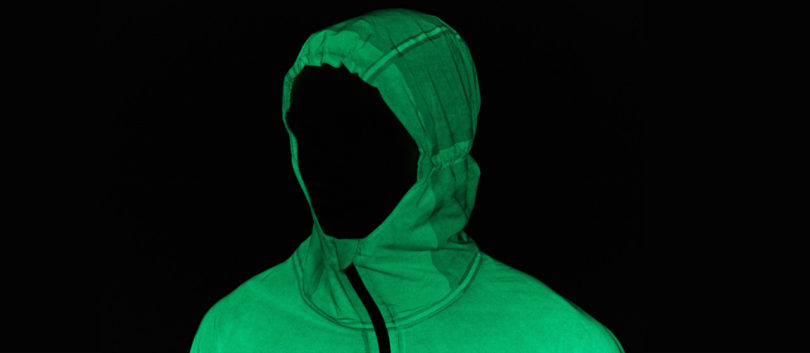 The Volleback Solar Charged Jacket is available today for order for $175, an unexpected gift idea that should please the tech-minded outdoor enthusiast with a penchant for being prepared for every emergency.