Brooklyn-based Uhuru launched their second line, War Craft, during ICFF earlier this year. Inspired by and built from reclaimed teak from the deck of the decommissioned USS North Carolina, the collection explores the forms of the battleship.
The USS North Carolina was built in the 1930s in the Brooklyn Navy Yard and served in World War II. Decommissioned in 1947, it is to date one of the most decorated battleships in US naval history. Its sleek, uncluttered design set a new precedent for all future ships.
Descriptions below are from the designers.
Dazzle Coffee Table
The War Craft Coffee Table wears an interpretation of Dazzle camouflage that was used on battleships to confuse enemy ships. Through high contrast and disrupted lines, Uhuru graphically breaks up the pattern for a functional coffee table. The levels represent the decks of the battleship, with framework inspired by nautical forms. The top is layered paint on aluminum, and the base consists of solid wood legs.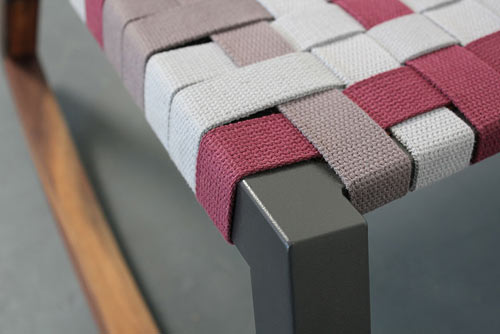 BB-55 Rocker
The sturdy shape of the BB-55 Rocker, named after the North Carolina class of battleship, takes cues from naval design. The forms of the base and seat mimic the curves of the hull and the taper of the bridge tower. The teak base of this low, modern rocker transitions into a steel frame above. Cotton webbing, weaved in a random pattern, forms the seat and backrest. With colors inspired by the original ship, the fractal pattern also references Measure 32 camouflage, which was used on the ship to avoid detection when traveling through open water.
Mark-8 Room Divider
The aluminum frame of the Mark-8 Room Divider is shaped with the life-sized negative silhouette of the bullets that were fired from the ship. It gives a sense of scale to the massive and destructive weapons on-board. The battleship-grey powder coating is offset with subtle brass screws and hinges. Flexible enough to be used as a room divider or mirror, this thoughtful piece aims to bring a palpable sense of scale to the viewer.
16/45 End Tables
The 16/45 End Tables vary in size, each referencing the colossal diameter and caliber of the bullets that were on-board the USS North Carolina. The tapered shape of the table supports took subtle cues from the battleship itself. The lightness of the base is a direct contrast to the solid bullets. Crafted out of either teak or cold-rolled steel, the tables support black glass and are available in three heights.