We Styled This Instagram Famous Storage Rack 4 Ways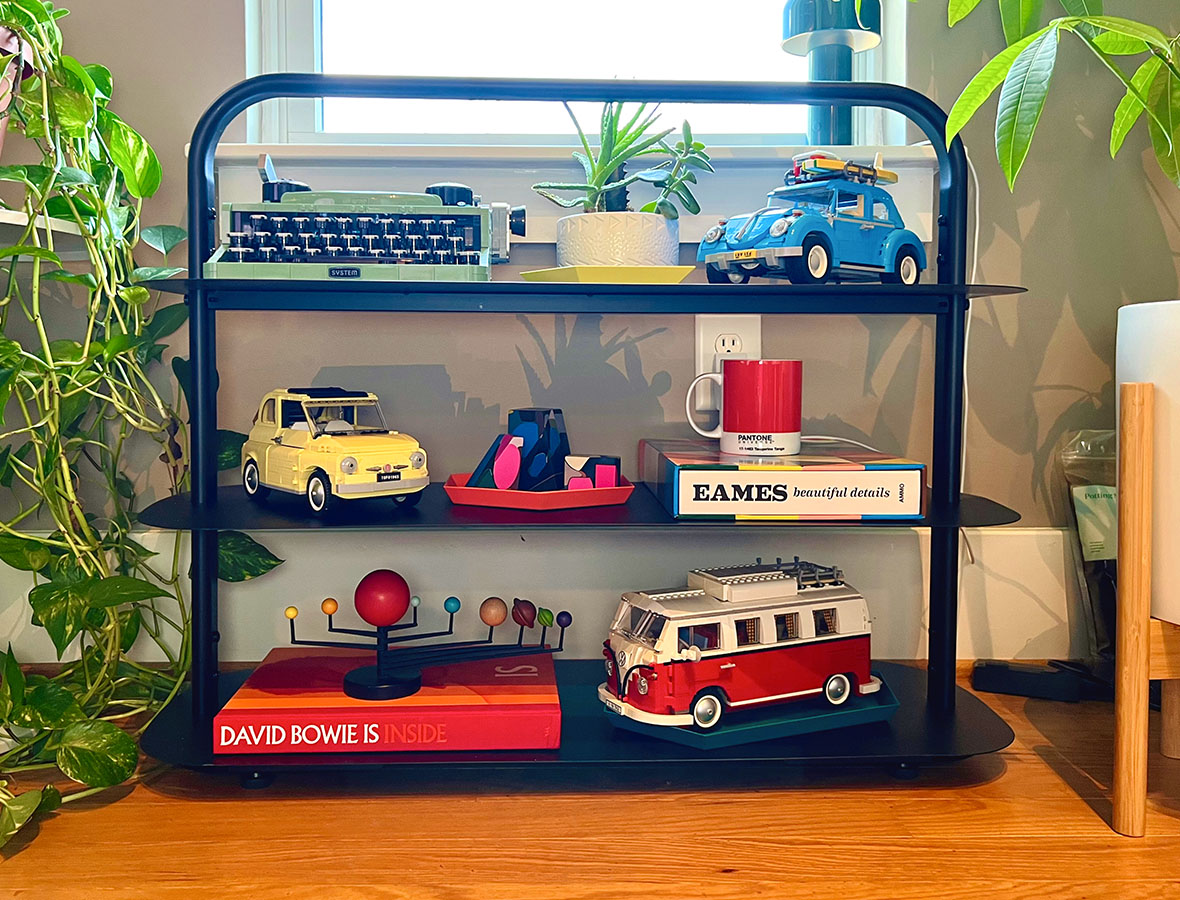 We Styled This Instagram Famous Storage Rack 4 Ways
1/5 Photos
2/5 Photos
3/5 Photos
4/5 Photos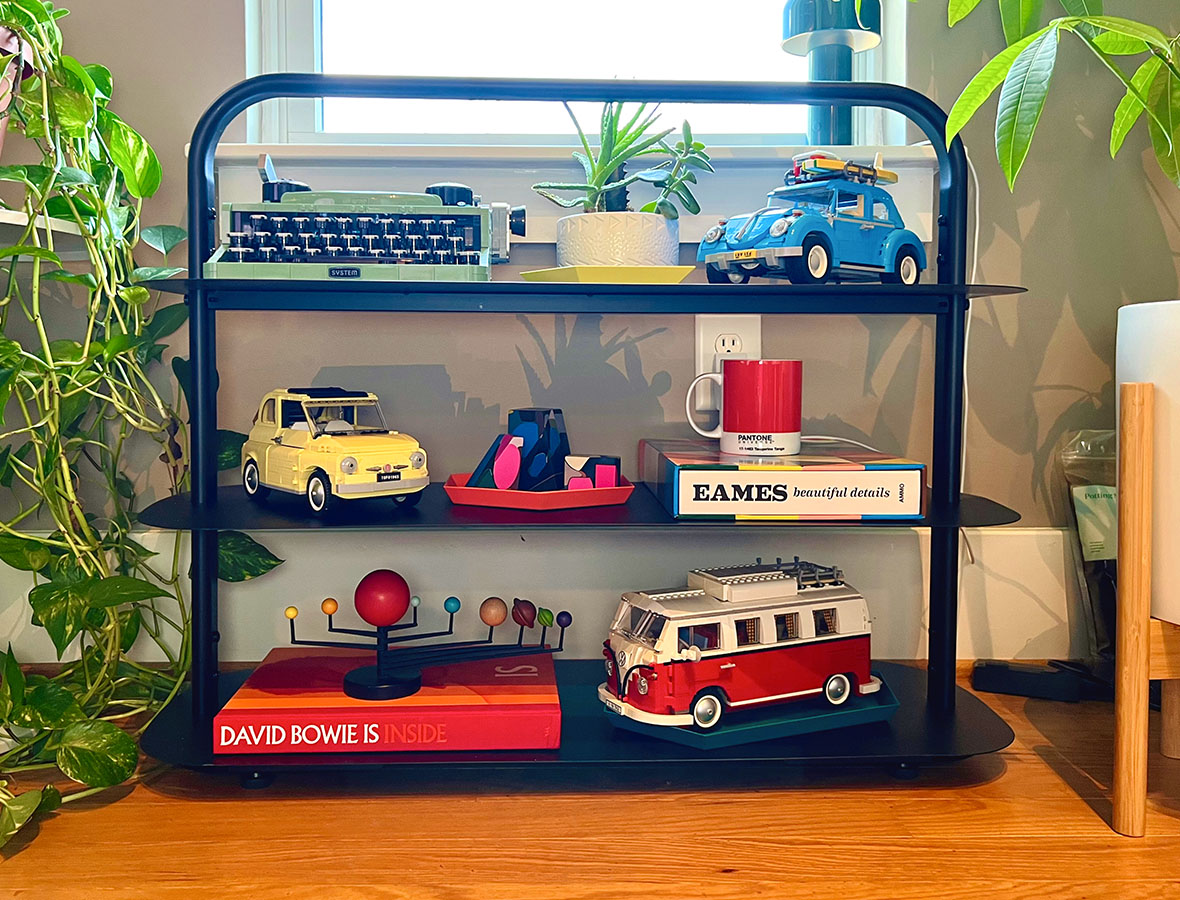 5/5 Photos
Open Spaces' modern organization essentials have won the hearts of design-lovers everywhere, earning the brand a cult-like following. Why? Mainly because they've made the impossible possible – they've made organizing fun. Their best-selling Entryway Rack ($184), in all its colorfully curated glory, stands leagues above the shoddy storage racks of closets past, embodying a cool, modern design that fits right into any room in the house. More than a resting place for your shoes and other odds and ends, Open Spaces considers the Entryway Rack a vehicle for creative expression. Use it to proudly showcase your most coveted items, and the rack transforms from chic storage solution to your own personal gallery. Now available in the Design Milk Shop, we were itching to get our hands on the iconic Entryway Rack and put it to use in our homes. Read on to see how we styled it!
In Your Living Room as a Home Base for Your Favorite Tchotchkes + Decor
"Originally I planned to use the Entryway Rack in my bathroom until I realized I needed it way more in my living room which despite having multiple shelves, it's still not enough. I have tons of books, design bits, tchotchkes, and LEGO sets that I want to have on display but space has been limited lately, and always since I live in a small space. Enter the Entryway Rack. I've wanted this shelf since they first launched as I love the low, streamlined design with the bonus of a handle that makes it easy to move around should you decide to use it in a different space. I'm using mine under a window in the living room, sandwiched between two plants and I love it! After a bit of playing around, I've landed on a mix of items, including several LEGO sets (Typewriter, VW Beetle, VW T1 Camper, Fiat 500), two book favorites (Eames: Beautiful Details and David Bowie Is), a Pantone mug, random succulent plant, Elyse Graham resin blocks, HAY Kaleido trays, and a MUJI solar system I bought in Milan many years ago. I'm sure I'll mix things up on the regular but I love it for now!"
— Caroline, Editorial Director
In Your Bedroom as a Curated Gallery of Personal Faves
"Living in a small studio apartment, I need all the space I can get. I'm extremely picky with furniture though, and in order to make the cut, it's got to have my desired minimal aesthetic. Safe to say, the Entryway Rack made the cut! As soon as I got the rack, I knew I had to style it in my bedroom. I've got to say, setting it up was a breeze! Since I wear a lot of jewelry, I knew I had to have a section on the top to toss my go to pieces in. I surrounded the rest of the shelf with my favorite perfumes, shoes, and other items I need if I'm ever in a rush. I am completely obsessed now – The rack is minimal enough to match my look, but useful enough to be a functional piece of art."
— Lilit, Social Media Manager
In a Home Office for Work + Play
"As I transitioned to remote work at the start of the pandemic, I essentially had to choose between having a home office or a dining room in my small space. I went the home office route but something about that corner of the apartment just looked really sad and sterile – not to mention I was in dire need of more storage. The Entryway Rack was just what I needed. To keep my desk as clutter-free as possible, I moved the extra pens and books that would otherwise take up valuable real estate on my desktop to the top of the Entryway Rack, along with a plant for some greenery. The second shelf is home for my growing collection of puzzles (because balance) that I keep in my HAY crate, along with my to-be read pile which is always changing. I added Open Spaces' Medium Storage Bins to the bottom to store extra cables, hard drives, filming equipment (plug: have you followed us on TikTok yet?), and other supplies – and I love how the bins' clean, modern look dresses up my not-so-stylish items but the open handles make them easy to recognize and reach for whenever I need. And to cap things off, I positioned my Everybody Bin designed by Dusen Dusen for Areaware in between my desk and the shelf. I love the mood boosting pattern and the added color it brings to my office, and that it's guaranteed to match the contents of my Entryway Rack even as I add new items."
— Alexa, Commerce Editor
In a Kid's Playroom to Showcase Colorful Toys + Books
"My personal style when it comes to designing and decorating my children's spaces is to incorporate items that aren't overly kiddish or saccharine. Oftentimes this means brainstorming how grown-up items can work for kids. I love how useful the Entryway Rack is in my little one's playroom. The open shelving invites them to play with the toys and books displayed, which I try to rotate every so often to keep their interest. While I don't hate a primary color palette (trust me, we have lots of it in our household), I try to lean towards neutrals and muted shades for a change of scenery. I love that the hunter green adds a punch of color without being too loud – it's a perfect neutral backdrop for all the colorful toys. Lastly, the rounded corners means I don't have to worry about dangerous corners that my wobbly 1.5-year-old might fall on. It's truly such a good shelf for kid-friendly spaces!"
— Vy, Lifestyle Editor
Want your own Entryway Rack? Visit the Design Milk Shop here!
This post contains affiliate links, so if you make a purchase from an affiliate link, we earn a commission. Thanks for supporting Design Milk!