A busy New York City-based couple reached out to Fauzia Khanani of Foz Design to design a new weekend home in Saugerties, New York. Located along the banks of the Hudson River, the custom home acts as a sanctuary for the couple and as a place they can host friends and family.
With a slight rustic, cabin-like aesthetic, this modern home, dubbed RiverBanks, hints at mid-century modern with its clean lines, but has a warm feel as it's clad in natural wood.
Approximately 200 trees had to be cleared from the lot for building to begin and those trees were reused for furnishings and finishes in the home.
The house is surrounded by expansive decks to enjoy the natural surroundings. Overhangs provide shelter from the sun.
The interior has an open plan with 20-foot ceilings in the living area. Massive windows frame the natural terrain outside, while providing the interior with lots of natural daylight.
Foz Design collaborated with HiveMind Design, a local furniture designer and fabricator, on some of the furniture in the home. The television cabinet in the living room places the TV within the wall and features a garage door-like cover (made from the removed trees) slips in and out of the wall to reveal the screen.
The coffee table, with its blackened steel frame, was designed to match the cabinet.
Low VOC adhesives and paints were used throughout. They also used a cellular spray foam insulation to make the house more energy efficient. A heat recovery ventilation (HRV) system was incorporated to provide fresh air and improved climate control, while saving energy.
A series of six log stools from the fallen trees are used in various rooms throughout the residence.
In the guest room, two twin beds were made with a blackened steel dovetail detail on the headboard and the footboard. The bed can be pushed together or separated depending on the guests they're having.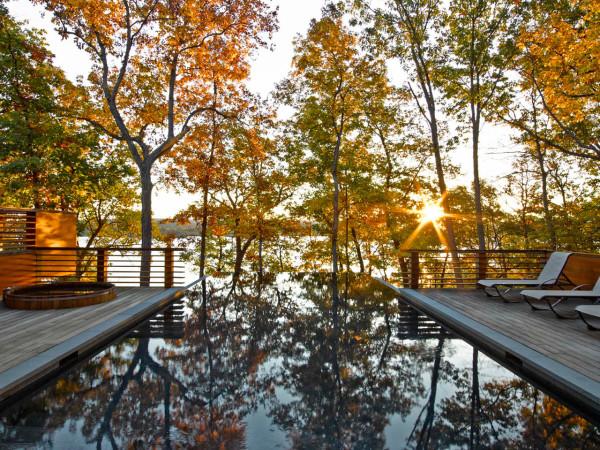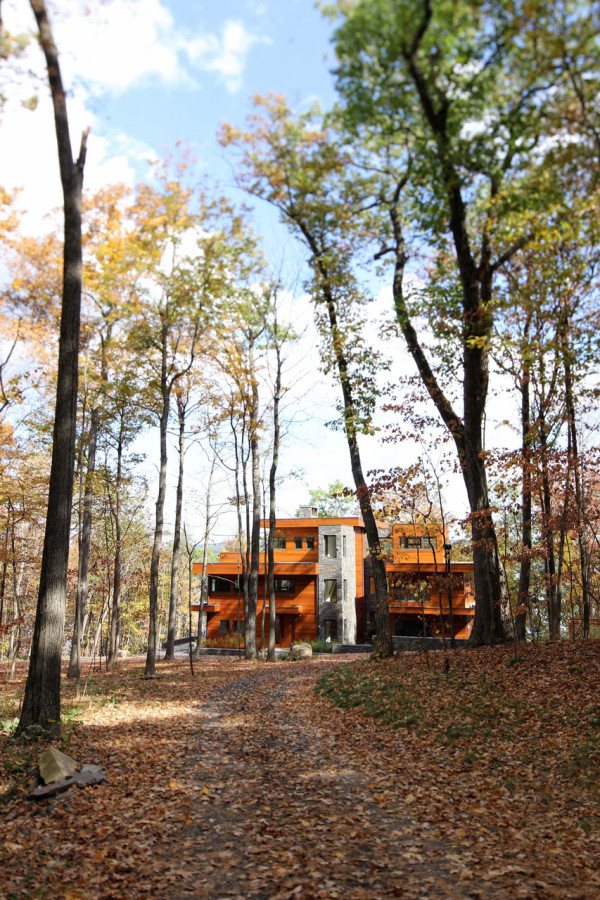 Photos by Garrett Rowland.