This month's Where I Work heads to Oakland, California, the home of Enlisted Design, a multidisciplinary design studio whose collaborative approach to product and brand design has resulted in lucrative partnerships with many brands, like Ford, Samsung, LG, Amazon, Cisco, Best Buy, Belkin, Netgear, and many more. The design entrepreneur behind the award-winning company is founder Beau Oyler, the CEO and Executive Creative Director who also co-founded Urbio, the vertical garden that got its successful start on Kickstarter. Let's head inside the offices of Enlisted Design to take a look around and see how Beau and his team make it all happen.
What is your typical work style?
I hate procrastinating. My day is front-loaded with meetings and anything else that needs to be taken care of on the business side of things. That leaves the afternoon and evening for creative work and big picture, strategic thinking.
What's your studio/work environment like?
The studio space is physically open and bright. The vibe is, too. It's important to me that the energy is light since we have an intense, fast-paced project culture. You'll always find designers huddled together, sketching, or heads down with headphones on, jamming on work. Clients are often camped out in Grand Lake (our largest conference room) engaged in workshops with the team and sharing ideas. Our kitchen, located in the center of the studio, is where we eat lunch together at the communal table. It's a natural gathering spot for conversations throughout the day.
How is your space organized/arranged?
The studio is open plan. As you walk in, you're immersed in our work displayed on a giant oak wood peg wall. It's a great introduction to who we are. There are two main, glass-walled conference rooms and a door that leads to the maker space. Getting deeper into the studio, you'll find the kitchen and two tucked-away meeting rooms. Then it opens up to where the team is working. Designers are loosely grouped by discipline with desks wrapped around the building in an L-shape. The space is lined by large windows that overlook the heart of Uptown Oakland, Broadway and 19th Street.
How long have you been in this space?
We've been in this building for ten years. We started in one small office and grew to take over the entire floor. We chose Oakland deliberately. It was underdeveloped, but we saw a glimmer of what it could be. Oakland is scrappy, like us. It's also artistic and entrepreneurial and cool. Seeing the development and revitalization of the Uptown neighborhood (where we're located) is particularly rewarding. In addition to fellow tech companies, there's been roughly 125 bars, restaurants and indie boutiques that've opened in the last decade. The city named Uptown the official "Arts and Entertainment District" in 2009. This area is the epicenter of Oakland creative now. We're so proud to be a part of that.
If you could change something about your workspace, what would it be?
Actually nothing – I already changed it all during our renovation two years ago. I tore the entire second floor down and built a custom space that's perfect for us.
Is there an office pet?
We are a decidedly dog-friendly studio. On any given day, you'll likely meet at least one of the eight pups who regularly hang out. The general purpose of our studio dogs is to sleep, wander around for snacks, and then go back to sleeping.
Do you require music in the background? If so, who are some favorites?
We have a shared Sonos. Our studio manager, Shannon, is usually DJing everything from soul to synth-pop. We're also steps away from Oakland's Fox Theater – a constant source of inspiration depending on the week's show lineup. The other day, we ran across the street to the box office and bought tickets to see the buzzy, disco-inspired band, Jungle, for a studio outing early next year.
How do you record ideas?
For years, I used Moleskine notebooks. I transitioned to Evernote on my iPhone a few years ago to keep it all in one place. It's more convenient, but not quite as romantic.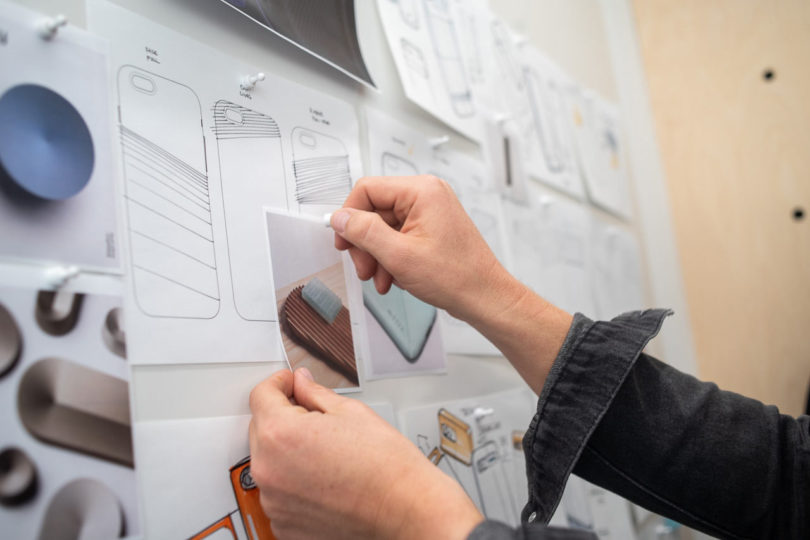 Do you have an inspiration board? What's on it right now?
We create a vision board for every project, which is larger scale than a typical product mood board. We envision the entire world in which the new device or brand will live. Each is totally unique and specific to the project and client.
What is your creative process and/or creative workflow like? Does it change every project or do you keep it the same?
There is a general design roadmap that involves understanding, creating, and delivering. That said, there's no sacred process here. We're always looking for new ways to communicate – from mockups and explorations of form to animation and video storytelling. Anything that helps us more effectively and beautifully communicate ideas is fair game. Our team actively shares and tests new methods all the time.
What kind of art/design/objects might you have scattered about the space?
When we renovated the studio, we partnered with artist Annie Tull for a large-scale string installation, consisting of over 50,000 feet of custom color matched, military grade paracord. They start as balls of string displayed in the ground-floor lobby, and lead up to the studio, twisting and turning under concrete beams and above the desks. The magenta, turquoise and dark grey string are a metaphor for the collaborative design process. The colorful strings refract throughout the studio, culminating into one cohesive whole with the Enlisted logo in the background. The strings pass by another focal point of the studio, the "We Create" wall. The phrase is another nod to our uniquely collaborative partnership style, and on the wall are photos of favorite team moments, work, and design awards. The neon "Next Level Shit" sign is the go-to backdrop spot for anyone taking a selfie in the studio.
Are there tools and/or machinery in your space?
We have a maker space that's always humming. Whether it's being used for prototype creation or a photo shoot, there's always someone in there getting their hands dirty. We have two types of 3D printers, a CNC machine, laser cutter, plus every mockup tool you can imagine, like foam core, hand tools, spray paint, and hot glue. The space is also open for anyone in the studio who wants to use it in their spare time for passion projects.
What tool(s) do you most enjoy using in the design process?
A dry erase pen and a big, empty dry erase wall. I love sketching with pen and paper, but it's not until you take those ideas and put them up on a wall to share that things start happening. Ideating together is when the best ideas come.
Let's talk about how you're wired. Tell us about your tech arsenal/devices.
At all times, I've got my iPhone XS Max, plus a battery charger. I work off of a Macbook Pro 13 inch, which is under TSA's weight limit, meaning that I can keep it on my lap to work during takeoff and landing. I wear an Apple watch, sleep with Bose Sleepbuds, and drive an Audi Q5 – the most fun, technologically advanced car I've ever been in. In my house you'll find most of the major IoT home products available on the market, especially the ones that Enlisted designed, like Arlo.
What design software do you use, if any, and for what?
I'm regularly in Illustrator, Photoshop, After Effects, KeyShot, and Cinema 4D.
Is there a favorite project/piece you've worked on?
My two adventurous children are hands-down my favorite projects.
Do you feel like you've "made it"? What has made you feel like you've become successful? At what moment/circumstances? Or what will it take to get there?
I don't know if I'll ever feel like I made it. I can acknowledge that there have been some big moments. As an entrepreneur, being on Shark Tank was great. We nailed it and that fueled Enlisted's growth. Our ten-year-long relationship with Arlo is another significant experience. We've been NETGEAR's design partner since the beginning and helped Arlo grow through design to earn nearly 50% market share. They IPO'd this year at a $1.4 billion valuation. A special moment related to that was when Belkin's Chief Marketing Officer, Kieran Hannon, cold-called Enlisted because he saw Arlo win the Red Dot Product Design Award. Belkin is a dream client, so to be on their radar and get to work with them was huge. That said, I always want us to feel scrappy. We're not out to prove ourselves, but we want to show that there's a better way to design and co-create. Until that's the established way, we haven't made it. For me personally, as long as I'm still making, it's all in the present tense.
Tell us about a current project you're working on. What was the inspiration behind it?
Stance is an American sock and apparel brand that I would say oozes cool. If the brand were a person, they'd essentially be the coolest kid you've ever met. At some point, that cool kid is going to grow up and mature into an adult. That's what I'm really excited about right now – we're helping Stance mature to the next level of fidelity, both as a brand and with their in-store shopping experience.
What's on your desk right now?
I don't have a dedicated desk. I float to wherever I need to be, and whichever space is open. Basically, anywhere I leave my phone, ear buds, and wallet becomes my de facto desk.
Do you have anything in your home that you've designed/created?
Definitely. Most of the products I've designed make their way into my house at some point. What I really like is seeing products I've designed in other people's homes. I don't point it out. I just want to quietly observe people interacting with the product. Same thing goes for seeing my designs in stores. Right now, we have products and packaging in the Apple Store, Costco, Best Buy, and Whole Foods. Seeing our designs out in the world, knowing that something beautiful and useful is available for anyone to buy, makes me happy. I see the brand or product and the memory of the project comes back to me. It's like, boom, I love that thing. It's a cool feeling.
Photos by Dallis Willard.