Where I Work: Christina Z Antonio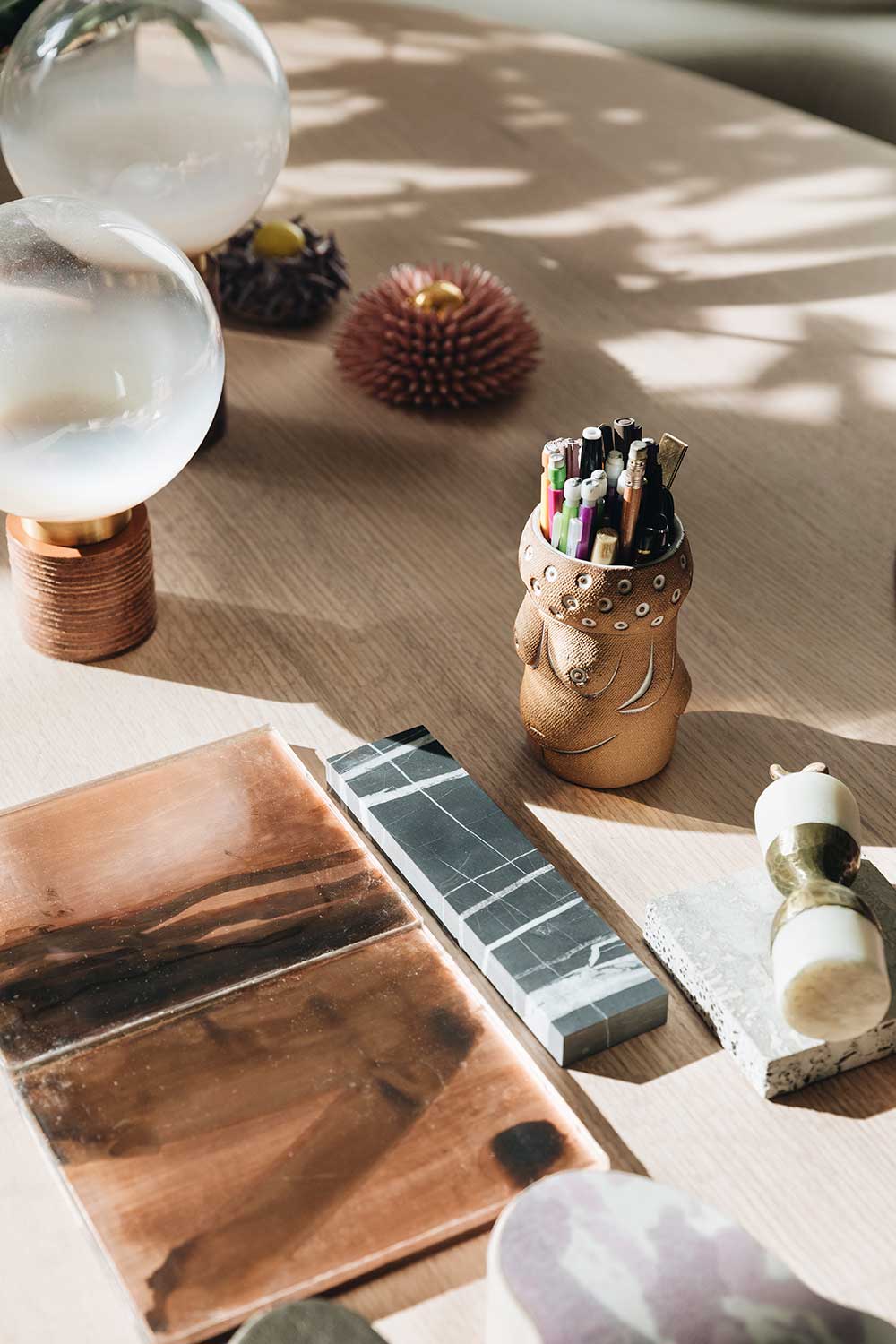 Where I Work: Christina Z Antonio
1/18 Photos
2/18 Photos
3/18 Photos
4/18 Photos
5/18 Photos
6/18 Photos
7/18 Photos
8/18 Photos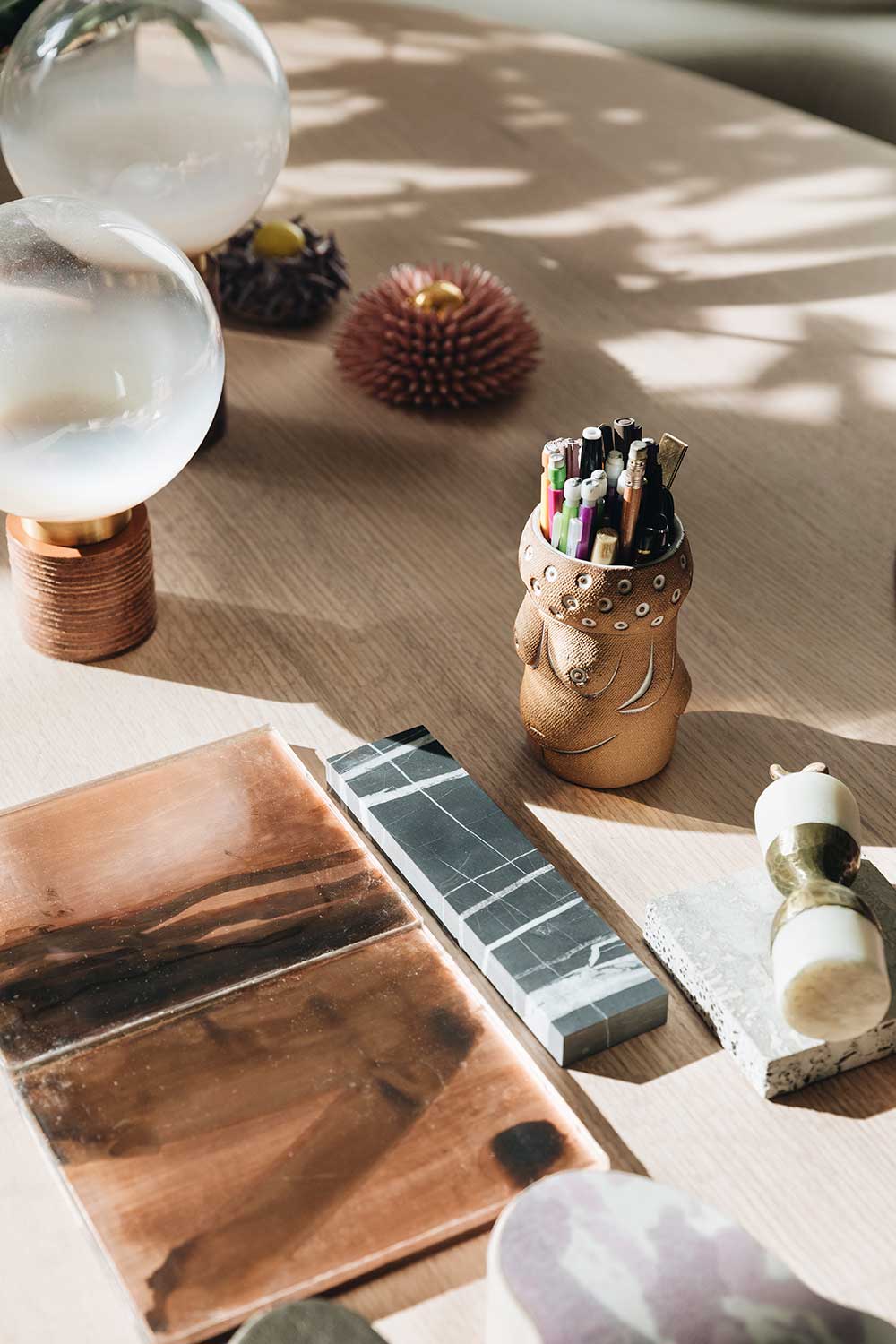 9/18 Photos
10/18 Photos
11/18 Photos
12/18 Photos
13/18 Photos
14/18 Photos
15/18 Photos
16/18 Photos
17/18 Photos
18/18 Photos
Back in October, we fell hard for a pair of chairs that incorporated neon lights in the backrest and from there, we had to know more. The person behind the Helio Chairs is New York City-based artist and furniture designer, Christina Z Antonio. Born and raised in London into a family of Greek leather artisans, Antonio is a trained master craftsman in a range of mediums creating innovative furniture, lighting, and objects from materials including leather, parchment, gemstones, wood, metal, and blown glass. In this month's Where I Work, we head to Chelsea to get an inside look into where she dreams up her much-coveted works.
What's your studio/work environment like?
I keep most areas museum level tidy, and very organized so I can think clearly. Nico, my dog, is a constant companion!
How is your space organized/arranged?
I have a desk and additionally we have workbenches. The workshop area can certainly get messy, especially when deadlines are looming. However, I always try to instill a sense of discipline with my team.
How long have you been in this space? Where did you work before that?
I have been in my Chelsea studio space since 2015. Prior to that, I was on the Upper West Side of Manhattan. I wanted more space and to be in an area that was more accessible to my clients. It's very central being in the Flatiron District! There are quite a lot of creative design and tech companies in my building, and even a chocolate factory! It's a pretty relaxed atmosphere overall, which I appreciate.
If you could change something about your workspace, what would it be?
My dream situation is to have my atelier on the ground floor with a separate salon for displaying collections and art – and to live on the 2nd floor!
Have you had to make any adjustments to how you work because of the pandemic?
I'm fortunate because my studio is within walking distance from my home. During the height of the pandemic, some of my staff worked from home on the smaller items, such as hardware.
Is there an office pet?
Yes! Nico. He's a miniature Pinscher. He loves to lounge around on the boucle sofa and greet clients. He's very regal… and often appears to be listening to our conversations.
Do you require music in the background? If so, who are some favorites?
Yes, music can set the tone for the day, and can help me focus. Right now I am listening to Brandi Carlile and The Secret Sisters. I'm always going back to vintage tracks. I love the element of nostalgia.
How do you record ideas?
Sketchbooks, random paper, and my new iPad – which I love. I use an application called Procreate. There's infinite possibilities as you can customize your tools, pens and brushstrokes. There's a library of textures too so illustrating your designs digitally saves a lot of time.
Do you have an inspiration board? What's on it right now?
I have inspiration trays where I place pieces of leather, shagreen, crystals, geodes and other beautiful materials to create mood boards for my projects. These mood-trays function as decor for the space as well.
What is your typical work style?
My day is pretty regimented. I focus on emails and communication first thing in the morning to get that out of the way, and then meetings, and finally I join my team around lunchtime to work on our projects.
What is your creative process and/or creative workflow like? Does it change every project or do you keep it the same?
It's often changing based on what processes I'm using. If I'm blowing glass, that's offsite with a completely different team. My projects are often one of a kind commissions, so my process is always changing. The order of my process is 1. Concept design sketches, 2. Materials research, 3. Selection, and 4. Creation.
What kind of art/design/objects might you have scattered about the space? 
My own design objects, in their many stages of creation, can typically be found in my atelier. I find that my materials feel a bit like design objects – I like the look of my rolled leather stacked high, and mood trays on the surfaces. I also have stones, gemstones, books, vessels from flea markets, and antique tools, that double as decor and inspiration.
Are there tools and/or machinery in your space?
We do have machinery, but nothing majorly industrial. We have some light woodworking tools, and a lot of hand tools for detail crafting.
What tool(s) do you most enjoy using in the design process?
One of my favorite sets of tools include my bone folders carved from agate, as well as a stitch wheel I bought in Paris. It's used for saddlery to space out stitch holes. I met a saddle maker a few years ago who worked for Hermes who introduced this tool to me. It's a must-have for leather artisans.
Let's talk about how you're wired. Tell us about your tech arsenal/devices.
MacBook, iPad Pro and iPhone Pro – I need to keep it all synchronized so these devices work well for me. I recently updated them all so I am feeling on top of my tech game!
What design software do you use, if any, and for what?
Adobe Suite, Rhino and AutoCad for furniture design renderings, and visual communication with my vendors.
What's on your desk right now?
Some finishes I am working on… I make them as 5" x 8" tiles and then present them as concepts.
Is there a favorite project/piece you've worked on?
I just finished a new lighting collection called Helios. I learned a lot about glass and neon, and engineering furniture with these components. It was a very satisfying challenge.
Tell us about a current project you're working on. What was the inspiration behind it?
Currently, I am working on a main bedroom suite. The client had seen my Sabre cabinet and loved the concept. I use upcycled jewelry and chains to create patterns, and then I mold the leather over, so this detail is on the nightstands. The bedroom has 180 views of Manhattan, it appears to hover over Central Park so they wanted unobstructed views from everywhere in the room. Everything is very understated and low profile, which I really love. I am also making a bed and headboard to create a division in the middle room made with silk satin textured fabric, and a sculptural ottoman made from silk velvet at the foot of the bed. It's a very luxe collection of pieces, but very clean and modern at the same time.
Do you have anything in your home that you've designed/created?
Since my work is made to order, I don't have as much of my own pieces in my apartment as I'd like to, but I hope to change that soon. As of now, I have my own hardware and lights on my nightstands.
Photos by Andrew Frasz.