Where I Work: Leonardo and Marzia Dainelli of Dainelli Studio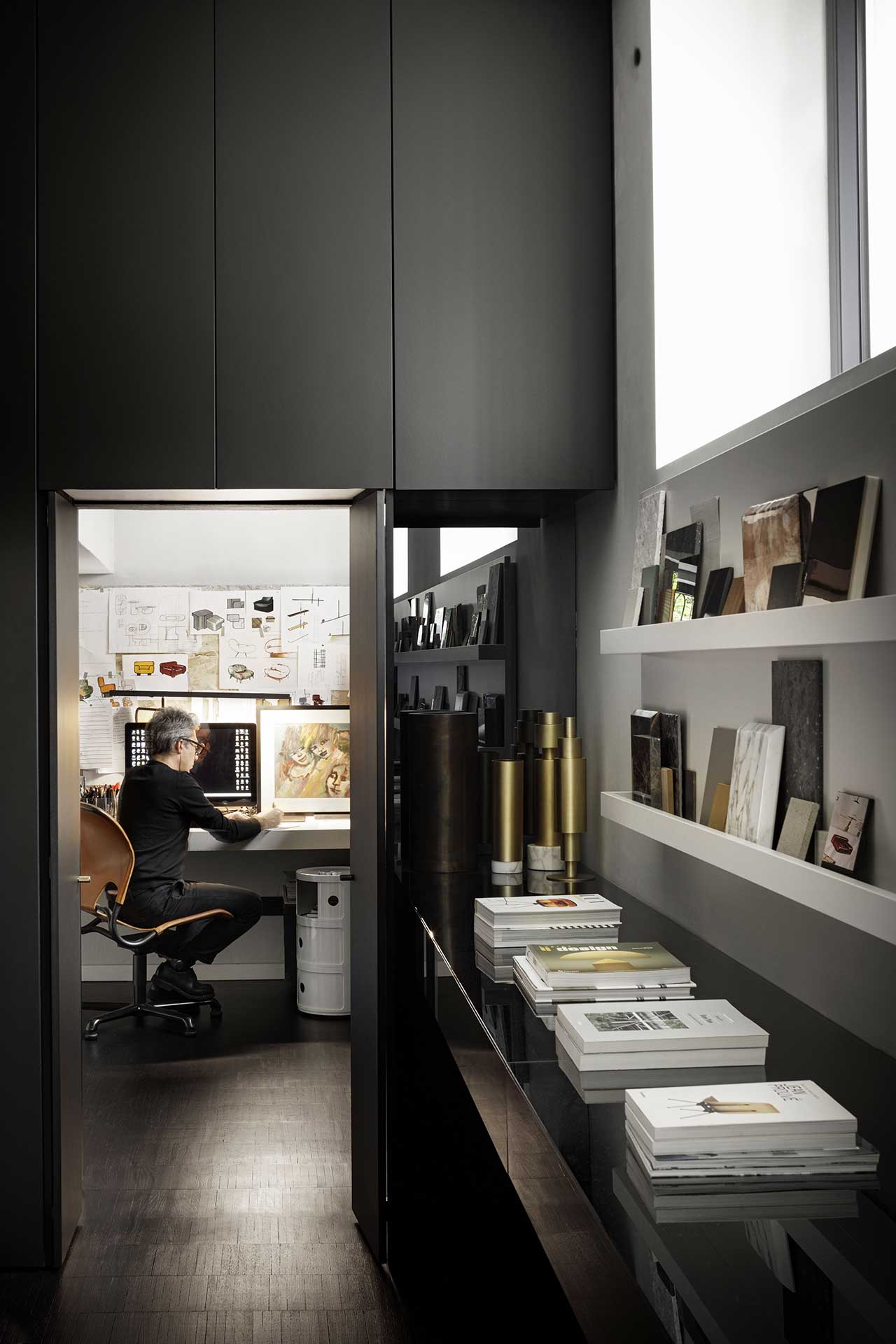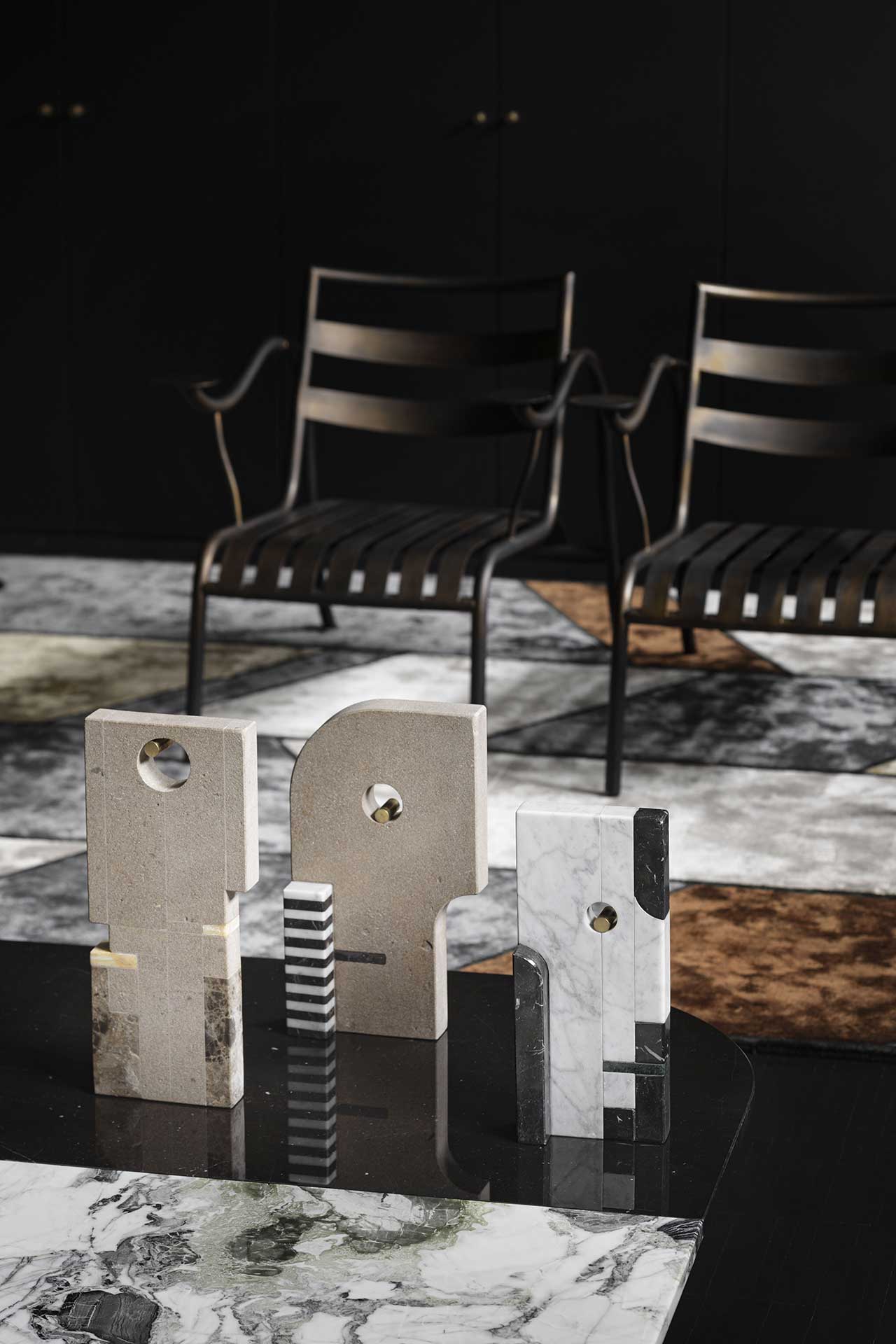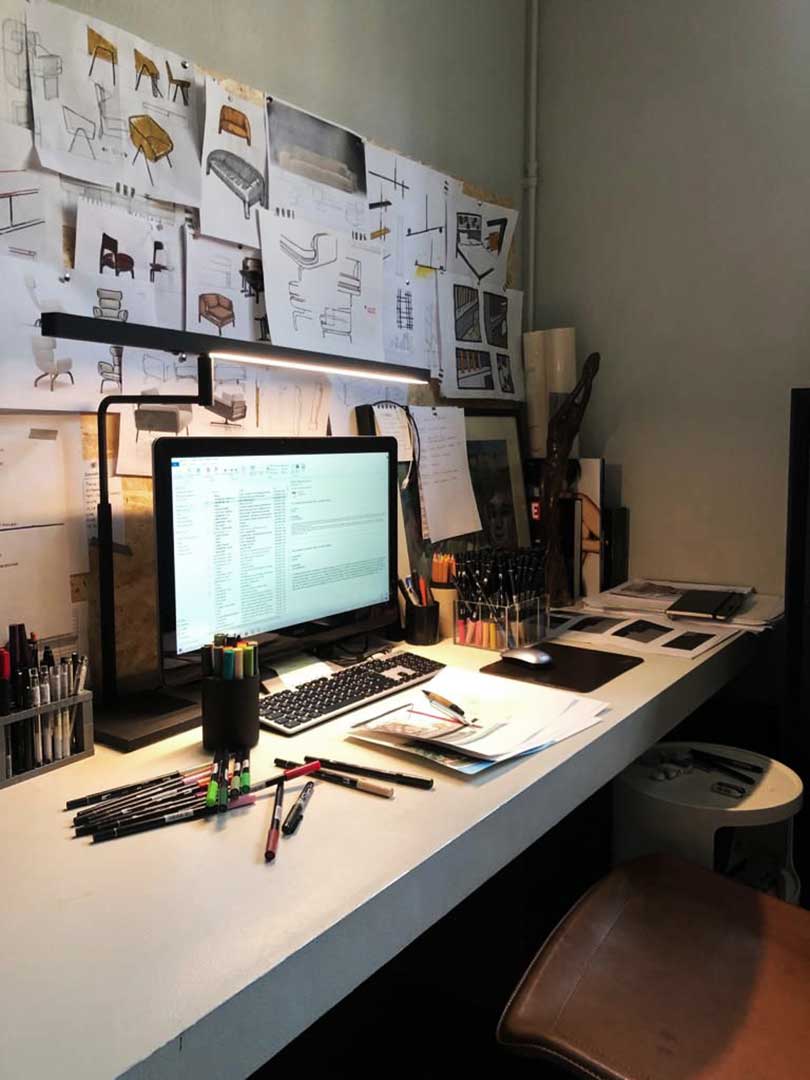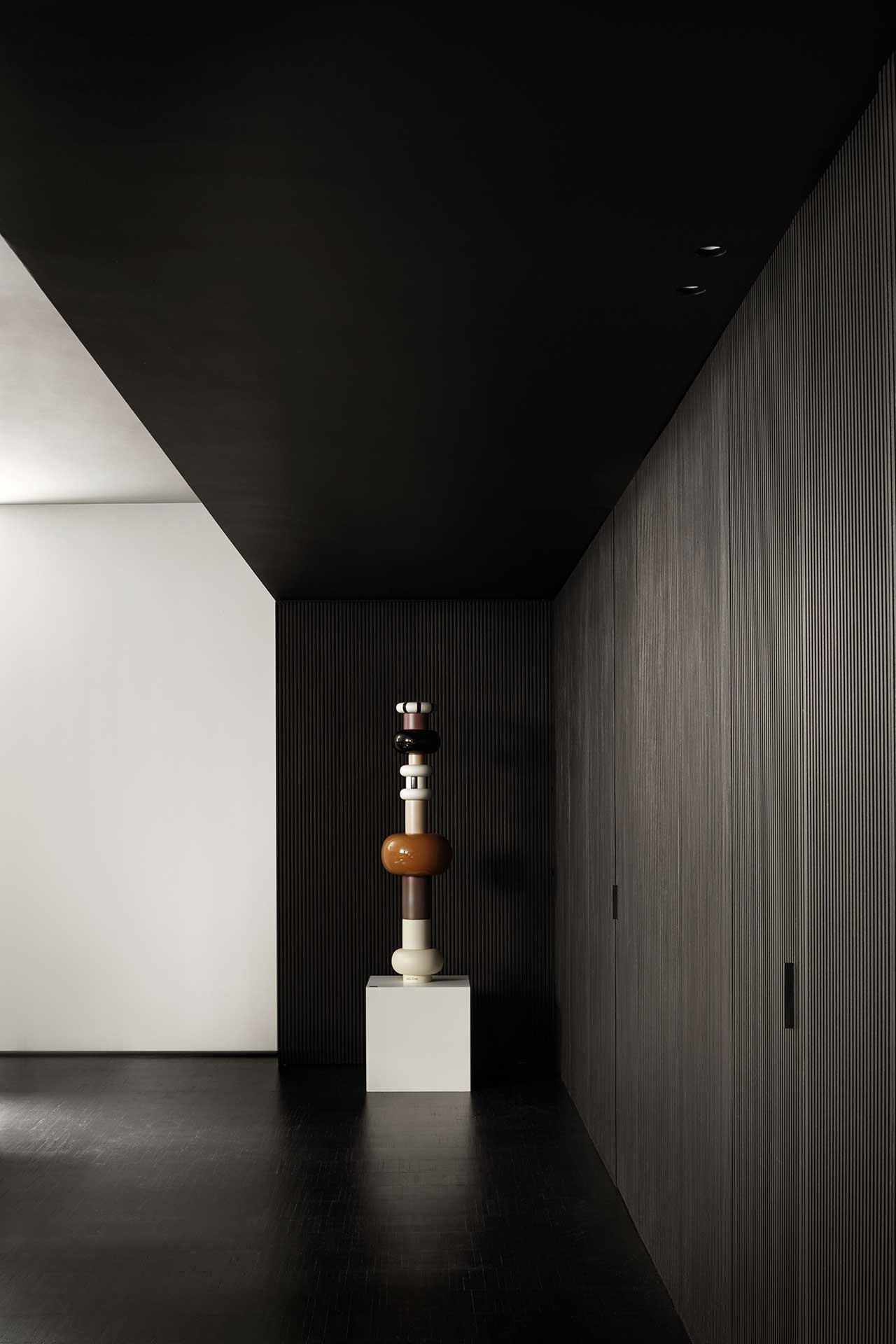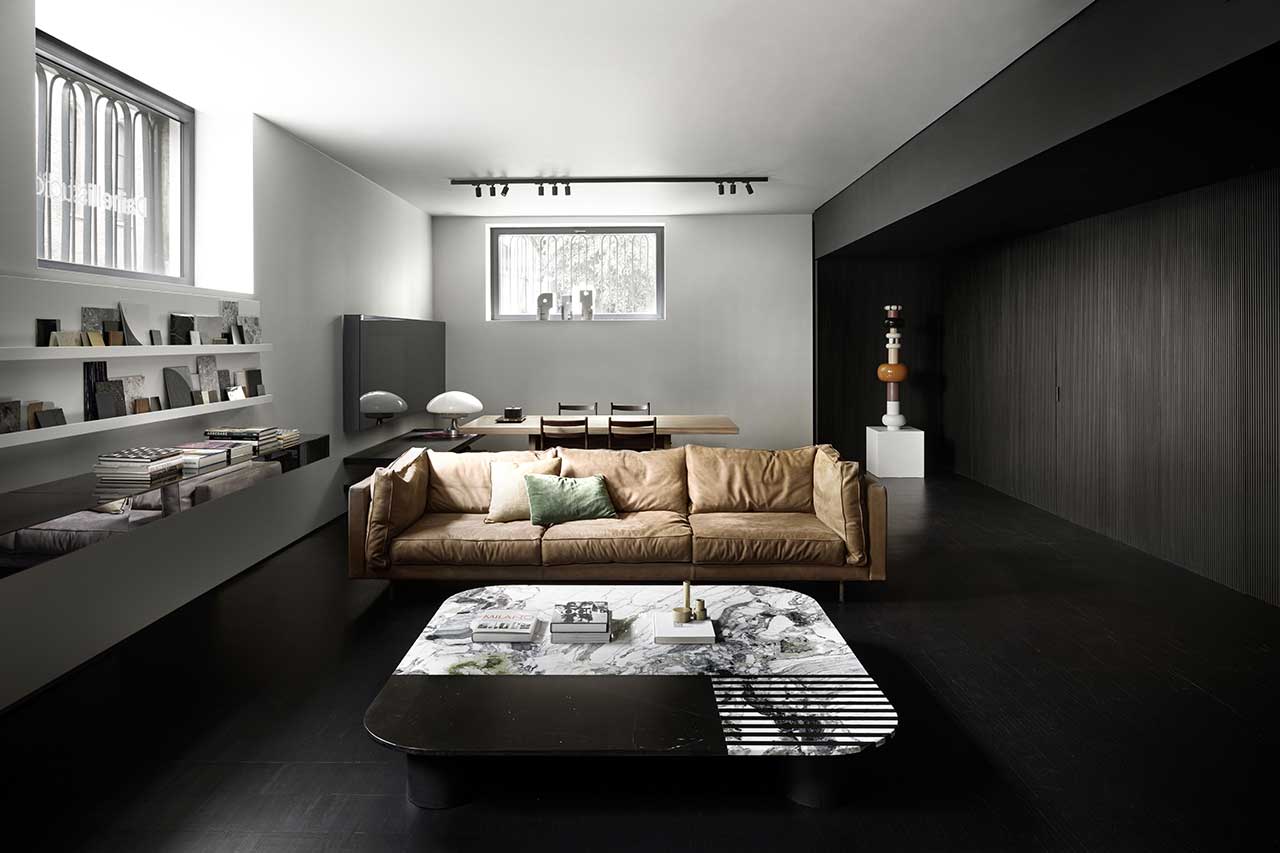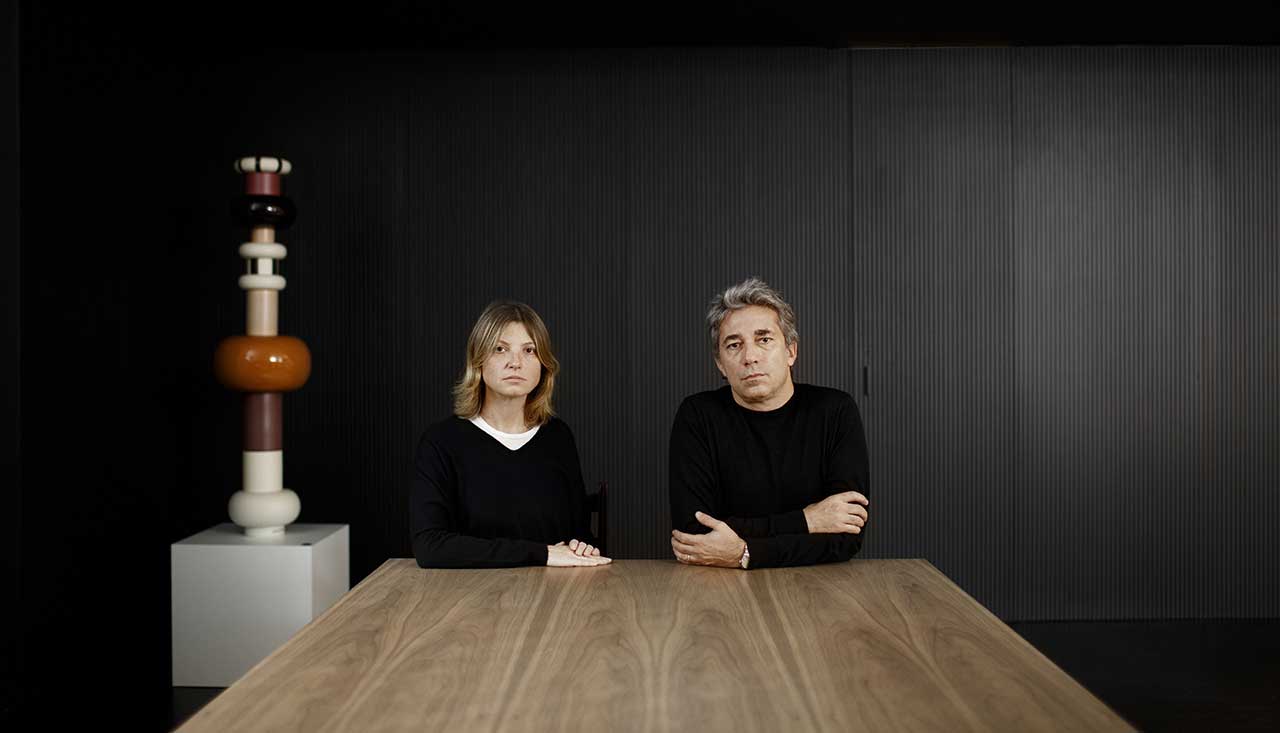 Where I Work: Leonardo and Marzia Dainelli of Dainelli Studio
1/13 Photos
2/13 Photos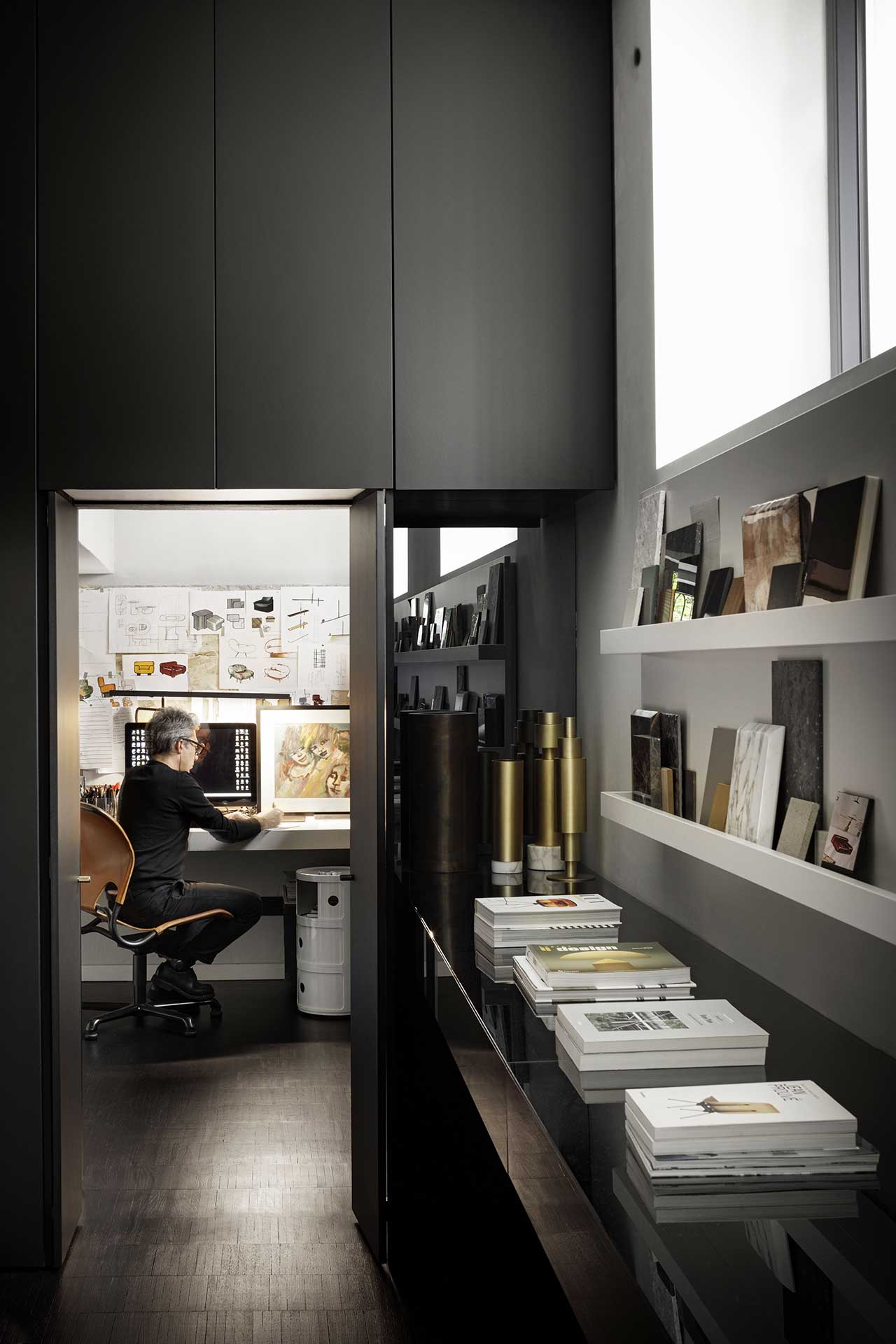 3/13 Photos
4/13 Photos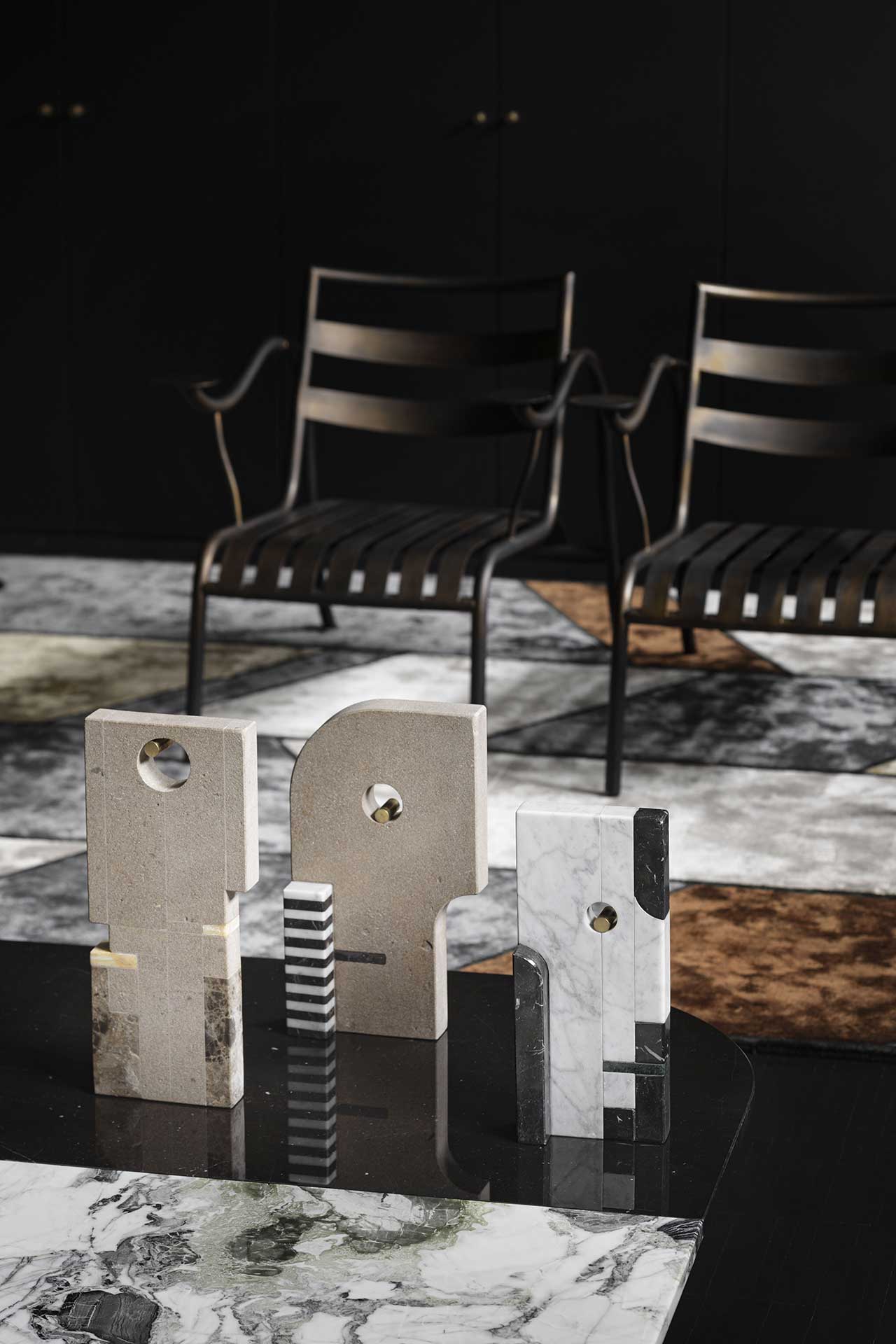 5/13 Photos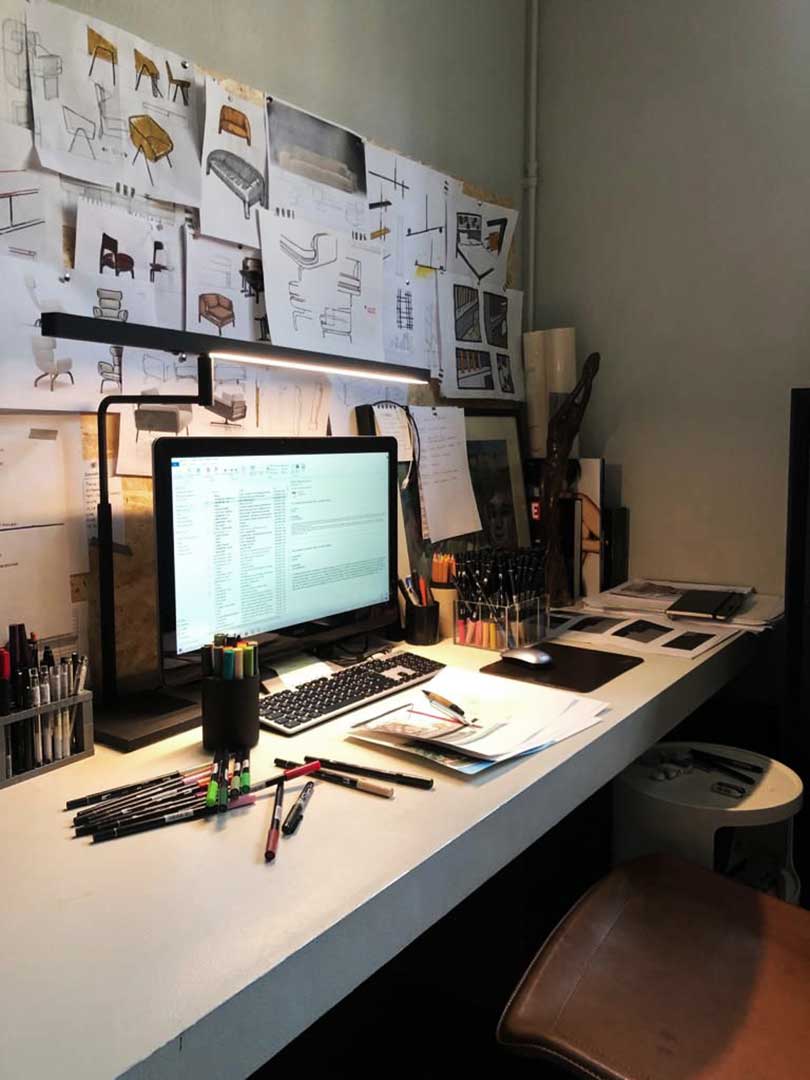 6/13 Photos
7/13 Photos
8/13 Photos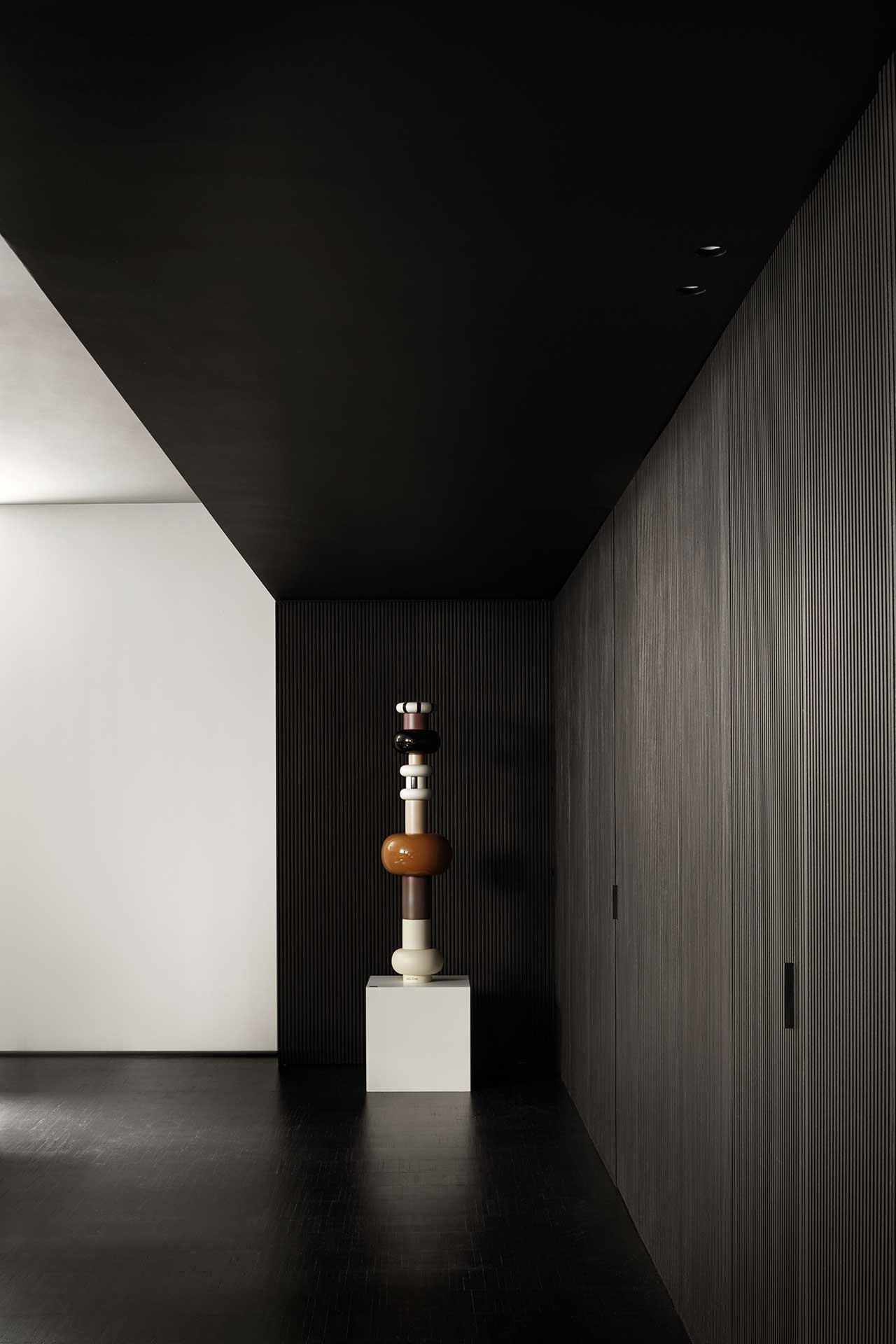 9/13 Photos
10/13 Photos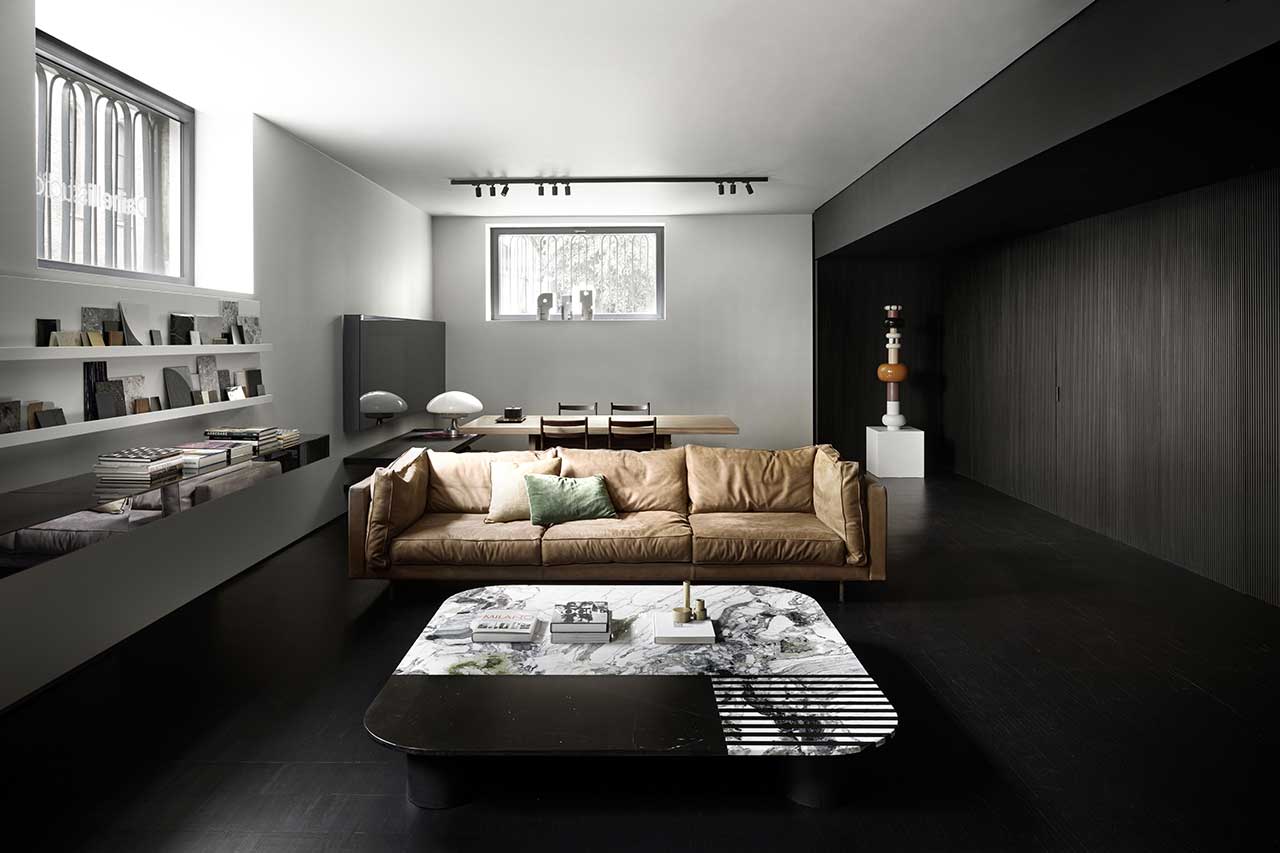 11/13 Photos
12/13 Photos
13/13 Photos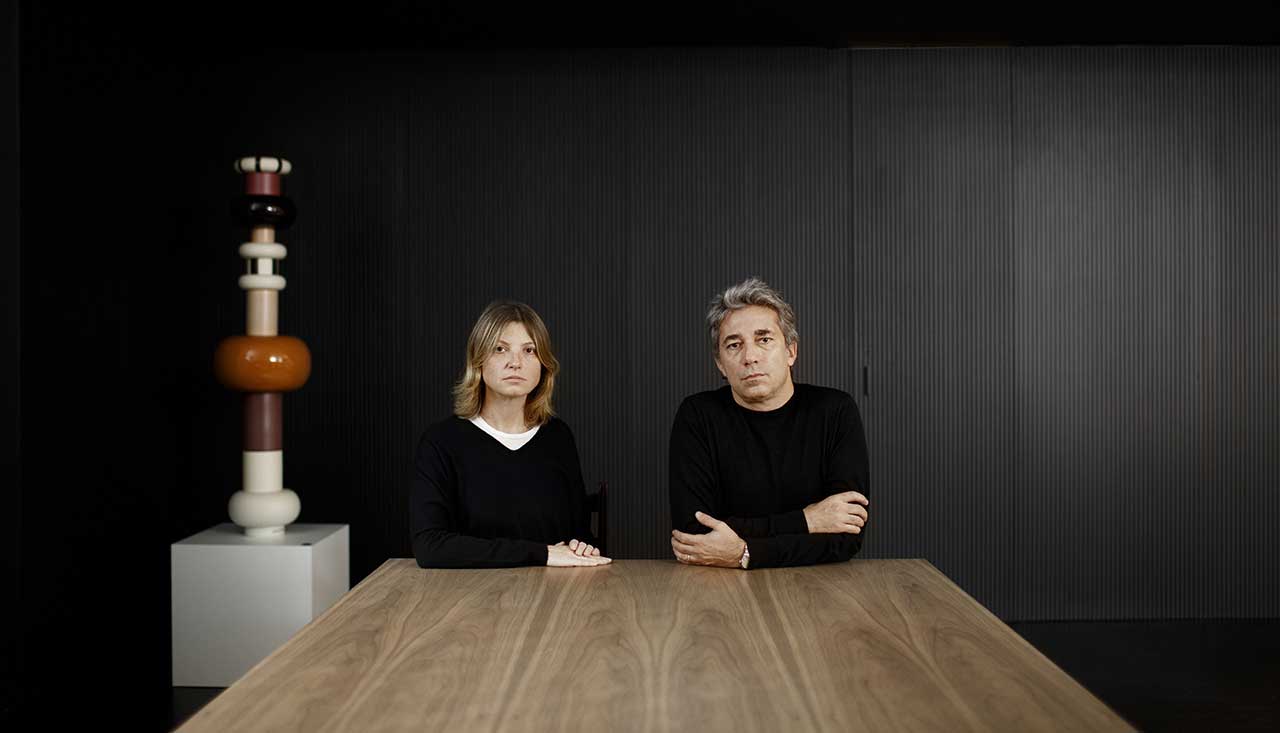 For this month's Where I Work, Design Milk heads to Milan, right in the heart of the Brera district, which is home to Dainelli Studio. Founded by designers and architects Leonardo and Marzia Dainelli in 2007, the studio creates interior projects for private and public spaces, as well as collaborations with esteemed home furnishings brands, like Arketipo, Fendi Casa, Fratelli Boffi, Gallotti&Radice, Gebrüder Thonet Vienna, Londonart and Mogg, to name a few. The pair recently headed back to the office after lockdown and they're here to share their studio, which boasts a refined aesthetic with a mostly black and white color palette with neutral shades adding accents throughout. The welcoming setup is designed to feel like a living room with offices hidden behind pocket doors. Continue on to get a glimpse as to how the partners work and the space they make it happen in.
What's your studio/work environment like? How is your space organized/arranged?
Marzia & Leonardo: The mood in our office is welcoming and chilled out but at the same time it is productive and focusing. The space has been designed in order to have a large living area and three smaller rooms. The living area is where we chat, share ideas and meet people, while the separate small rooms create a quiet and intimate space where we can focus and work.
How long have you been in this space? Where did you work before that?
Marzia & Leonardo: We moved to Milan by the end of 2018, we were formerly based in the heart of Tuscany. After many years, we decided to move the studio to the Italian capital of design, because of the increasing workflow with furniture companies based in northern Italy and interiors projects in the Milan area.
If you could change something about your workspace, what would it be?
Marzia: We would like to have an extra room. We can't complain about the space, our office is quite big. But having an extra room would be useful to create an 'atelier' for Leonardo's prototypes and a bigger material library for me.
Have you had to make any adjustments to how you work because of the pandemic?
Marzia & Leonardo: We used to travel a lot, driving from one company to another all the time to check prototypes and meet new suppliers. We realized that sometimes with the right technologies it is possible to save time and energy.
Speaking about our studio, things didn't change a lot. We have enough space to keep on working safely with our team, even if we decided to have a more flexible approach to the smart working.
How do you see things changing in your workplace moving forward with COVID-19 now a part of our reality?
Marzia & Leonardo: We think that the pandemic experience forced us to improve a new workflow, improving new management tools that help us to be connected wherever we or our team could be.
Is there an office pet?
Unfortunately, not.
Do you require music in the background? If so, who are some favorites?
Marzia & Leonardo: Of course! It depends on the mood and the project we are working on. Generally, we are passionate about old classics. Bob Marley is a must when we would like to relax, Freddy Mercury and Queen is the soundtrack when we are thrilled and Rino Gaetano (an Italian songwriter) helps us to keep the right rhythm!
How do you record ideas?
Marzia: Leonardo is very environmentally aware so he forced all of us to always use recycled papers! Funny fact, he is always looking for some note written on the backside of something else. Jokes aside, we try to waste the least amount of paper possible.
Do you have an inspiration board? What's on it right now?
Leonardo: We have a wall-mounted material library, which also fulfills the role of a vertical work space. Marzia uses it a lot to create mood boards for her interior design projects but at the moment we are focusing on ceramic and porcelain gres (tile) research for a new project.
What is your typical work style?
Marzia & Leonardo: We have two little children, they transformed us into morning persons! Morning is the time when we are more productive and we try to be as organized as possible in order to come back home for dinner. It is difficult to 'unplug' after a work day because we are together even at home, but we do our best to have a moment off with our family in the evening.
What is your creative process and/or creative workflow like? Does it change every project or do you keep it the same?
Marzia & Leonardo: The process is always the same. It could change a bit depending on the type of work (interiors or product design, bigger or smaller projects) but the steps are quite always the same.
The starting point is always the research, studying the brand or the customer's needs, looking for inspirations from the past and from other fields (fashion, visual art, automotive, films, etc.). The second step is the hand sketch, the most creative and free moment. Afterwards, we start to check sizes, proportions, materials, finishing, production process, production costs – the technical step – and to digitalize the project.
In the end, we always create elaborate renderings to present our works. It takes a lot of time and energy, but we think that they can make the difference for the customers.
What kind of art/design/objects might you have scattered about the space?
Marzia: There is a piece by Ettore Sottsass that we love, it has a totemic beauty. Besides, we have some paintings by Leonardo. He is always drawing and doodling something, it's one of his most characterizing habits! Some years ago, he started to paint and we have his paintings both at home and in our studio.
Are there tools and/or machinery in your space?
Leonardo: There are some pieces from the past, like the old caliber, an object that we still use in the first phase of the project.
What tool(s) do you most enjoy using in the design process?
Leonardo: Pencils! We always start from the sketch, a bit old-fashioned but always effective!
Let's talk about how you're wired. Tell us about your tech arsenal/devices.
Marzia & Leonardo: After the first step – hand sketches and drawings – the rest of the process is digital. We have to create 3D and overloaded renderings, so our team has a real technologic arsenal.
One of the things that we are prouder of is the huge mirrored screen in the meeting/living room, that we use for our presentations and to organize the virtual meetings (especially this year!).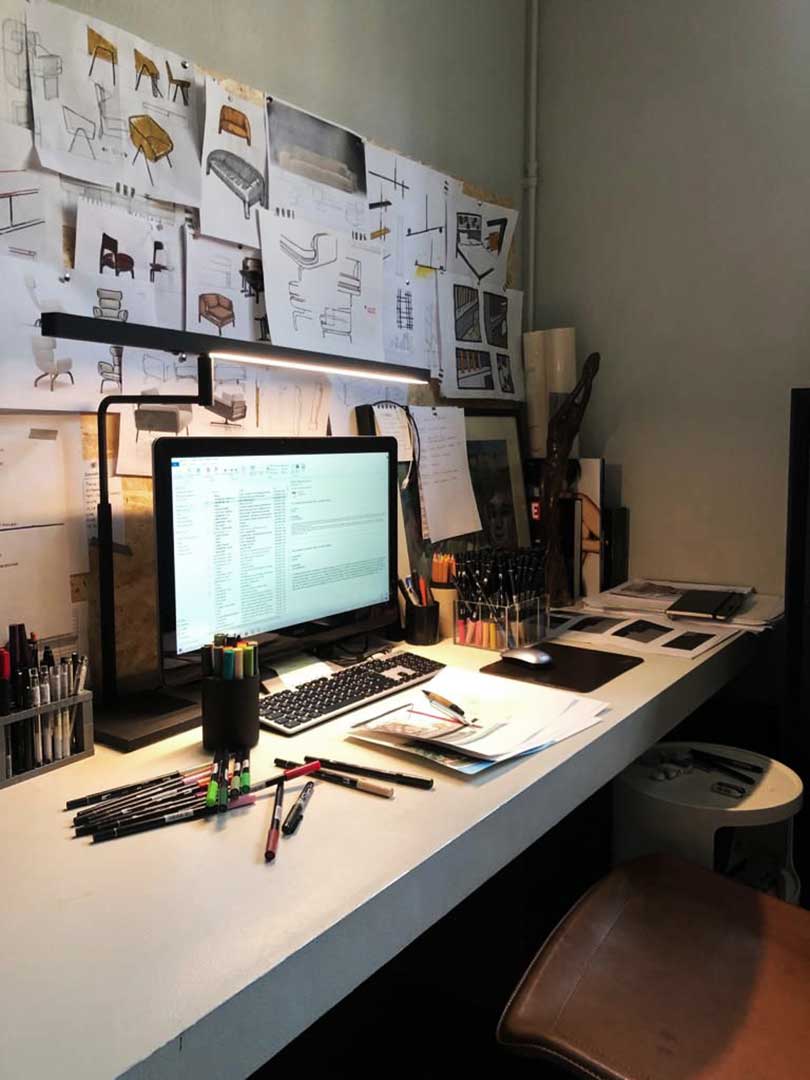 What's on your desk right now?
Marzia: Leonardo's desk is the mirror of his explosive creativity, while my place is more minimal and tidier.
Is there a favorite project/piece you've worked on?
Leonardo: It is so difficult to pick just one! This year we created our first self production: a marble sculpture collection called Faces. They are available on Artemest, and we are getting very good feedback on that! In fact, we are now working on a new collection with the same shapes but with different materials.
Tell us about a current project you're working on. What was the inspiration behind it?
Marzia: We are working on the interiors of a new student house in Milan, a residential project for short and mid period to be used by the university students. The concept of the project is to have some private spaces and common areas.
We tried to keep some elements of the old building, when it has been possible (flooring, front door, etc.). The overall style is colorful and young, with design furniture mixed with vintage pieces that we've been searching exclusively for this work.
Can't wait to see the final result in spring. It has been a long journey, postponed because of the different lockdowns, but it has been worth it!
Do you have anything in your home that you've designed/created?
Marzia & Leonardo: We have many custom made pieces and industrial products designed by us in our home and in our studio.
In our office, for example, the sofa and the marble coffee table have been designed by us and all the boiserie and cabinets have been tailor made for this project.
Photos by Alberto Strada.