Where I Work: Robert Wright + Tiberio Lobo-Navia of Beni Rugs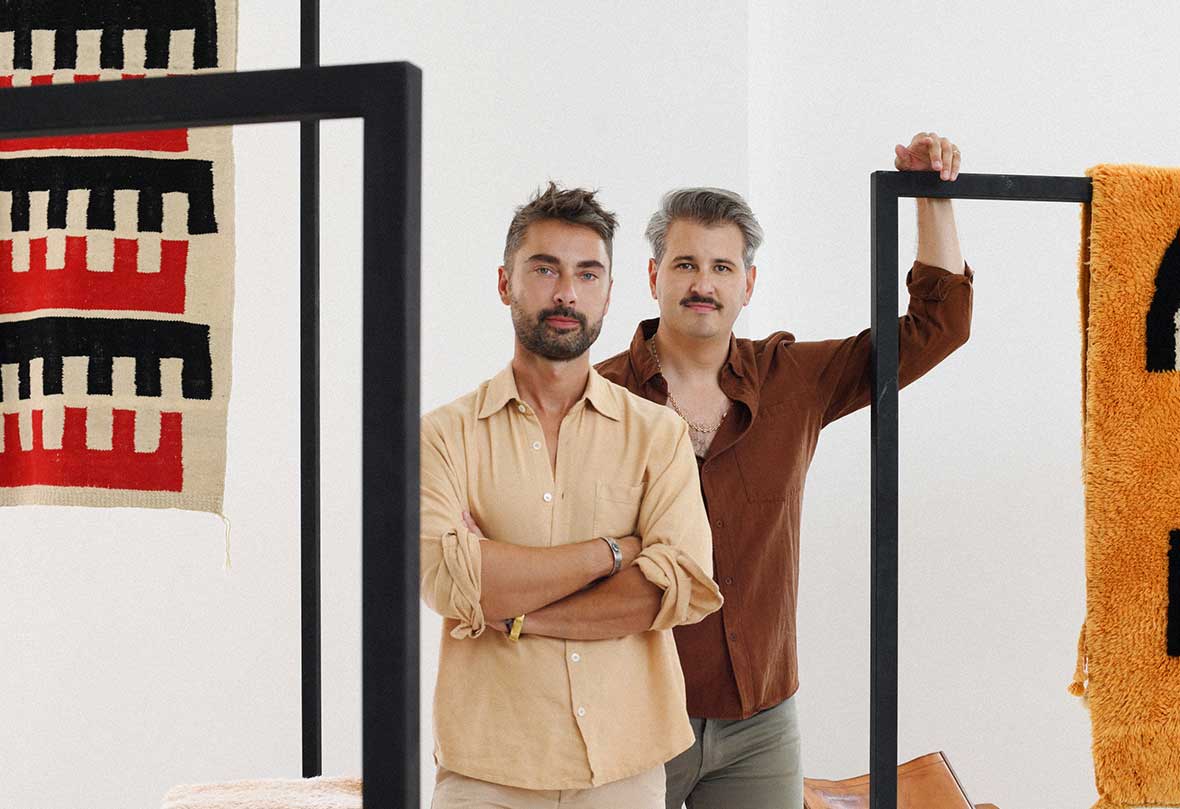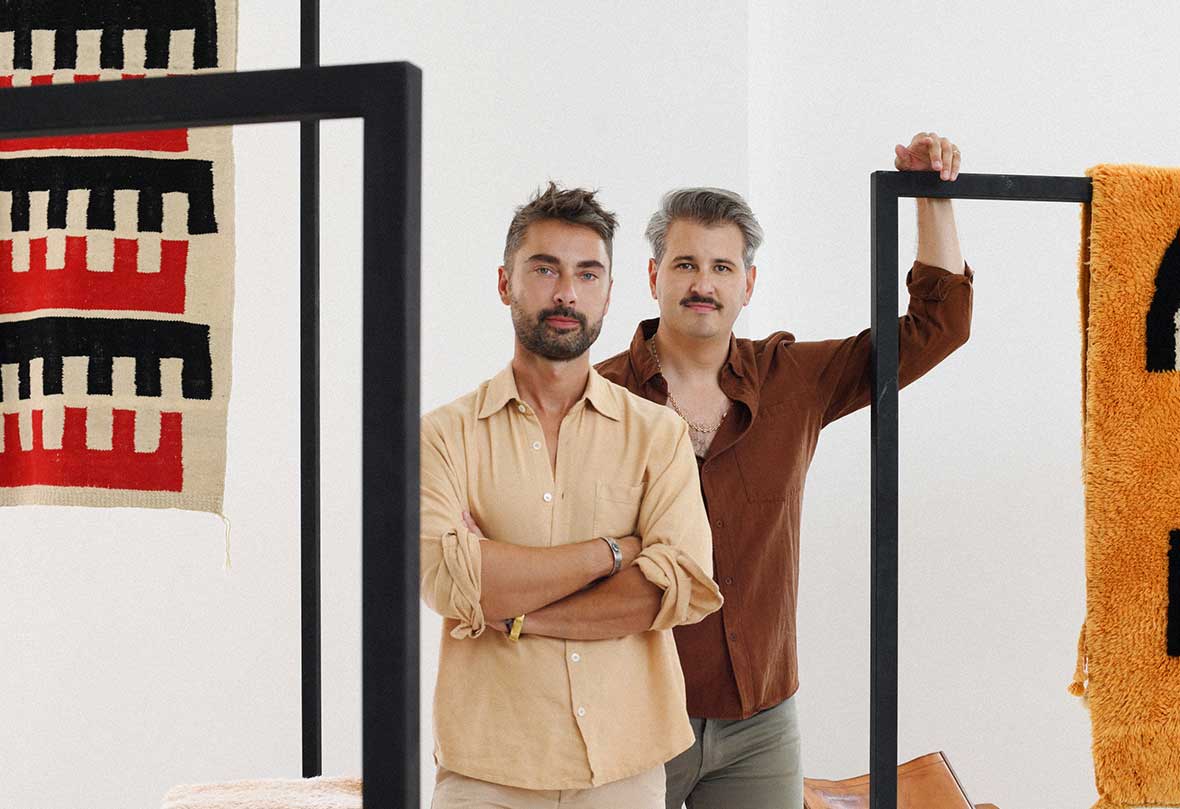 Where I Work: Robert Wright + Tiberio Lobo-Navia of Beni Rugs
1/17 Photos
2/17 Photos
3/17 Photos
4/17 Photos
5/17 Photos
6/17 Photos
7/17 Photos
8/17 Photos
9/17 Photos
10/17 Photos
11/17 Photos
12/17 Photos
13/17 Photos
14/17 Photos
15/17 Photos
16/17 Photos
17/17 Photos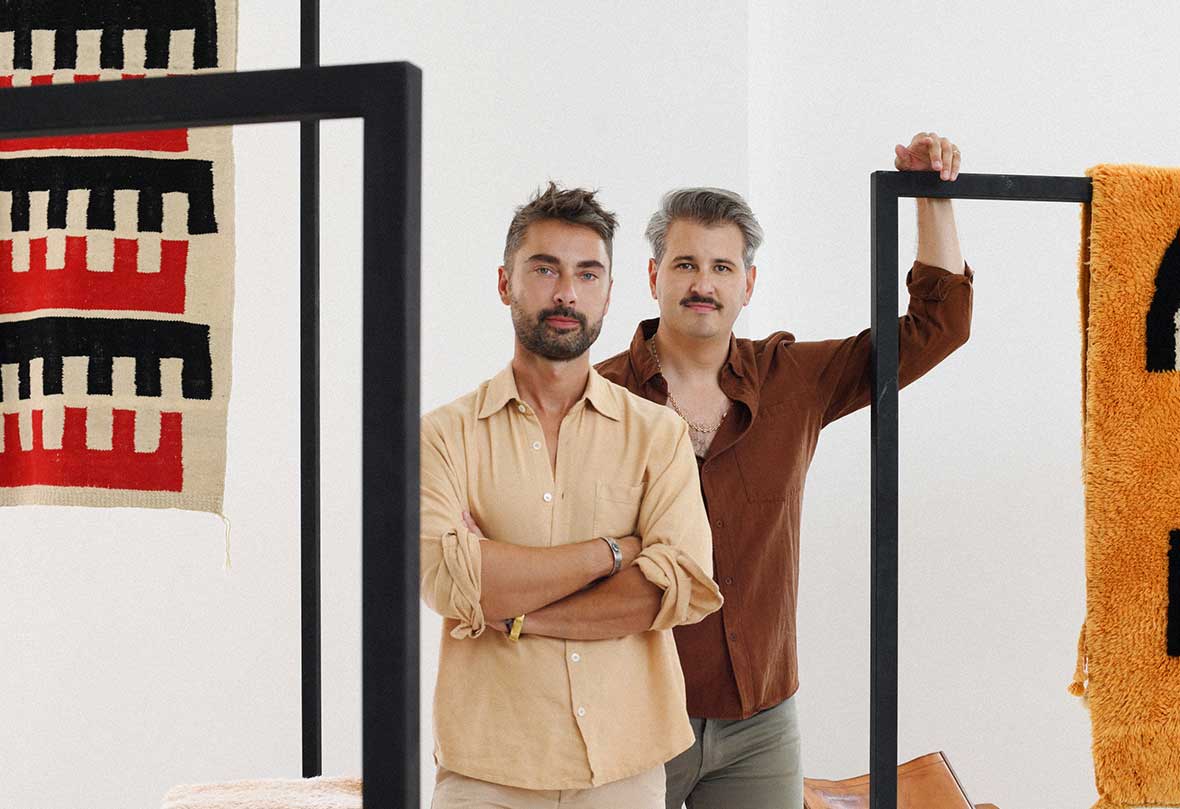 Design Milk has featured Beni Rugs' crush-worthy designs before, and now we're revisiting them for this month's Where I Work. Beni Rugs was founded in 2018 as a go-to resource for modern Moroccan rugs that are hand-made using ancient techniques. Right before COVID, co-founders Robert Wright and Tiberio Lobo-Navia secured a new space in Tameslouht, Morocco, located on the route to Amizmiz, a design-forward area just outside of the city. The duo spent over a year transforming it into the brand's design studio and headquarters, a place where buyers can see the rugs and design possibilities. Visitors can also see rugs being woven on their 50 looms. The in-house operation now allows Wright and Lobo-Navia to pay their weavers higher rates well above market, while offering government benefits (healthcare + insurance), transportation, and childcare. Utilizing Moroccan artisans, carpenters, iron workers, and local brands, the headquarters has come together to form their 8,000-square-foot design mecca that we get to virtually step inside of.
What's your studio/work environment like?
ROBERT WRIGHT: Our work environment is wonderfully dynamic. Under one roof we have a showroom (serene), our office and design hub (layered and textural), and the atelier, where the magic happens. The weaving part of the studio is messy, a bit loud, and beautiful. There's also a puppy named Beni who you can usually find claiming the best corner spot in our office for a snooze, or patrolling the grounds.
How is your space organized/arranged?
ROBERT: We have a very large office, with huge floor to ceiling windows that look onto the showroom, a white graveled central courtyard, and across to the weavers at work. It serves as a gathering spot for employees for meetings, brainstorming, and team lunches. The team has a separate office behind our espresso bar, which looks onto the packaging and shipping area. That way we can all keep an eye on new rugs that are arriving to be packed and shipped. It feels like the team is always together, even when we are in our separate work areas.
TIBERIO LOBO-NAVIA: And just outside the doors in the back we have our washing and drying areas where rugs are washed and dried in the hot sun before being inspected and sent out to their new homes. In the front garden we planted a garden filled with roses, lavender, agave, and a pétanque pitch. Great for brainstorming when we feel stuck.
How long have you been in this space? Where did you work before that?
TIBERIO: We've been in this space for about 7 months now. It's starting to feel like home. We found this building, which was an awning factory, and did a full refit, which took about a year and a half. So we've been dreaming of working here for quite a while. Before this, our weaving team was centered in the north of Morocco. The team was working from home, and Tiberio and I were working from his dining room table. We made quite the leap.
If you could change something about your workspace, what would it be?
ROBERT: The roosters next door make conference calls interesting. Be warned – the idea that roosters only crow in the morning is a myth. It's a constant reminder that we are out in the country.
Have you had to make any adjustments to how you work because of the pandemic?
ROBERT: Now that we have ensured that the entire team is vaccinated, and practicing good hygiene, not too many.
How do you see things changing in your workplace moving forward with COVID-19 now a part of our reality?
TIBERIO: We love that the studio has numerous outdoors areas from which to work, great airflow, and plenty of space for social distancing. We'll make sure to keep these qualities as we expand. We always have a a great cross breeze through the space's large doors and windows.
Is there an office pet?
ROBERT: Indeed! There is a very spoiled prince around here. His name is Beni, naturally. He wandered into the construction zone about 9 months ago and stole our hearts. He was a street dog, we think maybe the runt of the liter. He needed some serious rehab, but now is an indispensable part of our days.
TIBERIO: We also have a family of cats which we have vaccinated and sterilized and make a really charming part of our front garden. We think they keep showing up for the free healthcare…
Do you require music in the background? If so, who are some favorites?
ROBERT: We recently installed Sonos throughout the space. Tiberio and I usually lean towards bossa nova, lots of 70s disco, and funk. The packaging team has been blasting Lil Nas X recently, which we're not mad about. Tiberio loves to make playlists so this lineup is changing seasonally.
How do you record ideas?
ROBERT: We are big fans of Smythson and Rhodia journals to record ideas. There are stacks of them around the office, filled with to-do lists, ideas, and sketches. Tiberio also uses the Apple Pencil constantly for new concepts and designs.
Do you have an inspiration board? What's on it right now?
TIBERIO: Glad you asked! Our office is actually a giant mood board – the walls are covered floor to ceiling in cork. We have pinned up inspiration images, interiors we love, and sketches for new designs.
What is your typical work style?
ROBERT: We have a split style here. I am usually more scheduled, with an idea of how to break up the day. Tiberio works best during the wee hours, so days at the studio involve engaging with the team, checking in on operations, and dreaming up new ideas.
TIBERIO: One thing about having such a large team under one roof is that interruptions happen frequently, and are very welcome – you never know what will come from someone popping in with an idea or thought.
What is your creative process and/or creative workflow like? Does it change every project or do you keep it the same?
TIBERIO: Rugs take a long time to make! The process usually starts with the concept for a new collection. This includes a color palette, sketches, and patterns. We tend to overshoot here so that we can narrow things down later. We pin designs and ideas to our walls, stare at them for days, and whittle down to our favorites. From conception to actual creation of a collection can take 12 – 15 months.
What kind of art/design/objects might you have scattered about the space?
TIBERIO: Morocco is simply incredible in terms of the diversity of craft, handmade objects, and artisanal skill. We're filling the studio slowly with favorite pottery and prints from a cool new concept called the Tangier Print Club. They actually turned some of my paintings into prints, which are shown here. We also have many furniture pieces which we designed and now live at the studio.
Are there tools and/or machinery in your space?
ROBERT: A huge part of the studio is devoted to weaving – so there are rows and rows of looms in different sizes in the space. Each loom has a handmade basket next to it, containing all the tools needed for weaving. In the basket you'll find – small knives, hammers, tape measures, as well as all the yarn needed for each rug. After each rug comes off the loom, it is then taken to the rear of the studio, where it is washed and dried in the sun. The washing team has a whole separate set of tools to ensure that each finished rug has the softest possible texture and finish.
What tool(s) do you most enjoy using in the design process?
TIBERIO: As far as product design, our iPad Pro and Apple Pencil are key. While I am more of the master of these, Robert is constantly taking screenshots, so photo organization in shared albums is also a must.
Let's talk about how you're wired. Tell us about your tech arsenal/devices.
ROBERT: The team is set up on Apple laptops. Sonos powers our tunes. The packaging team is working off of iPad minis so that they can check shipping addresses and take photos of rugs before they head out. Other than that rug making is pretty low tech! The coffee bean grinder might be next most tech-y appliance.
What design software do you use?
TIBERIO: We use Photoshop, Illustrator, and the Paper app.
What's on your desk right now?
TIBERIO: Robert's journal, about 25 pens too many, chunks of lapis lazuli and malachite, a bottle of Vichy mineral water, two iced espressos with coconut milk, an iPad Pro, 3 AirPods cases, two laptops, a huge stack of magazines, color samples, rug pad samples (coming soon!), leather coasters from local brand Nasire, and Danny Meyer's business book "Setting the Table." It's been a helpful resource in building a team! And of course treats for Beni when he's a good boy.
Is there a favorite project/piece you've worked on?
ROBERT: The studio itself is our best answer here. We were lucky enough to have the chance for it to really represent the Beni brand and serve as inspiration for both our team and visitors to the space. It's been a dream to build and sometimes it's hard to tear ourselves away from working here. We can't wait to see the space as it settles in and evolves over time.
Tell us about a current project you're working on. What was the inspiration behind it?
TIBERIO: Yes! Something we're super excited about. Beni set out to reimagine digital rug shopping, and a big part of that was being able to customize rugs on our site via background and line color. We're now working on expanded / thematic color palettes to expand the options. So lots of paint chips / swatches / and color pairings are in the works at the moment.
Do you have anything in your home that you've designed/created? 
ROBERT: Yes! Both of our homes are filled with Beni Rugs – super soft, thick pile rugs for living areas, and flat-wovens for dining and hallways. There are also pieces of furniture Tiberio has designed both for the studio and our homes.
Photos by Grant Legan.