Where I Work: Rug Maven Nani Marquina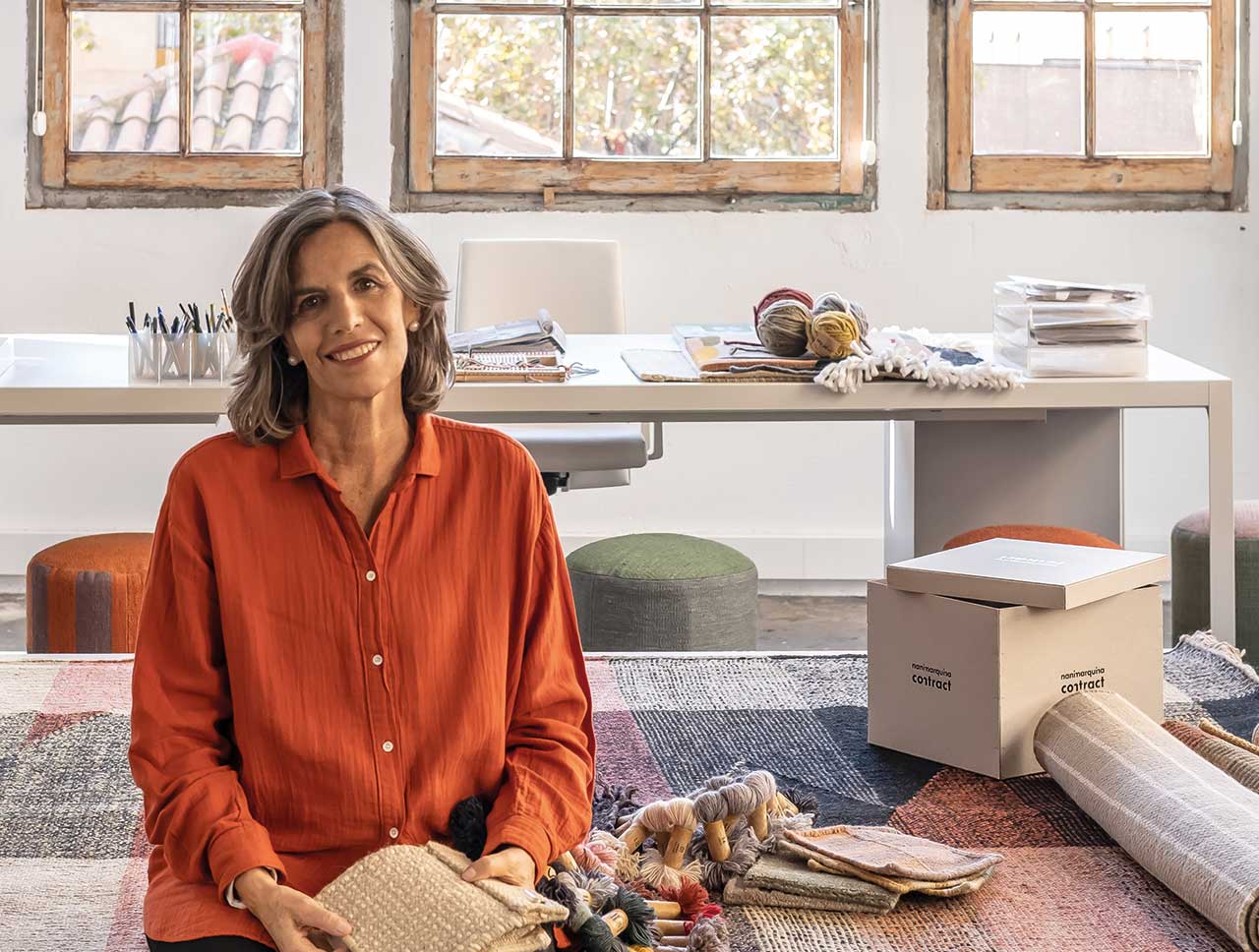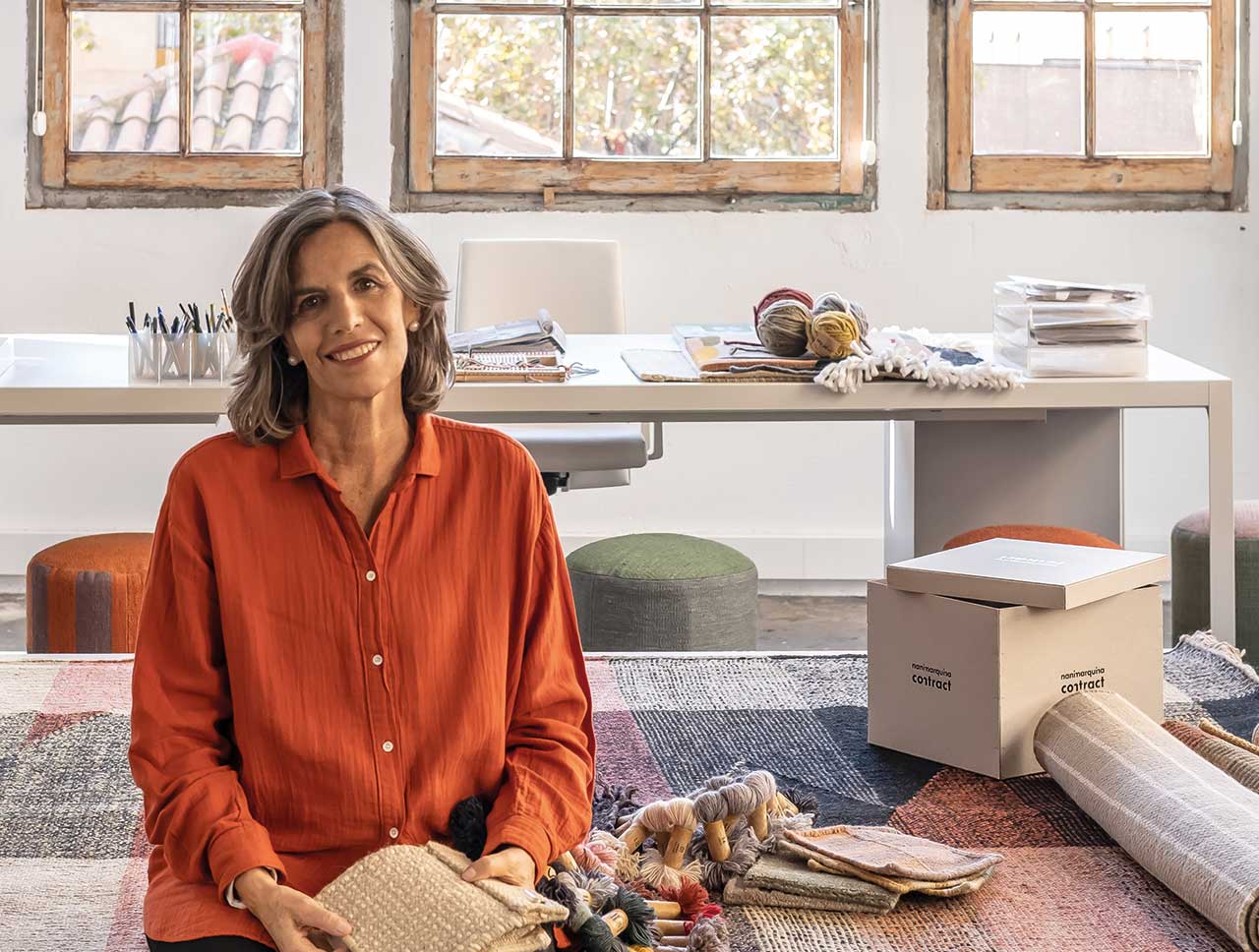 Where I Work: Rug Maven Nani Marquina
1/15 Photos
2/15 Photos
3/15 Photos
4/15 Photos
5/15 Photos
6/15 Photos
7/15 Photos
8/15 Photos
9/15 Photos
10/15 Photos
11/15 Photos
12/15 Photos
13/15 Photos
14/15 Photos
15/15 Photos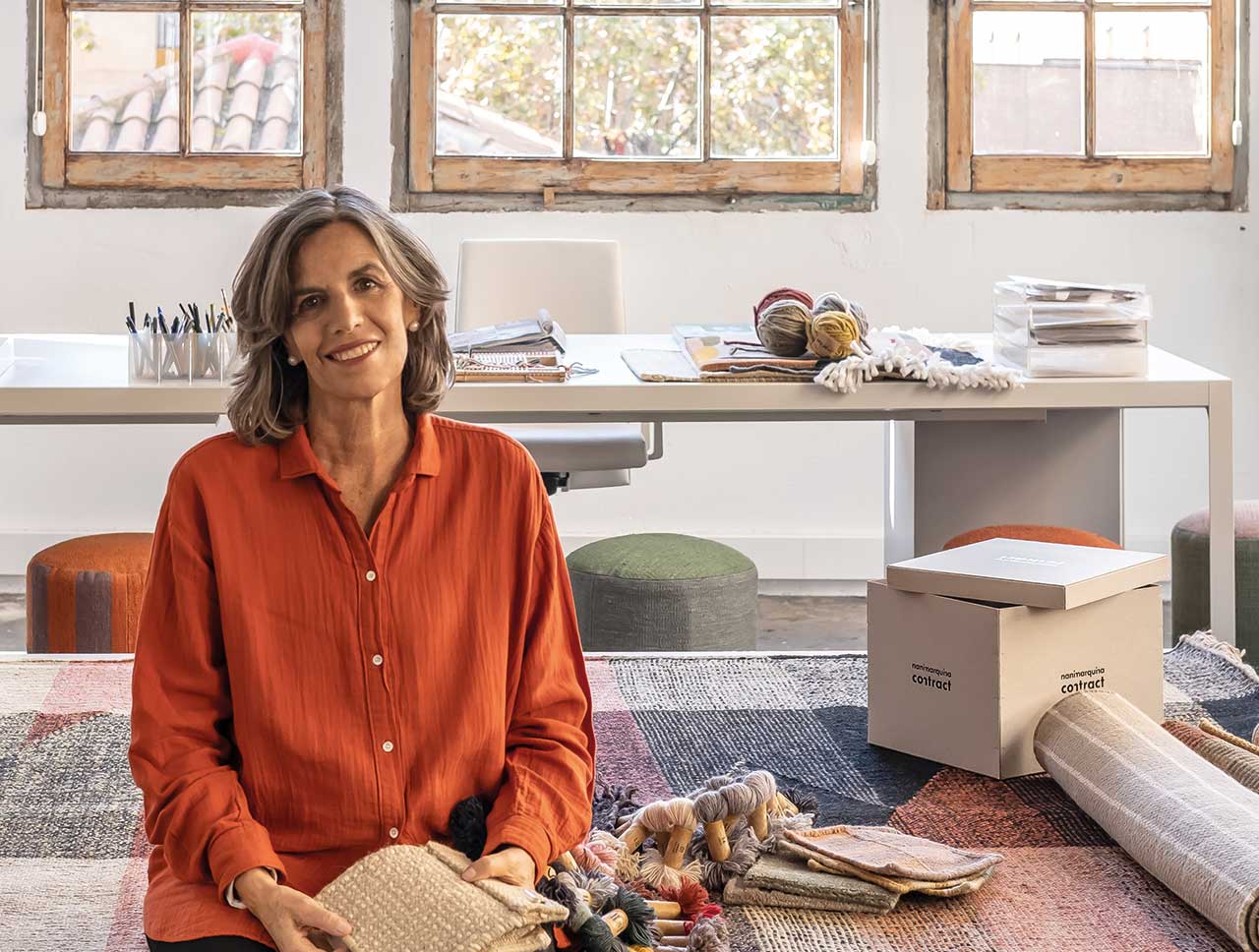 This month's Where I Work (virtually) lands us in Barcelona at the headquarters of nanimarquina, a family owned rug design company founded in 1987 by its namesake, Nani Marquina. More than 30 years later, the company is now joined by the second generation and continuing to create innovative floor coverings featuring unique patterns and striking colorways. Located in the Barcelona neighborhood of Gràcia in a 1912 factory, the brand just expanded into a new 130-square-meter design studio where you'll find Marquina and her team creating new collections and experimenting with new techniques and fibers. Read on to see the new space and some of her process.
What's your studio/work environment like?
The new design studio has an industrial feeling and huge windows where the light comes and lets the creativity flow.
How is your space organized/arranged?
We have developed a custom made 'materioteca', which is basically a large storage area that contains around 1,000 samples carefully arranged by technique, as well as, an archive of prototypes and fibers. On the other side of the studio, we have a workshop where we weave samples and have selected artistic resources to unleash creativity. And the third area is a large table-platform to place rugs as displays offering a bird's-eye view of the details of the prototypes during the creation process.
If you could change something about your workspace, what would it be?
Once we've started working in this new space we've noticed that there is never enough space to store. So, more storage would have been great!
How long have you been in this space? Where did you work before that?
We've been here since 2004, but in a totally different distribution of the space. Actually, the design area was much smaller as we used to share the space with the rest of the team. Having this new space just for the design department it has been a blast.
Have you had to make any adjustments to how you work because of the pandemic?
Yes. Since the pandemic started, I decided to work a few days from my home away from Barcelona. With that change, I had to organize better in terms of meetings but it has allowed for more mental space to be creative with more concentration.
How do you see things changing in your workplace moving forward with COVID-19 now a part of our reality?
We've gotten used to doing more online meetings. Since we work on a design process where we work daily with our hands, fibers, colors, and prototypes and since we share so much of the projects and decisions with the team, it is difficult to change this process to virtual. We need to continually contrast prototypes and there is only one way to do this and that is in person.
Do you require music in the background? If so, who are some favorites?
Not really, we don't usually work with music in the background. Everyone listens to their own music with headphones.
How do you record ideas?
When an idea comes to my mind, I literally take anything near my hand to write it down; it can be a napkin or a card from somewhere. Sometimes I also do voice memos or write them down in one of the countless notebooks that I have always around me.
Do you have an inspiration board? What's on it right now?
Yes! We do have an inspiration board just in front of the materioteca. We have custom created mood boards to visualize work concepts.
What is your typical work style?
I try to be scheduled and regimented but at the end of the day I can see that I improvise a lot.
What is your creative process and/or creative workflow like? Does it change every project or do you keep it the same?
Working on a project as specific as rugs means that ideas of new things or collaborations continually arise. These ideas can arise outside the workplace, but then I always work with the team and depending on the project we follow one process or another.
Sometimes we work a lot on the idea before making the prototype, or often we commission a prototype and from there we mature the idea and make changes. Bearing in mind that our product has considerable dimensions, the prototype is a basic tool for our work since the change in size, textures, fibers, and color greatly defines the final result.
Are there tools and/or machinery in your space?
We have artisanal tools to weave as our professional weavers do it in India and Pakistan. And also looms of different sizes and a sewing machine.
What tool(s) do you most enjoy using in the design process?
What attracts me the most is at the beginning when there is simply an idea; and then the final result when you see how that idea has become something real (sometimes very different from the initial idea). With this we understand that ideas are always good to start a project but it does not mean that they have to be maintained throughout the course of the project. We have to accept that they will mature and change.
What's on your desk right now?
My laptop, pencils, notebooks, some folders, phone, and sometimes samples.
Is there a favorite project/piece you've worked on?
You can see a quick sneak peak of an upcoming collection called CERAS. One of the latest projects we have been working on.
Tell us about a current project you're working on. What was the inspiration behind it? 
We're are working on a new collection that will be released this year and its 100% recycled. The idea stems from the desire to take advantage of excess production to make new rugs. The challenge was that the remains of these threads are very short and fine, so you cannot weave with them. We did an investigation of how to recover these threads to make only one that was suitable for weaving. We start by shredding these leftover yarns and mixing them with long fiber to give it a bit of structure. The final result is a rug 100% recycled that will only be available until these excess production yarns last.
Do you have anything in your home that you've designed/created?
Yes, some rugs and small armchair prototypes woven with vegetal fibers that we developed a few years ago in Cameroon.
Photos by © Albert Font.