Where I Work: Ryan Saghian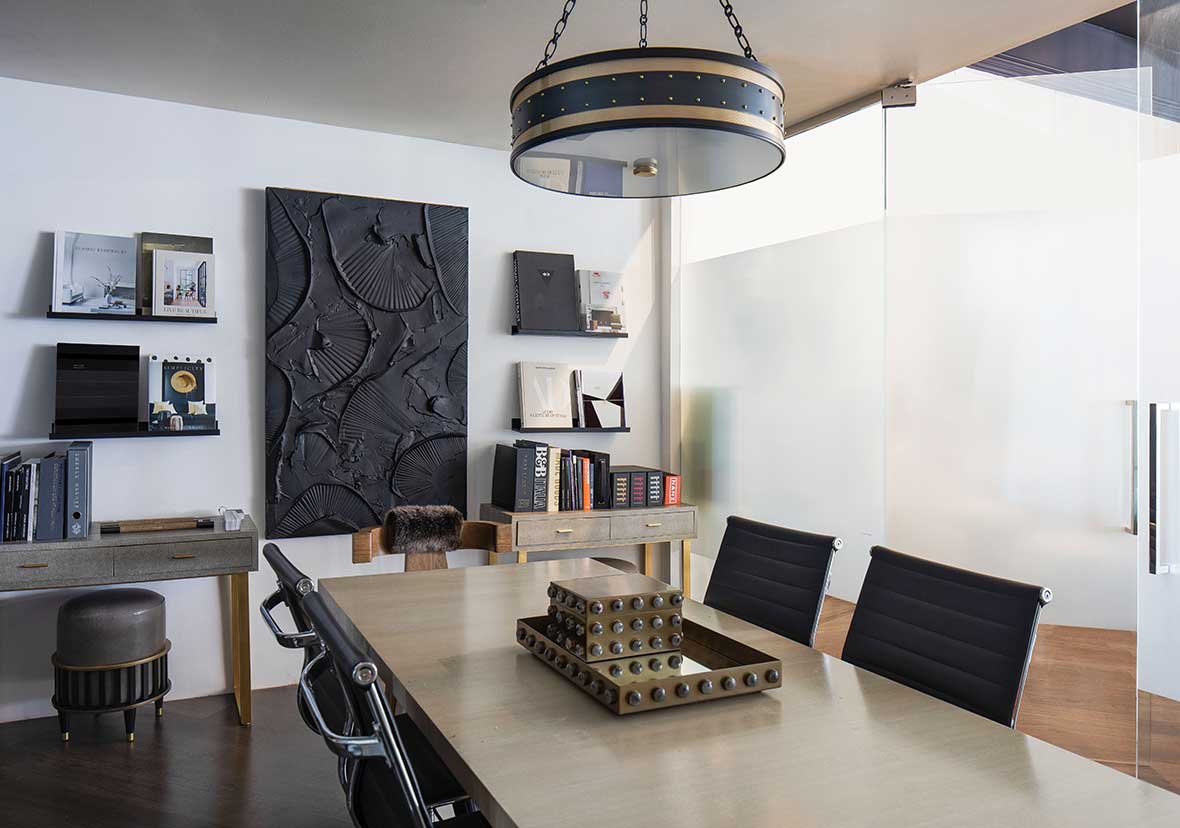 Where I Work: Ryan Saghian
1/14 Photos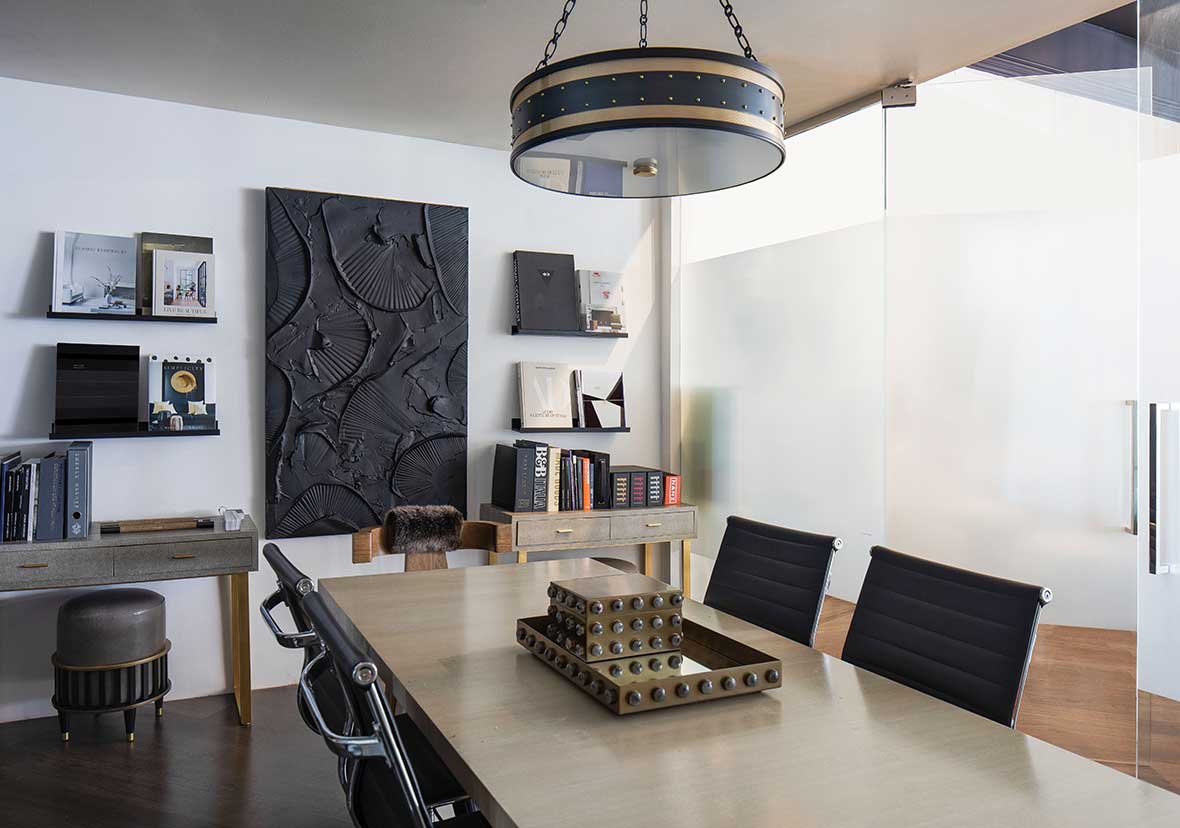 2/14 Photos
3/14 Photos
4/14 Photos
5/14 Photos
6/14 Photos
7/14 Photos
8/14 Photos
9/14 Photos
10/14 Photos
11/14 Photos
12/14 Photos
13/14 Photos
14/14 Photos
If you haven't heard the name Ryan Saghian yet, chances are that will be changing soon. The not-quite 30-year-old interior designer founded his eponymous firm at the ripe age of 21, launched a couture furniture line in 2014, opened a flagship showroom in Los Angeles in 2016, collaborated with Bijou on his own wallcoverings collection in 2018, released his SoHo dinnerware in 2020, and most recently, created a collection of rugs in 2021. His sought-after aesthetic of old Hollywood glamour meets modern millennial keeps him and his staff of six busy with high-end residential and hospitality projects. In under 10 years, Saghian has gone from his parent's garage to his newly designed office on Robertson and 3rd, where he shares more about his work style and creative space in this month's Where I Work.
What's your studio/work environment like?
The office is just the right amount of messy and the right amount of organized. The Ryan Saghian candle is always burning and creativity is always in the air. We enjoy blasting background music. When you put a bunch of creatives in one space, the imaginative energy is palpable. There's a great flow.
How is your space organized/arranged?
The communal space is a conference area and workshop all in one. It is open and collaborative. I wanted the conference room to feel unconventional with a white oak desk and Eames executive chairs anchored in custom brown oak and faux fur chair ends. The aged bronze and brass pendant ties in the space and is from the Hudson Valley gains collection.
The piece we often receive comments on is a striking black plaster art by LA-based artist Michael Allen.
On one end of the office I have an iconic Terry O'Neal photo of Faye Dunaway at the Beverly Hills Hotel the morning after receiving an Academy Award. This photo is just so LA. Everyone who knows me knows that I hate recessed lights and always favor pendants, chandeliers, or flush mounts. I made sure to add flush mounts throughout the main space and for continuity chose the Gaines bronze and brass flush mounts from Hudson Valley to pair with the art light behind my desk.
How long have you been in this space? Where did you work before that?
The office is located within the J. Alexander luxury furniture showroom, which also represents the Ryan Saghian Collection. I have been in this space for five years. Before that I was in my parent's garage. We just redesigned the office in fall of 2020.
If you could change something about your workspace, what would it be?
It would be to have more natural light.
Have you had to make any adjustments to how you work because of the pandemic?
We have made adjustments, from sitting further away from each other to team members coming at different hours so we aren't there at the same time. At times, the conference room has also become my office so there would be a bit more space. These are little things so everyone would feel safe.
How do you see things changing in your workplace moving forward with COVID-19 now a part of our reality?
We are all vaccinated in the office. I am optimistic we are slowly going back to the way things used to be.
Is there an office pet?
No office pet.
Do you require music in the background? If so, who are some favorites?
Yes! The same way my interiors are diverse, my music is eclectic. Everything from Casa Del Mar/Buddha Bar to today's greatest hits.
How do you record ideas?
I am old school. I write it in my notebook that I carry with me.
Do you have an inspiration board? What's on it right now?
My phone has become my inspiration board. This is why I have it in my hand all the time! Anywhere I go if something catches my attention, I take a photo.
If someone were to look at my phone, they would notice that there are very few photos of me or friends. Instead you would find photos of unique door knobs, beautiful drapes, or images of boutiques in Europe. Many boutiques in Europe are so well designed. One of my favorites is the Chanel store in London. I take as many photos as I can and I always reference them. You can easily just search your iPhone for a particular location and pull up anything.
What is your typical work style?
I am most creative in the early mornings. I wake up, work out, drink my coffee, have a protein shake – and off to work. I feel energized.
What is your creative process and/or creative workflow like? Does it change every project or do you keep it the same?
It is always the same process. The first part of the process with a client is an in depth interview to learn more about what they want. I also give the client homework so I am able to receive as much information as possible to create their dream home. They give me imagery from Pinterest boards and magazines to screenshot from Instagram. After that, I will create a floor plan. Once the layout is approved, it is time to plan for the design execution.
What kind of art/design/objects might you have scattered about the space?
There are a few shelves mixing form and function with a display of samples from my new tile line, SENSUALE Collection in collaboration with DOMVS, and a couple of my favorite books.
What tool(s) do you most enjoy using in the design process?
Photoshop
Let's talk about how you're wired. Tell us about your tech arsenal/devices.
I am on my cell phone all day. To execute a project I use Photoshop and AutoCAD.
What design software do you use, if any, and for what?
I use AutoCAD, Google Sketch, Photoshop, and 3ds Max.
What's on your desk right now?
My desk is used strictly for work so it has very little on it. I have my computer on it, and at times, a couple books. I need my desk decluttered so my mind is clear.
Is there a favorite project/piece you've worked on?
This home in the Hollywood Hills is one of my favorites. It was designed for a wealthy bachelor. My client wanted a sexy and sophisticated space and not a raunchy, stereotypical bachelor pad. I was inspired by the Edition Hotel in West Hollywood. It's a travertine haven with beautiful rich espresso stand rift oak panels all along the wall.
Tell us about a current project you're working on. What was the inspiration behind it?
We are working on our first restaurant design in Los Angeles. The inspiration is modern Marrakech with an international appeal. It is a large space with a rooftop lounge. I am excited to finally enter the world of hospitality and show people what I can do.
Do you have anything in your home that you've designed/created?
I am in the process of redoing my home with custom furniture. Everything in my house is custom from my showroom at J Alexander. One thing about being a designer, you are never done with your own house. I also only dine on Ryan Saghian dinnerware!