Atlanta-based maker Skylar Morgan, who heads up Skylar Morgan Furniture + Design, founded his company in 2002 focusing on handcrafted furniture manufacturing, millwork, and residential and commercial architectural woodwork. His American modern, minimalist-meets-rustic furnishings are designed and built to be used and loved over time. The Montana native and his team elevate handmade dining, living, and bedroom furniture through their impeccable attention to detail, all within their new 44,000-square-foot building located in Atlanta's West Midtown Design District. For this month's Where I Work, Skylar takes us through the new showroom, office, and workshop, while sharing more about his work process.
What is your typical work style?
I get most of my work done early in the morning before most people come in. Everything after 9am is fast paced and quick decisions. I constantly jump from one fire drill to the next, which makes for very exciting days.
What's your studio/work environment like?
Quiet at times, but mostly fast paced with fun jokes and conversations sprinkled in. We are all like family here, so it's a bit like Thanksgiving morning in the kitchen. Fun, drama, and hard work.
How is your space organized/arranged?
We work in an open office, so we're all within shouting distance and everyone knows what everyone is doing at all times. (An office would be nice, but it would get boring quick.) Our office is very organized and clean. I work next to large glass doors that enter the wood shop, so I have a good view of the office and into the shop from my desk.
How long have you been in this space? Where did you work before that?
We just moved into our new shop about a year ago, but have stayed within Atlanta's West Midtown Design District. We are now in a 44,000-square-foot space with room to spread out. Our previous shop was 20,000 square feet, and we were basically on top of each other in the shop and office.
If you could change something about your workspace, what would it be?
It would be nice to maybe have some more antique Turkish rugs in the office and art on the walls, but overall there's nothing I would change about my workspace. It's perfect.
Is there an office pet?
No pets in the office yet.
Do you require music in the background? If so, who are some favorites?
We do like to have music in the background, although my personal taste in music is not loved by everyone. I like singer-songwriter, alternative country artists — the sadder the better. We take turns with Pandora to keep it interesting.
How do you record ideas?
Hundreds of Post-it notes — on my screen, desk, work bench, sewing machine, everywhere. I also have a stack of random sketches in a folder behind my desk, with the good ones hung up on my wall so I can think them through more.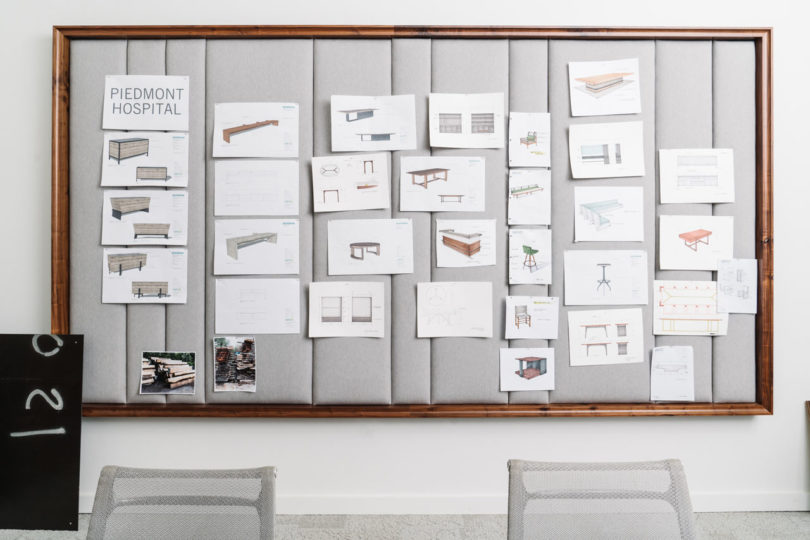 Do you have an inspiration board? What's on it right now?
I do not anymore, but we had one in our old office that was cluttered with magazine clippings and sketches. Instead we now have internal mood boards, which we use for planning and working through upcoming designs and custom projects.
What is your creative process and/or creative workflow like? Does it change every project or do you keep it the same?
It's generally the same for every project. A concept is created with sketches, and then evolves into CAD renderings over 1-2 weeks. Once everyone is happy, it goes into the shop to be fabricated.
What kind of art/design/objects might you have scattered about the space?
In our office and shop we have a lot of rare or interesting-shaped wood pieces and scraps that I've gathered over the years. I also like to collect nice-looking pencils, pens, and markers (many of which I can never bring myself to use) that I keep on my desk, as well as miniature-scale models of some of my favorite furniture pieces I've made.
Are there tools and/or machinery in your space?
Most of our furniture is made by hand, but we do have a handful of large wood machinery, and also metal and leather working machines. I love collecting and finding efficient tools and machines of the trade.
What tool(s) do you most enjoy using in the design process?
My favorite tool is my drafting table, which has an old sliding scale and custom diminishing point arms. Sketching out new concepts is the first step in my design process, so my drafting table is where all the magic begins.
Let's talk about how you're wired. Tell us about your tech arsenal/devices.
I'm a very low tech man. I'm still learning how to use a computer and hardly ever use my iPhone.
What design software do you use, if any, and for what?
Our designers use Sketch Up Pro, which I have no idea how to use nor have any interest in learning. I will hand sketch all the directions for new concepts I've drawn for them to work from.
Is there a favorite project/piece you've worked on?
I have a new favorite piece everyday. I don't get to physically build as many pieces these days as I used to when we were a smaller operation, but of course I'm partial to the work I did create myself, like the Doc Chair.
Do you feel like you've "made it"? What has made you feel like you've become successful? At what moment/circumstances? Or what will it take to get there?
I don't like the idea of considering whether we've "made it," because I feel like it's too easy to go downhill from there. Obviously, we're constantly striving to become bigger and better — that's why I get up early every morning and work long hours at the shop. I have no doubt that we will achieve great success on top of everything we've already accomplished (and that hopefully one day I'll be able to relax), but for now I like the grind.
Tell us about a current project you're working on. What was the inspiration behind it?
A good friend of mine who happens to be a very well-known architect is designing an amazing pool based on Roman baths, and he commissioned us to create very large entry gates that will lead to the pool. My inspiration was the big heavy wood gates that the gladiators stood behind before entering the coliseum back in ancient Rome. They are almost intimidating, but feature a simple repeating open pattern that provides a welcoming feel. I'm super excited to see those go in.
What's on your desk right now?
Post-it notes, four old coffee cups, drawings, estimates, easily over a hundred markers, pencils, and pens, as well as interesting new screw and bolt hardware. It's cluttered, but I know where everything is — in other words, organized chaos.
Do you have anything in your home that you've designed/created?
I like to say the cobbler has no shoes. I will make a special piece when Stephanie (my wife and business partner) asks nicely enough, but for the most part it's left-behind or old furniture that didn't make the cut over the past few years.
However, I do have a pretty great art collection that I've been able to amass through trade with artists and sculptors I've met over the years. I also renovated our home when we moved in, and have since built two additions with my background in fabrication. I collaborated with a close friend who also happens to be an architect to keep the original integrity and style of the '50s ranch house, while adding more modern additions. The materials we used have really shaped what our home has become — very warm and inviting, but also airy, open, and contemporary.