New York City based Watson & Company is a branding force and creative consultancy behind clients like The Four Seasons, The Ludlow Hotel, The Marlton Hotel, The Ritz Carlton, Annie Leibovitz, Jeff Koons, David Adjaye, and Andrea Rosen Gallery, Helmut Lang, and countless more spanning real estate, art, fashion, and various design-driven brands. At the head is owner and chief creative officer William Richmond-Watson who founded the agency in 2008 and runs it out of a 4,000-square-foot penthouse in Chinatown that includes a pink rooftop space with views of Tribeca. For this month's Where I Work, Watson gives us a tour of the company's space and a view into how he runs it all.
What is your typical work style?
Our creative team is kept extremely organized and on track by our amazing accounts and project teams. That said, anyone who tells you the creative process is all smooth running is definitely bending the truth. It's necessary to have disruptive moments where we go off script to find those big ideas.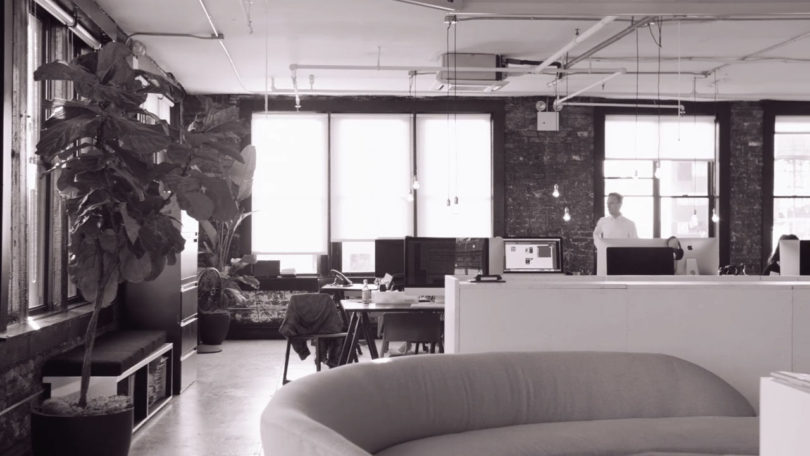 What's your studio/work environment like?
I like to think of it as a space of relative calm where people and ideas can feel centered and grow.
How is your space organized/arranged?
We have long open desks and some break out spaces for calls and smaller meetings. We also might be the only business in the neighborhood that has an outdoor space; we have an expansive garden rooftop that we use for team dinners, figure drawing classes, and live music events throughout the Summer.
How long have you been in this space? Where did you work before that?
We were in Chelsea when we first got started, but it was becoming too homogenized and I wanted my team to be able to fall in love on their lunch break. We gravitated to what I believe is the new creative capital of Manhattan: East Chinatown.
If you could change something about your workspace, what would it be?
We're working on renting the floor below and then I'd like to drop a huge circular glass staircase from our roof garden all the way through our three floors.
Is there an office pet?
A lot of the team love dogs, so occasionally one (of the calmer characters) will come and hang for the day.
Do you require music in the background? If so, who are some favorites?
We've been listening to a lot of Chronixx, he's widely slated to be Jamaica's next Bob Marley.
How do you record ideas?
Apple Notes is a favorite of mine then it's synced across everything. I mix that up with a very standard ring bound notebook.
Do you have an inspiration board? What's on it right now?
The boards change daily based on where we are with different projects. Currently, we have several layout options for a redesign we are working on for Drome magazine and images of our latest work for the newly opened Siren Hotel in Detroit.
What is your creative process and/or creative workflow like? Does it change every project or do you keep it the same?
There are some consistencies but it varies from sector to sector. A liquor brand innovation challenge requires a different approach to a destination or hotel brand. We always start with a discovery process that begins with a question and deep strategic thinking. We design around those insights, always keeping in mind our target audience. Beyond strategy, I tend to encourage creatives to work fast and free on initial sketches and not be afraid to tear up ideas and reconfigure them. Often this is where the magic happens, where you find something truly new and groundbreaking.
What kind of art/design/objects might you have scattered about the space?
A Cherner chair, the Ivan Argote on my office wall, a model of a table that was designed and built by my brother who is a furniture designer and cabinet maker, and a Quentin Jones collage, to name a few. Every object is meant to intrigue and inspire.
Are there tools and/or machinery in your space?
The only heavy machinery we operate is the Burberry chainsaw on my office shelf!
What tool(s) do you most enjoy using in the design process? 
We installed the large screens in our foyer for client presentations, and they also very practical when we have design reviews so we can view the work in a large-scale format.
Let's talk about how you're wired. Tell us about your tech arsenal/devices.
I use an iPhone X and iPad Pro, an Apple Pencil and a MacBook Pro with an additional display screen.
What design software do you use, if any, and for what? (if applicable)
We use Adobe Creative Suite, Sketch for building front end websites, Cinema 4D for modeling and rendering, and 3D Macs.
Is there a favorite project/piece you've worked on?
We've worked with some really big brands and on some of the largest destination building projects in the country, but one of my personal favorites was this unusual invitation for a private event in Los Angeles. Needless to say, attendance was high.
Do you feel like you've "made it"? What has made you feel like you've become successful? At what moment/circumstances? Or what will it take to get there?
Working with Sean MacPherson on The Ludlow and The Marlton in New York City were some of our most memorable and gratifying projects. Beyond that, helping create the branding and experience for Hudson Yards, the biggest private development in the history of the U.S. is such a privilege. The experiential space we've designed to engage buyers is awesome. Think Google X labs meets Prada meets a Jeff Koons installation. However, after a while you begin to realize that the brands that touch the most people are when you have the real opportunity to enrich someone's life in some small way. Our greater push into experience, CPG, and liquor feels like a natural evolution. We will let you know when we get there, drinks will be on us.
Tell us about a current project you're working on. What was the inspiration behind it?
We're working with Helena Christensen and Camilla Staerk on launching their new lifestyle brand Staerk and Christensen. We've started with eyewear, and will be adding footwear, homeware, and I believe even homes to the mix which is really exciting. They a super creative duo and have this wonderful generous, open Danish sensibility paired with an innate sense of style.
What's on your desk right now?
Notes from our last meeting on Pendry West Hollywood, a new hotel and residences we are launching in Los Angeles, industry news to keep up-to-date, a water carafe by Anna Karlin who is also a dear friend, a photograph of my daughter Lola, and a bottle of my friend's gin, just in case.
Do you have anything in your home that you've designed/created?
My apartment also functions as my studio, so there are many works in progress. I was trained as a fine artist before I took the plunge into experiential branding and design, and it remains a strong passion of mine.