To have a vacation home like this one designed by Claesson Koivisto Rune Architects, would be a dream. The Widlund House is a vacation home on the west coast of the Baltic Sea on the Swedish island of Öland.
Precast concrete was used and they created a "corsetted" effect by bringing the middle of the concrete box in a bit. This gives the white "box" more interesting wall and roof angles. On the interior, it also marks the difference between the private and communal areas. In the back part of the house is the two-story private area that houses the bedrooms. The front part, which is closest to the ocean, is the common area with a double height ceiling.
The concrete is left unfinished in its natural white state with its joint lines creating geometric shapes on the exterior.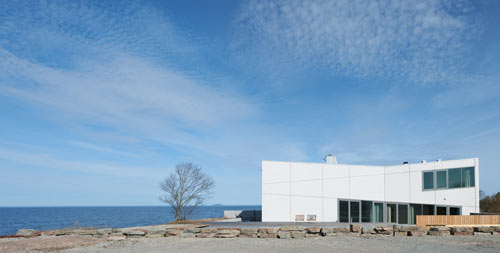 I could get used to that view…
Architect: Claesson Koivisto Rune Architects, Stockholm
Project group: Mårten Claesson, Eero Koivisto, Ola Rune, Deta Gemzell, Kumi Nakagaki, Kia Larsdotter, Lotti Engstrand
Project: vacation house
Location: Sandvik, Öland, Sweden
Photos by Lindman Photography.

Design From Around The Web