Wilde House Paper's core values are twofold – creating quality stationery goods while also being a place that's a source of inspiration. Launched in 2018, based in California, and run by Megan Heddinger and Connor Dreschler, Wilde House views themselves as a lifestyle stationery brand where each piece that goes out the door is a unique work of art. Everything is designed and created with an eye towards sustainability and intentionality, using 100% recycled paper for all of their goods. Megan helms the creative side while Connor handles the business tasks. We love everything that Wilde House has to offer and want to share their work and their brand with you this month, while also finding out how Squarespace's all-in-one online platform helps them live out their business dreams.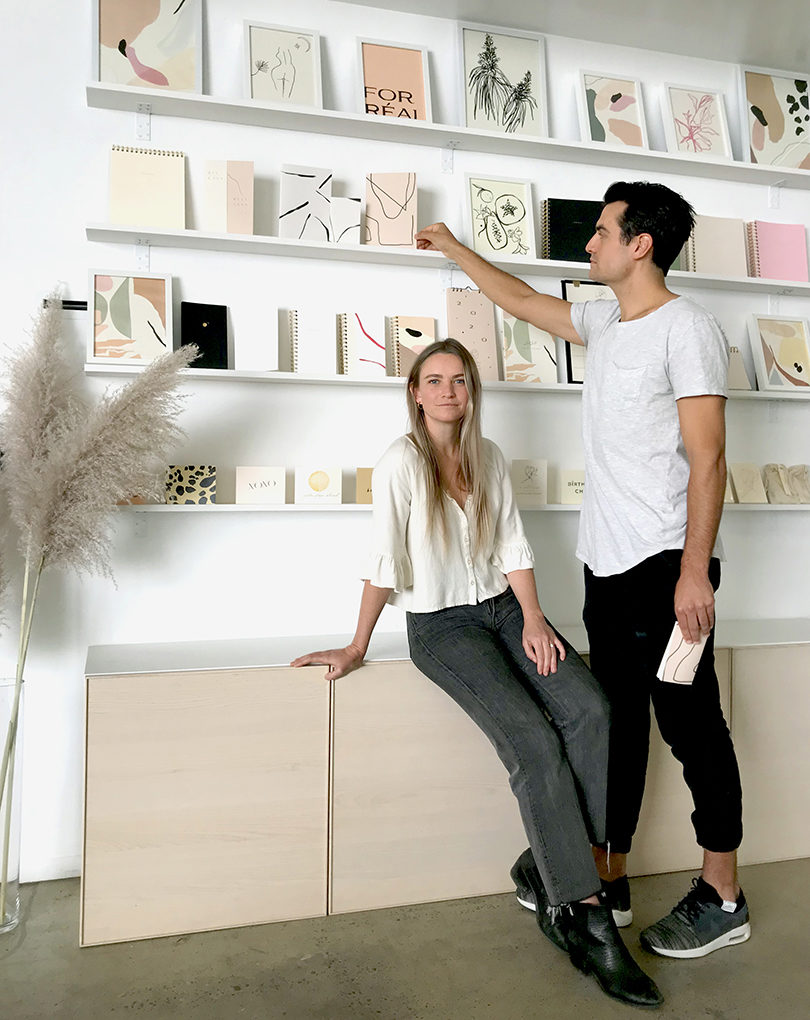 Wilde House's intentional take on creating paper goods is refreshing in a society of fast, well, everything. Was this almost philosophical approach to their brand with them from the get go or did it evolve with it?
"Intentionality is a piece to the puzzle that we felt was missing in the stationery realm. It's a concept that we all search for in our day to day lives, and ultimately strive to be present in. From the beginning, it was important for our design process to revolve around an intentional aspect. We aim to design pieces that effortlessly fit into people's lifestyle – whether that be a journal that is a constant in your morning routine or an art piece that is an extension of your aesthetic," Megan shared.
"Another element of Wilde House Paper that consistently aligns with our intentional-first messaging is that almost half of our paper goods line is painted by hand. We love this aspect of our line because it is an intentional way of creating each piece as a one-of-a-kind work of art."
The moniker Wilde House Paper evokes so many thoughts and emotions, so we asked Megan how it was decided upon. "When we were originally thinking of names, we were searching for a concept that would house future ideas. Wilde encompasses the feeling that comes with inspiration which is a founding pillar of our brand. We aim to create intentional designs that continually inspire a curated lifestyle. Paper is our bread and butter, but we love how our name creates a space for flexibility that we foresee to come in design, different product realms, and space curation," she said.
As Megan and Connor continue to build Wilde House, they have a constant figure in mind – the Wilde Woman. Her lifestyle, fashion sense, who she surrounds herself with, and her passions are all aspects of the brand's ultimate vision. So, who is the Wilde Woman?
Described by Megan, "She is effortlessly herself and constantly inspires all who surround her. The Wilde Woman is making a difference, whether that is with her style, career, social platform, or just her everyday interactions. She is the trendsetter of her own life."
"We are curating a community of Wilde Women who not only support the brand, but are the voice behind Wilde House Paper. For example, we know that she is passionate about conscious consumption, whether that be in her personal wellness routine or how she shops. To support her, we have made a conscious decision to only use 100% eco-friendly paper stocks in our line as well as partner with One Tree Planted, a nonprofit organization that plants a tree in California for every order placed with us."
It turns out that Megan and Connor found themselves in the world of paper as a practical choice more than a passion for the material itself. Design was the initial concept they gravitated towards, and paper provided an affordable vehicle for their creations when they first began their small business adventure last year.
"I think it's something that most people don't always consider when thinking about how a brand started, but I have the utmost respect for those that have carved a space for themselves in industries where the startup cost requires a true investment. The lower entry cost allowed us to explore different category realms – for example, organizational goods like notebooks or list pads as well as aspirational goods like art prints. The breadth of our line encompasses so many aspects of function that it gives us space to talk about an idea that is bigger than paper. The idea of choosing well-designed pieces that inspire your routines, spaces, and interactions," Megan explained.
Hiding behind the stationery-driven forefront of Wilde House lies a not often talked about creative studio. With Megan's education in graphic design, it was a no brainer addition to their offerings. We were happy to hear that their team is focused on speaking more about the studio and creating a dedicated site section as a portfolio in 2020.
"The initial start to my career was at Free People as a graphic designer. My growth during my time at FP was the catalyst to developing my own personal aesthetic, and also helped me gain a small book of freelance clients that for the most part consisted of petite female-owned brands that needed direction in branding, packaging, print, and web design. Creating after work and on weekends was an outlet that allowed me to explore exactly what I had to give and what I was passionate about."
She elaborated, "The combination of creating a brand with a goods line, as well as offering graphic design services, is such a harmonious match in that they both are serendipitous. Our biggest source of new design clients come from people experiencing the Wilde House Paper line, and in turn resonating with the aesthetic that we have created and wanting that perspective on their own brand. From stockists that carry WH in their shop who see our packaging design and in turn want branded stationery, tissue paper, and mailing tape designed for their shop to clients that find us through Instagram who need assistance from the ground up in terms of branding. We love how it has become a constant circle of inspiration and collaboration."
Wilde House relies on an intentionally neutral, but nowhere near boring, palette and typography set in their designs that can create powerful moods in the viewer. "A color itself evokes a particular feeling within all of us, but when a color is intentionally paired with a combination of other colors it holds the power to set the mood of a space. Typography is very similar although it comes with a literal message. The thought of picking out a particular font for a card to convey the message of "I miss you" is something that has always inspired me. It goes beyond the surface into a place of resonation," Megan said.
"A neutral palette that is composed of depth and movement is so powerful and makes for a piece that fits into everyone's color palette! We all curate our own color palettes whether we notice them or not. The obvious curation is in your closet – the colors, textures, and fits – but the not so obvious are in the depth of the photos you take or the brands that you support. Color and typography are everywhere, but we hope to create combinations that are intentional enough to speak to you."
A background in graphic design is a great jumping off point for any number of career avenues, and Megan's degree in Graphic Communications from California Polytechnic State University (aka Cal Poly) has proven that true yet again.
"I've found this major to be very unique in the design realm, in that it really dove into all of the different types of printing processes and taught me how to take a design from start to finish. At the time, I had no idea I would start a paper goods brand that focused around these processes, but I'm forever grateful for the hands on experience that I had during that time, it has set me up for success countless times in my career thus far," she shared.
"With that said, there is a huge element of jumping in and just doing it when starting a brand – but that's probably my favorite part about owning a business. Every day is different and I love how there is an ultimate vision in mind, but there are hundreds of ways to get there. By just trusting your gut and having your own unique perspective on things, it's empowering the waves that you can make and what you can create."
Countless businesses are able to create beautiful websites that reflect their brand, have a functioning shop and ecommerce presence, gather data, and so much more with the assistance of Squarespace's all-in-one online platform. We asked Megan how they've helped Wilde House Paper, a brand that's just over a year old, become what they are and look towards what they hope to become.
"Squarespace is a design tool that has made beautiful web design accessible to not only us, but to so many different brands alike. The templates are not only functional, but aspirational. Currently, we use the Jaunt template with some custom features built in. Having a background in design, but not necessarily web design, it is the perfect platform for us to take the reins on the aesthetic that we want to create without having to deal with all of the backend work that it takes to make a site functional."
"I think it speaks a lot to the platform that we can not only run a beautiful e-commerce shop, but also host a design business where we are able to showcase our work, and take inquiries all in one space. With new collections and campaigns launching frequently for us, Squarespace's easy to use site style editor allows us to constantly freshen up our site without a full overhaul."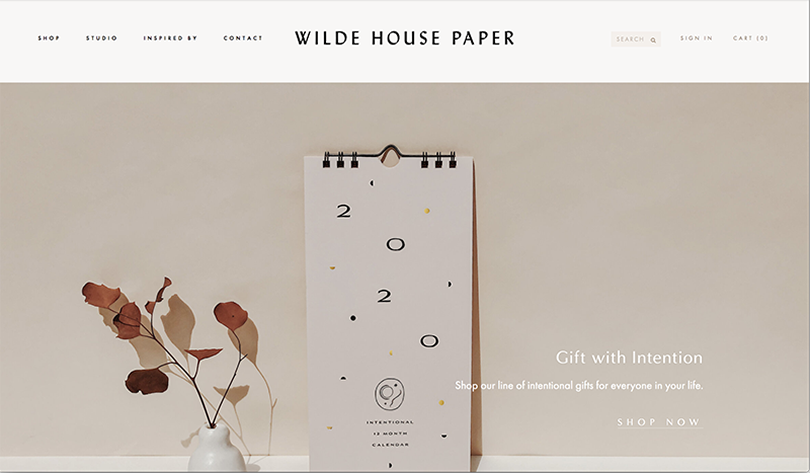 Megan went on to give us even more insight, "From curated product suggestions to customer accounts to custom email notifications, Squarespace allows us to speak to our customers in an intentional way. Our site is often the first time someone is not only introduced to our product line, but to who we are as a brand and the purpose that we could potentially serve in their lives! Seeing as we are a brand that prides itself on design, Squarespace gives us all of the tools to develop an aesthetic that is authentic to us as well as tell a story that is important to our customers."
"As we enter the new year, we feel like we have a much stronger grasp on who the Wilde Woman is and where our brand is headed, so as we move into that new phase of growth we are starting to rely heavily on all of the analytical functions that Squarespace provides. Being able to get more insight into what products are performing, how our customers are finding us, where are our customers are located, and our overall purchase funnel are crucial in the growth of WH. As a creative, analytics can sometimes overwhelm and take away from the creative process, but the ease of use and visual design that Squarespace uses to convey this data makes it so much more approachable."
Ready to get to work on your own site? Take the first step with a Squarespace website. Use coupon code DESIGNMILK at checkout to get 10% off your first purchase.