Don't just wish someone a Happy New Year when you can wish them a Happy Happy New Year, like on this gold foil accented card from The Social Type.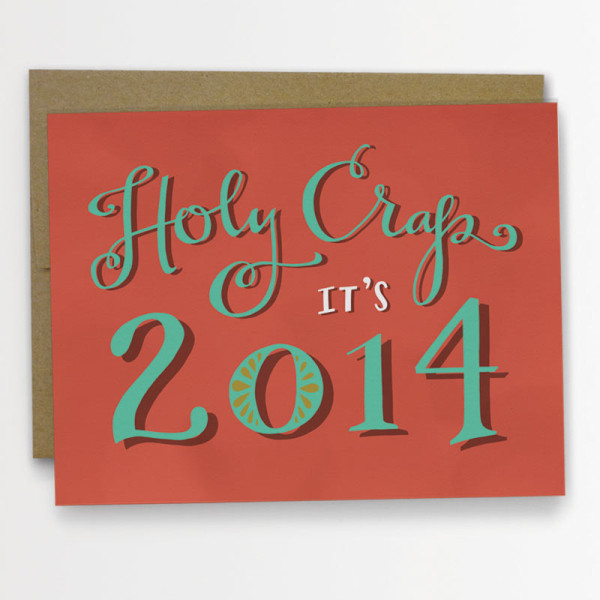 I hear you, card, I know the feeling. Where did 2013 go?! This Holy Crap It's 2014 card from Emily McDowell says it all…
Heart palpitations, I know. Luckily it's just the end of the year and not life so share the joy with this semi-dramatic card from Anemone Letterpress.
This colorful card from Yellow Owl Workshop looks like a painting that's had wet drops of watered down paint dripped onto it before it dried.
Simple block outlined letters in black make up this letterpress card from In Haus Press that comes complete with a little envelope of classy confetti.
From Paisley Dog Press, comes this diamond crosshatch letterpress card with overprinted stripes in silver and wintergreen.
Power and Light Press get straight (as an arrow) to the point with this set of letterpress cards.
A letterpress illustration of the winter sky with Orion featured in a soft, silvery gray ink with the simple message of 'Happy New Year' says it all, in these cards from Campbell Raw Press.
Code Cards are the letterpress set for nerds (like us at Design Milk) that let you express your New Year's wishes in code.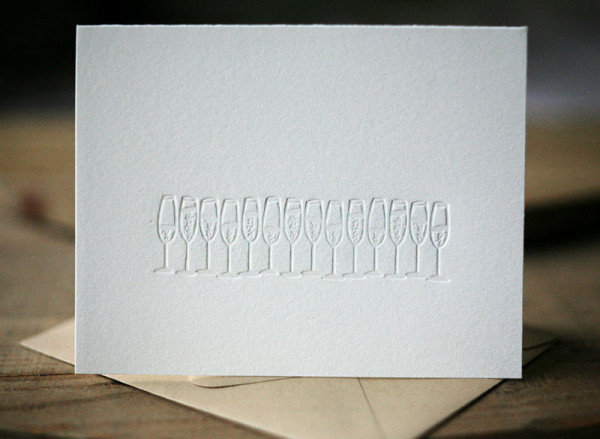 Nothing screams New Year's more than champagne, so let this card with an inkless impression of champagne glasses say it all. From Foglio Press.
One word says it all… While this universal card can be used for a variety of holidays, the Happy! card from Sad Shop is the perfect way to wish someone a Happy New Year.
Another genius card from Emily McDowell, celebrating a new year with a blank slate… Until we F it up, which always happens by, like, the 3rd day of January.
No need to say it when you can sign it, right? Check out this card from Rifle Paper Co. with four illustrated hands signing the date with gold foil accents.
And last, but certainly not least, a card from Sapling Press that tells the straight up truth about resolutions. Am I right?!