Built from wood and glass, the Blairgowrie 2 is a pavilion-style, vacation home in Victoria's Mornington Peninsula in Australia from InForm Design. The low profile residence includes four bedrooms, a lounge, double garage, an open plan kitchen, and living area, housed under a long linear roof that extends out to offer protection from the sun.
A wooden screen offers the covered outdoor deck protection from the west while creating a dramatic front facade. A white concrete brick wall partitions the entry from the outdoor space and continues into the living area where it forms the fireplace.
Adding a rustic, yet modern feel, they went with a white oiled oak for the floors, which adds texture while keeping the spaces light.
Floor-to-ceiling, black aluminum doors open up the living areas and master bedroom to the outdoor deck.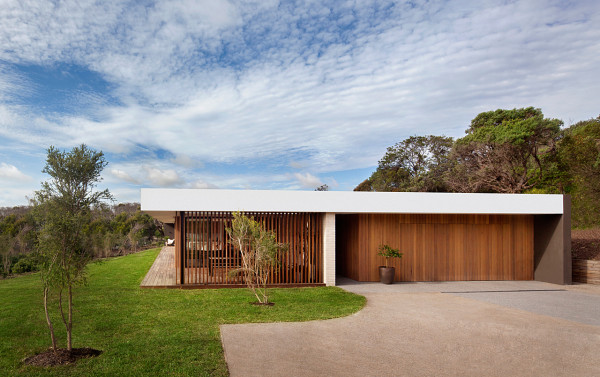 Photos by Hilary Bradford & Derek Swalwell.