With a signature style all her own, designer Madeline Weinrib has forged a texturally rich path with her bold textiles, heirloom quality carpets, home furnishings, and accessories over the years. Her painting background has beautifully influenced her globally-inspired patterns, translating perfectly to the decor that bears her name. Where does all this creativity happen? In her New York City office where you'll see her work on display in an enviable space full of her work and diverse pieces she's accumulated along the way. For this month's Where I Work, Madeline Weinrib gives us an inside look into her workspace and her own work habits.
What is your typical work style?
I go to the studio every day, but I don't "work" only at work. Work is an intricate part of my life, not separate. I love to work first thing in the morning when my mind is fresh.
What's your studio/work environment like?
Because we're always working on so many projects at once, there's a lot of activity. I have a small team but we work in close contact and get along well. There's just a nice vibe about it. My team and I have been together for a long time, some over ten years. Mostly they started as interns.
How is your office organized/arranged?
We have a fairly open studio, and my team works in a separate space within the studio. I work all over the place – sometimes at a big table but I also work on the floor. I don't even own a desk!
How long have you been in this space? Where did you work before that?
I've been in my studio for the past five years – before that I had a wonderful space on West 12th Street in the Meatpacking district. The building was full of art studios, and we all got along really well. It was a great place, but the building has been torn down now and the neighborhood has completely changed.
If you could change something about your workspace, what would it be?
I love my workspace. I would just love more of it, but everyone in New York would probably say that.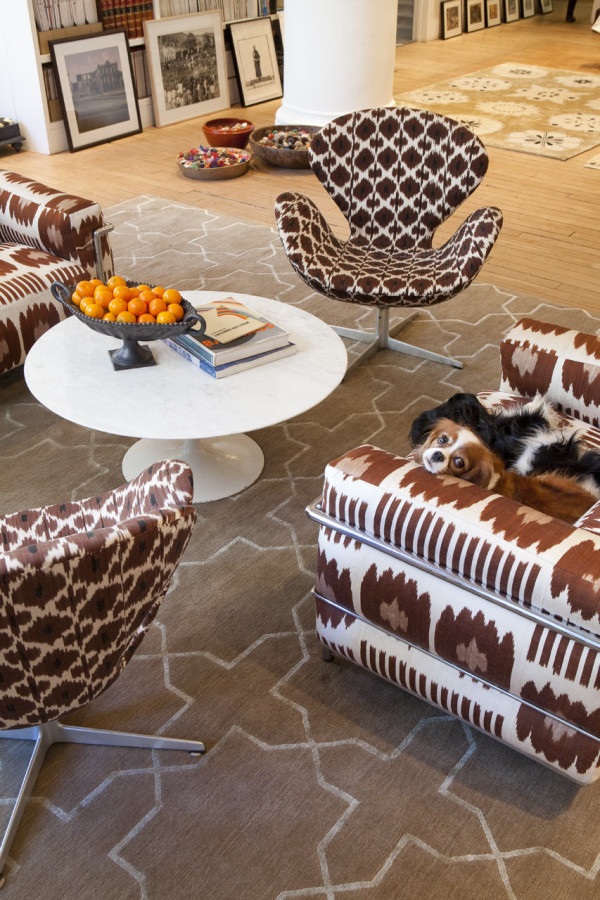 Is there an office pet?
Yes! My dogs, Daphne and Gemma. They come every day. Everyone knows them well. Pets are wonderful at work.
Do you usually have music in the background?
I like music, but I love the silence as well.
How do you record ideas?
I write them down. Sometimes I don't remember where I put them.
Do you have an inspiration board? What's on it right now?
Yes. I love my inspiration boards, which help organize my thoughts. Right now there are lots of images of desert architecture, as well as interiors of nomads. Also, vintage photos of women in kaftans.
What is your creative process and/or creative workflow like? Does it change every project or do you keep it the same?
No project is easy and each is different. Always there comes a time when I can't resolve it or make it exciting, and I start to regret that I took the project on. But then it works out. This is a definite pattern, and part of the design process.
What kind of design objects might you have scattered about the space?
I have a lot of midcentury chairs scattered about with my fabric laid on them. I also have a collection of vintage Indian photography that I started collecting on my early trips to India. I love the collection as I put it together slowly and every photo inspires me.
Are there tools and/or machinery in your space?
Just computers.
What tool do you most enjoy using in the design process?
A pencil.
Let's talk about how you're wired. Tell us about your tech arsenal/devices.
I've never been a very tech-savvy person but I've gotten into Instagram, which has surprised my friends and colleagues.
What design software do you use, if any, and for what?
We use Photoshop and Illustrator.
Is there a favorite project you've worked on?
I loved working with BAM (Brooklyn Academy of Music). I made carpets for all of their theaters. BAM is wonderful to work with because they are open and think outside the box. Every aspect of their organization supports the arts in all its forms.
Tell us about a current project you're working on. What was the inspiration behind it?
I had a pop up shop at Barneys called "A World of Influence." I worked on it for a year and made a lot of products for it. I filled it with objects I found on my travels, and invited other designers to do special pieces and I felt like I was curating. The pop-up was really a culmination of my influences and some of the people that have inspired me.
What's on your desk right now?
I have a lot of papers filled with scribble scrabble. Lots of color poms and some products I am working on that are half done. I have a couple of old tassels, a small antique plate, and an antique cup filled with pencils – all of which I find beautiful and inspiring.
Do you have anything in your home that you've designed/created?
All over the place! I like living with the things I make, but not only with the things I make. I'm in the middle of making new rugs for my home right now.