During World War II, this site was used as an airbase for the USAF 381st Bombardment Group and Devon, UK-based Timber Design transformed it into a traditional timber frame farmhouse. The unique home still manages to blend well with the surrounding landscape, like it's been there for decades.
The design is made up of two linear buildings that are connected by two walkways that all surround an interior courtyard. One of the buildings contains the private spaces for the family, which includes the bedrooms and bathrooms. The other building houses the public spaces with a living room, kitchen and dining room, and utility spaces. A separate office is there for the day to day running of the working farm.
By designing a new house, it allowed the family to use modern materials and efficient and sustainable measures during the building process. Dynamic thermal modeling was used to help predict how the house would perform over time and helped with the design of it. They were able to add roof overhangs, work with glazing orientation, and floor construction to help optimize the thermal comfort and performance of the home as a result. The house is actually carbon positive with these efforts and the addition of solar panels.
The tower allows for 360-degree panoramic views of the farmland that surrounds the residence.
Even though it falls into the way a traditional timber frame house is built, they used a structural system with steel detailing. You can see the steel tension rods throughout the home and even though they're there for the structure, they also add an industrial element to an otherwise rustically modern design.
Timber Design worked with Rationel Windows and Doors on all of the windows and doors on this project.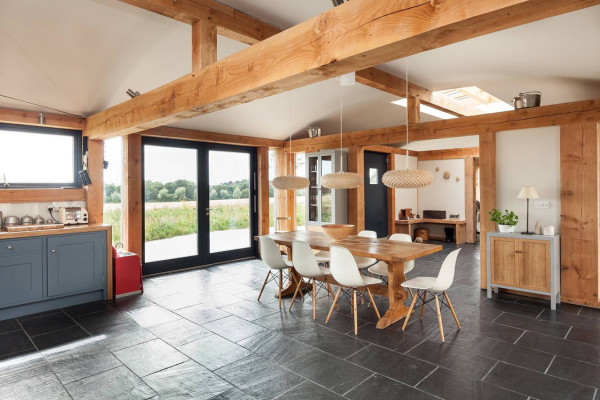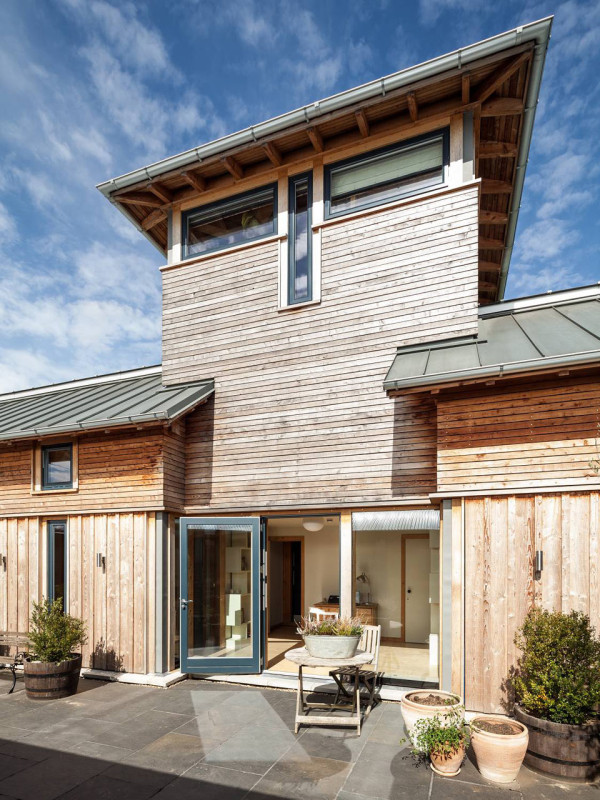 Photos by Simon Maxwell.