Yellowstone Residence is a spacious modern home located in Montana's Madison Range within the Rocky Mountains. Designed by Stuart Silk Architects, the home boasts an 8,100 foot elevation and sits on the side of a mountain. The home's exterior is primarily made with steel and concrete, materials which are directly inspired by the harsh natural landscape of the plot.
"The site's rocky alpine terrain provided the inspiration for this home and led us to choosing board-formed concrete and Cor-ten steel as the principal exterior materials," explains architect Stuart Silk. "These elemental materials best captured this site's essential characteristics. I saw the house like a barnacle clinging steadfastly to its precarious perch."
To maintain privacy, the home's front facade is almost completely closed off except for a narrow slot of glass in the concrete and a corner window that provides views from the master bathroom.
The entrance of the two-story home is at the upper level. Two 18-inch thick concrete walls act as an anchor for the space, informing the incredible mountain views seen through the windows. The upper level includes the living room, kitchen, dining room, and master bedroom.
Structural steel columns are left exposed in the living room, and floor-to-ceiling glass walls allow unobstructed views of the dramatic alpine landscape.
The lower floor holds the entertainment room, three guest suites, and a bunk room. Stuart Silk Architects translated Montana's iconic landscape into a neutral color palette for the interior design of the space.
Outside, a fire pit area and a heated swimming pool are ideal places to sit back, relax, and enjoy the views.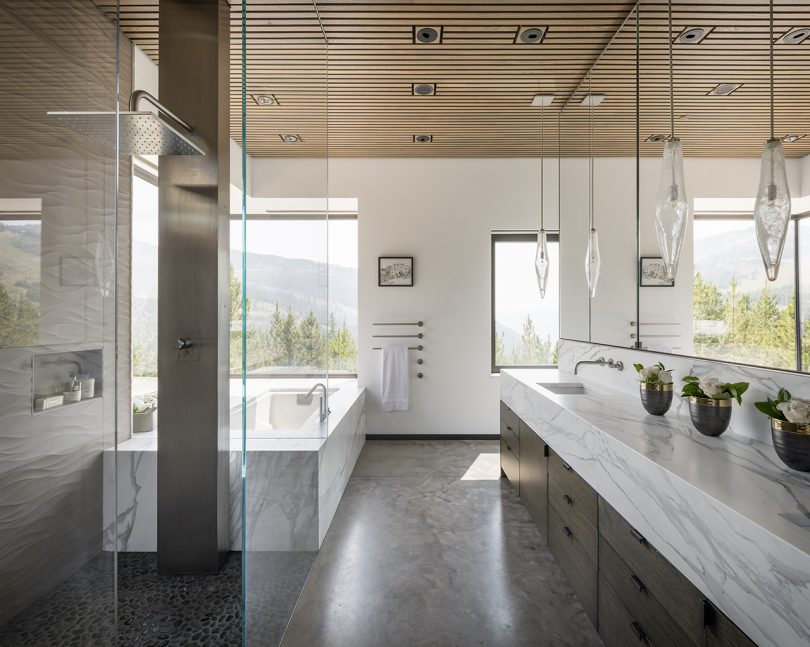 Photos by Aaron Leitz and Whitney Kamman.